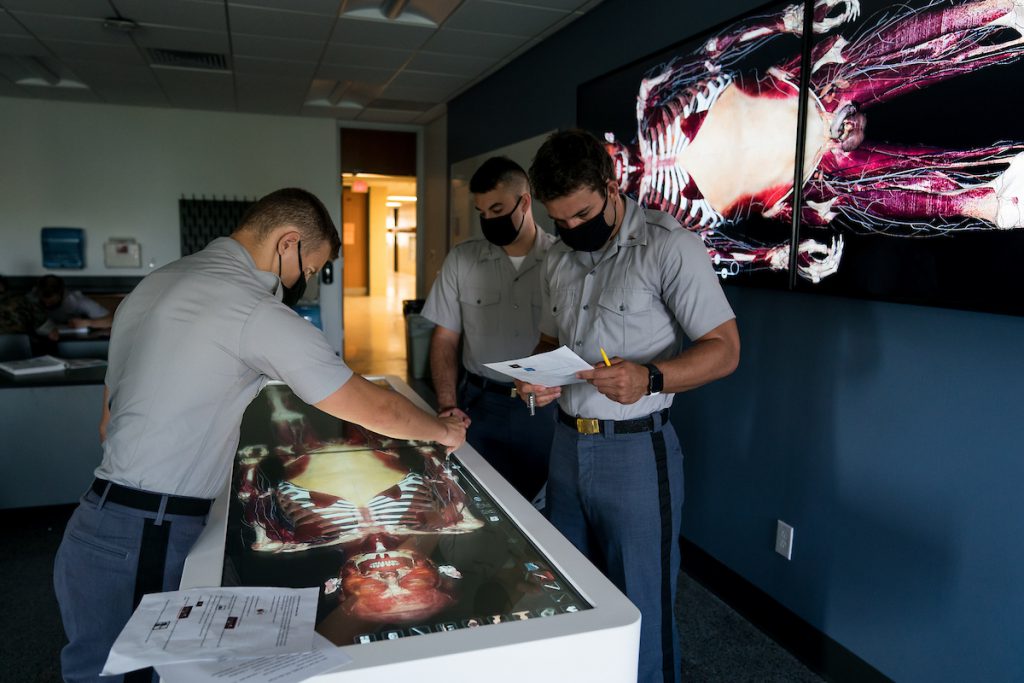 Take a peek into the new Anatomy and Physiology Lab at The Citadel
Forget the dusty plastic leg, torso and skeleton models clattering around from hooks in the back of the labs. Their usefulness in the anatomy lab is coming to a close at The Citadel.
Instead, turn down the lights and illuminate the beating heart, manipulate the moving circulatory system, or bring the cadaver of a man who died of cancer back to life digitally to observe the tumors as they grow, before virtually dissecting him.
The Swain Family School of Science and Mathematics is now using an Anatomage table and learning system that enables cadets and students to examine real medical case studies with a technology that transforms cadavers into digital living bodies that function and respond.
"The virtual dissection table unscrambles the complex layers of the human body for cadets and students getting degrees in biology, nursing, or health and human performance," said Clinton Moran, Ph.D., a professor of physiology at The Citadel. "There are many animal cases also, so we won't need to order and dissect preserved animal specimens. The potential for cross-disciplinary learning through our new Anatomage technology is also expansive."
In addition to the dissection table, two large wall monitors show the entire class what those at the table are doing. Moran's class was one of the first to use the Anatomage in the college's new Anatomy and Physiology Lab this fall.
"This is really something. It's crazy-real," said Cadet Reed Reichel, a junior from Beaufort, South Carolina, after using the table for the first time. Reichel is majoring in exercise science and plans to go to graduate school with the goal of becoming a physical therapist. "This is absolutely going to make learning anatomy more memorable and more fun."
How does it work?
The Anatomage system offers four gross anatomy cases, more than 20 high-resolution regional anatomy cases, and more than 1000 pathological examples. These digital human models function as practice patients for medical schools, physical therapy schools and colleges/universities across the country.
A few things it can do:
Help students visualize the microstructures of the brain, ear, and eyes.
Enable students to visually examine how cardiac and other vital functions are carried out in an active, living human body.
Involve students in hands-on kinesiology simulation activities to understand how a living body physiologically produces motions.
"Anatomage provides an interaction with anatomy inside a living human body that we could never offer before," said The Citadel's Swain Family School of Science and Mathematics Dean, Darin Zimmerman, Ph.D. "The Citadel is deeply grateful to the Swain family for helping provide this unparalleled learning experience."
The software for The Citadel's system will be upgraded as new functionality becomes available. For example, the next software update, Table 8, includes a digital pregnancy, from beginning to birth.
Want a closer look?
See what the Anatomage technology can do in the demonstration video below.