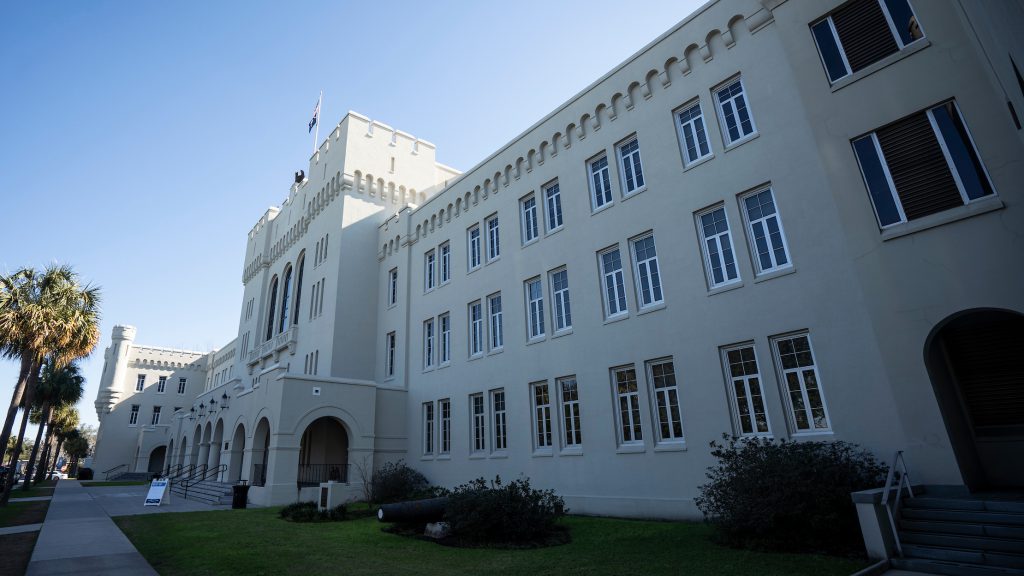 Citadel Family:
Greetings! Spring is in high gear in Charleston and The Citadel is uncharacteristically quiet without cadets, students, faculty, and staff on campus. About 50 essential employees—public safety, information technology and facilities staff—keep campus running and preparing for the day we can all be together again.
While we are separated geographically, the campus community is as close together in spirit as ever —we're never more than a Zoom meeting away!
I joined two classes this week. Cadets and students were lively and engaged in Dr. Simon Ghanat's class on geotechnical engineering, participating in ways they might in a traditional classroom.
In Dr. Richard Robinson's calculus class, the group actively solved anti-derivative problems and discussed practical applications like forecasting data trends in the pandemic. A brief appearance by Dr. Robinson's 5-year-old son Franklin was a pleasant reminder of these unusual times.
And speaking of appearances, Gail gave a guest lecture on crisis communications in Dr. Lauren Maxwell's business communications class, and found her virtual classroom experience just as lively and compelling as mine.
The resilience and positive outlook of our students in the face of this unfortunate interruption is heartening. Just this week, staff members communicated with graduating cadets and students regarding our 9 May Virtual Commencement. Instead of complaining about the ill-timed turn of events, cadets and students were upbeat and making the best of a tough situation. I can't wait to see each of their personal messages on our Virtual Commencement Website.
The wisdom and the leadership of the Class of 2020 is nothing short of inspiring, and I look forward to following their progress in the coming years. First, however, I hope to shake as many of their hands as possible when they return to be honored in the fall. They remind us of all that is good.
Gail and I wish you and your families a safe passage through this journey, and look forward to seeing you again soon.
Go Dogs!
Glenn M. Walters '79
General, USMC (Retired)
President