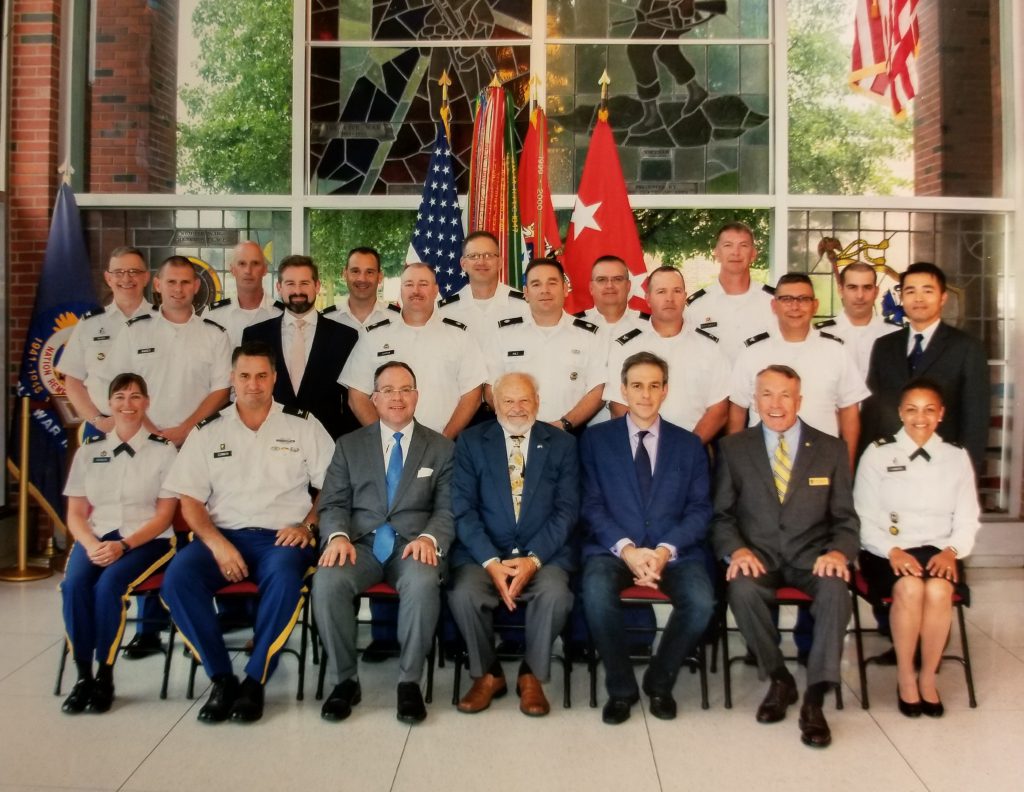 Citadel alumnus, Col. Bill Connor, '90, and professor David Preston, (front row, second and third from left), with U.S. Army War College students for the Commandant's National Security Program 2018.
An award-winning Citadel historian and author, and a Citadel Class of 1990 alumnus have a deeper understanding of national security concerns after studying together recently at the U.S. Army War College's Commandant's National Security Program. Col. William "Bill" Connor V, USAR, sponsored Prof. David Preston, Ph.D., for the summer program they attended representing The Citadel together.
Connor is an attorney in Orangeburg, South Carolina. He currently serves as a reservist after more than a decade as a U.S. Army infantry officer. His attendance at the war college made legacy history there, as he is now a third-generation graduate of that institution. Connor's father, retired Lt. Col. William Mellard Connor IV, and his grandfather, the late Brig. Gen. William Mellard Connor III, also graduated from the Army War College. That makes the Connor family the third with a three-successive-generation graduation legacy at the college, according to a report in the Times and Democrat.
The Commandant's National Security Program is part of the U.S. Army War College Distance Education Program. Though the classes consist primarily of military service people, a few civilian guests are invited each year. The process for civilians is outlined on the war college website is as follows:
"The civilian guests are nominated by a variety of sources, including previous attendees, students, staff and faculty of the U.S. Army War College. The invited guests are a select group of representatives from academia, the media, government, business and other prominent organizations.

By design, they represent a cross section of experience, contemporary interests and views. Most of the guests have no direct affiliation with the national security community.

Each is invited as a representative of their organization and its culture, as someone deeply concerned with the well-being of the nation and as a person whose experience, knowledge and interests will enable him or her to contribute to seminar group discussions."
Preston said he was deeply honored by having been nominated by Connor and chosen to participate by the selection committee.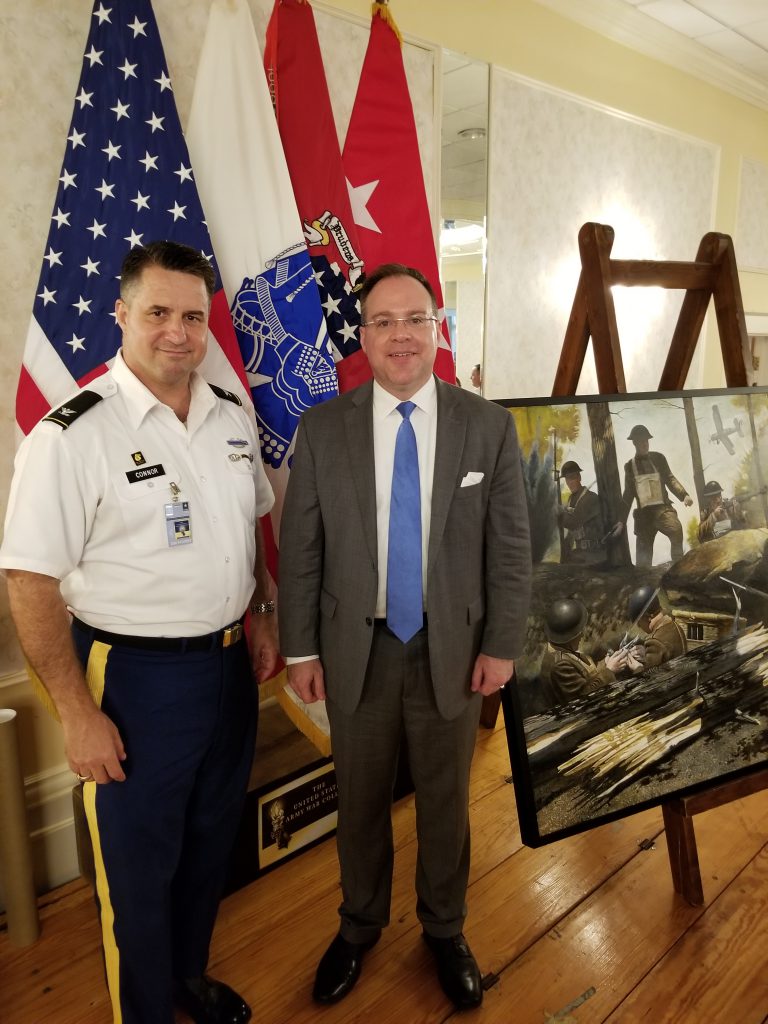 Preston is the Westvaco Professor of National Security Studies in the Department of History at The Citadel. He teaches members of the South Carolina Corps of Cadets, about one-third of whom are U.S. military officer candidates, about U.S. military history and early American history.
He is an award-winning historian of early America with a special interest in war and peace among the French, British and Indian peoples of the 18th century.
Preston's first book, The Texture of Contact: European and Indian Settler Communities on the Frontiers of Iroquoia, 1667-1783, was hailed as an innovative study of how communities coexisted near the Iroquois Confederacy. He is also the author of Braddock's Defeat: The Battle of the Monongahela and the Road to Revolution, published by Oxford University Press in 2015 as part of the distinguished Pivotal Moments in American History book series.
Some of the awards Preston has earned for his books include:
• Winner, 2010 Albert B. Corey Prize, Best Book on American-Canadian relations
• Winner, 2015 Gilder-Lehrman Prize in Military History
• Finalist, 2016 George Washington Book Prize
• Winner, 2016 Distinguished Book Award, Society for Military History
• Winner, 2016 Distinguished Book Award, Society of Colonial Wars
• Winner, 2016 PROSE Award in U.S. History, Association of American Publishers