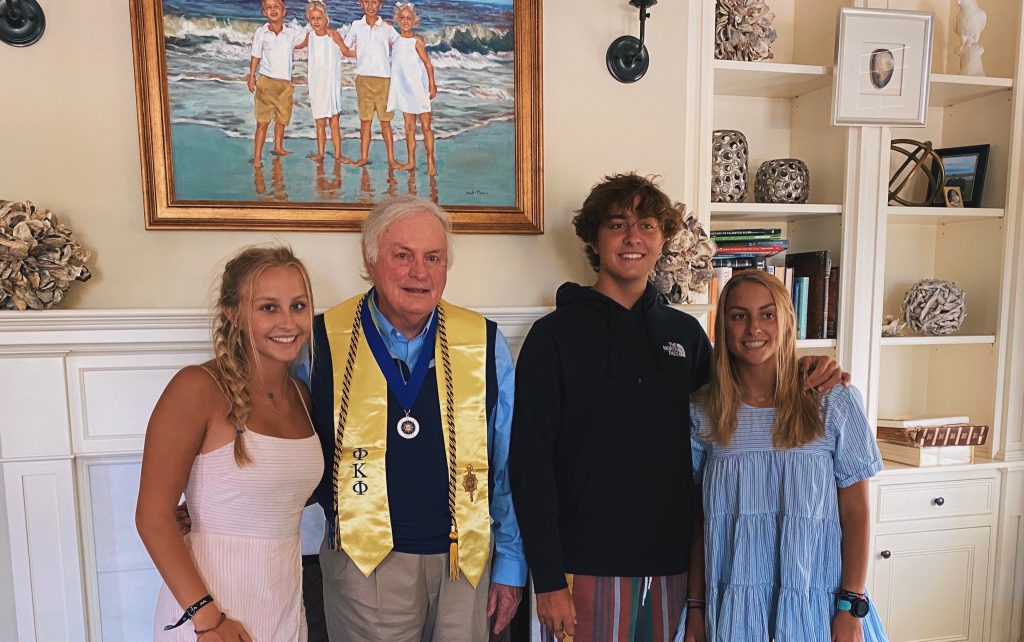 Photo above: Thomas Dewey Wise on his Citadel graduation day celebrating with his triplet grandchildren, (left to right) Hannah, John Dewey "J.D." and Katlin.
When Thomas Dewey Wise was first contacted about his most recent accomplishment — being the oldest person to earn a degree from The Citadel — he responded, saying that perhaps it was "a dubious distinction."
"One of my granddaughters asked my wife, Pat, 'Why is he doing this? Doesn't he know he will be too old to get a job when he graduates?' Wise joked in an email.
At one time, from 1957-1959, Wise was a member of the South Carolina Corps of Cadets. Then, it got complicated. Now, 61 years later, he graduated as a member of The Citadel Class of 2020, earning a Master of Arts in International Politics and Military Affairs, from The Citadel Graduate College in May.

Perhaps for Wise, after a lifetime of hefty accomplishments, earning a master's degree (with honors) at the age of 80 isn't a huge deal. But he did come a long way from his modest beginnings in Orangeburg, South Carolina.
According to Wise, his father left school after the ninth grade. His mother passed away when he was 13 and he had to start working 40 hours a week to help. Attending The Citadel was just a dream until his uncle offered to pay his tuition. But, after his uncle became ill, Wise had to leave the Military College of South Carolina.
Wise went back to Orangeburg, worked and saved, and graduated from the University of South Carolina. He kept going, earning a law degree from the George Washington University School of Law. (He is a member of the South Carolina Bar, the Bar of the U.S. Supreme Court, and a member of the Judicial Conference of the U.S. Fourth Circuit.)
"I worked as many as three part-time jobs at once to get by. Still, I always regretted not being able to finish my degree at The Citadel with my class in 1961."
In 1964, Wise entered the Army, completed Airborne School — having made more than 15 parachute jumps at Fort Campbell, Kentucky — and was sent to the war in Vietnam, before being sent to Washington D.C. as an appellate attorney for the Army Judiciary. As a captain, and after being awarded numerous medals, Wise returned to Charleston. Then, he built a law firm that eventually employed 23 attorneys. He was appointed Assistant County Attorney for Charleston County, and then was elected to the South Carolina Senate where he served for 12 years, focused on environmental conservation and children's legislation.
Then-Senator Wise served on The Citadel Board of Visitors (the college's governing body) from 1976 – 1984. He went on to found First Trident Savings Bank, serving on the bank's board for years. Next, Wise left the practice of law and founded an international telecommunications company in Atlanta, Georgia.
An avid runner for much of his life, Wise was instrumental in organizing the first Cooper River Bridge Run in 1977, was named to the Cooper River Bridge Run Hall of Fame, and awarded the Order of the Palmetto by Governor Nikki Haley for his years of service to the state.
And during all of that, Wise and his wife Pat had sons Timothy and David (who graduated from the Citadel in 1994) and four cherished grandchildren.
In 2001, Wise "retired" and returned to South Carolina. He continued his education and passion for conservation through Clemson University, becoming a Master Wildlifer, a Master Gardener, a Master Tree Farmer and a Master Naturalist, devoting more than 500 hours of volunteer service to the Charleston county Master Gardner Program. He purchased 1,400 acres of barren pine land, which he converted into an award- winning wildlife habitat.
He credits his mother for fostering his love of learning. "We did not have many possessions, but somehow my mother bought a 26 volume set of the World Book Encyclopedia." Wise said he read every volume.
But, why the master's degree now?
"I was at a meeting with some Citadel friends in 2016, including Maj. Gen. Cliff Poole, Class of '59. I said at one point I had thought about going back to The Citadel to get a master's degree, but that I'd be 80 by the time I completed it. Cliff did not say anything for a while, but finally looked at me and asked, 'How old will you be in three years if you don't go back for the degree?' Wow. Of course, I would rather be 80 years old with the degree than 80 years old without it. That was my 'Carpe Diem' moment."
Now, in addition to admiring his band of gold next to his son's, Wise offers thanks to two women who helped him:
"Dr. Sarah Tenney Sharman. She was my faculty advisor as well as a professor. She is a great credit to her profession and The Citadel and is a wonderful person. And my wife Pat earned this degree as much as I did. We live about two hours from campus, so she accompanied me to school and, while I was in class, she'd wait in the library. Then, she'd drive us home late at night. My Citadel ring has her name and the date of our marriage inscribed inside."
What's next for Thomas Dewey Wise?
I am writing my autobiography now. I want to somehow convey to my grandchildren what life was like before the digital revolution. I am writing a history book about the area of Colleton County we live in and a book about a distant relative by marriage, George Yarborough (Citadel Class of 1916) who earned the Distinguished Service Cross in World War I and whose portrait hangs in Daniel Library. I am publishing my master's thesis which I expanded into a book entitled Hubris and The American Experience in Vietnam. Then, I want to find a position, doing analytical writing from home, perhaps with some think tank.

But truly, I felt greatly honored to learn I would be the oldest person to earn a Citadel degree. Surely someone will come along soon and break that record.

Thomas Dewey Wise
Citadel Class of 2020
Click on the box below to view Wise's commencement video thanking his friends and family.