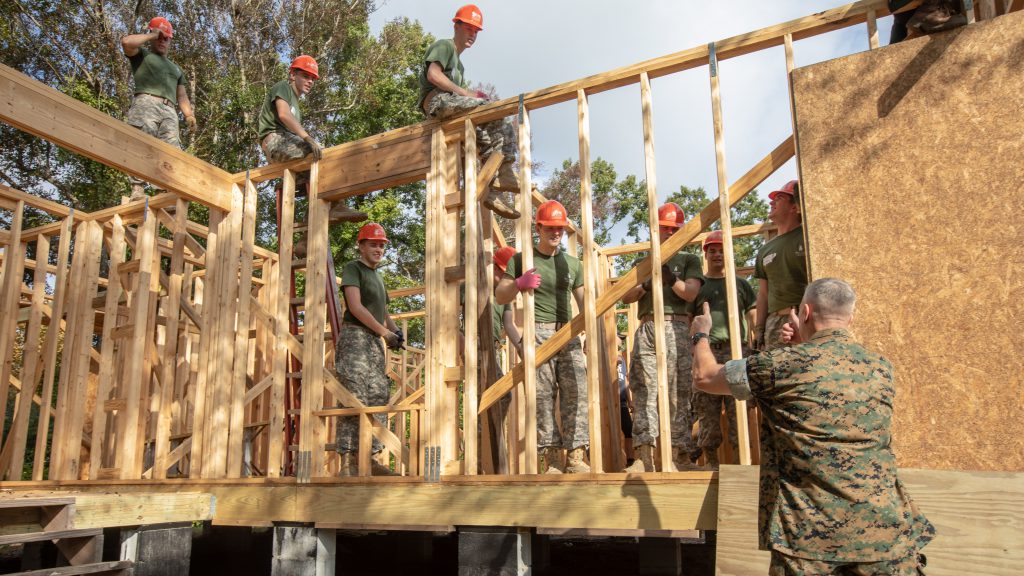 Photo: Gen. Glenn Walters encouraging cadets during Leadership Day 2018
Once a year, cadets trade classes for community service
For more than 176 years, The Citadel has been a part of the Charleston community. That is one reason why cadets volunteer their time to give back to the Lowcountry community all year long. Servant leadership through community service is also integral to the college's mission of developing cadets into principled leaders. In fact, in the 2018-19 academic year cadets provided 35,894 service hours, according to the college's Krause Center for Leadership and Ethics.
Leadership Day, held every year in October, is just one example of the many ways cadets serve their communities. This year, Leadership Day will be on Wednesday, Oct. 23. On that day, cadets, faculty and staff will focus on leadership learning and volunteering, with the assistance of Medal of Honor recipient James McCloughan. The Vietnam War veteran, who taught high school both before and after his time in the service, will help kick off this year's Leadership Day with a presentation to freshmen. McCloughan's address is open to the public and will take place at 6:30 p.m., Tuesday, Oct. 22, in McAlister Field House. McCloughan will also speak to students at Burke High School on Wednesday, Oct. 23, between 8:45 and 10:30 a.m., and will attend other events on Wednesday, as well.
All freshmen and sophomores within the South Carolina Corps of Cadets will work in groups throughout the Lowcountry, participating in service learning and civic engagement. Freshmen will spend the day in different elementary schools, increasing young students' awareness of heroism and service to others. Sophomores are able to choose from a variety of service projects, both on and off campus.
The cadets will serve at more than 20 locations in the Lowcountry —involved in tasks such as leading classroom activities for children in local elementary and middle schools, helping homeless veterans and cleaning up parks. Some of The Citadel's partner organizations where cadets will volunteer include:
American Cancer Society
Bicycles for Humanity
Habitat for Humanity (five separate sites)
Lowcountry Orphan Relief
Meals on Wheels
One80 Place
Project Street Outreach
Second Chance Bikes
Ronald McDonald House
SCORE
Sweetgrass Gardens
Veteran Affairs Hospital
US Fish and Wildlife
Leadership Day for juniors and seniors means participating in leadership training or seminars. The juniors will take part in an on-campus Ethics Enrichment Experience. To learn from Lowcountry leaders, seniors will visit area businesses and organizations based on their area of study. Hosts for this year's senior seminars include:
Barnwell Whaley Law Firm
Boeing
Charleston County Government
Charleston County School District
Charleston County Sheriff's Office
Charleston International Airport
Charleston Police Department
Dixon Hughes Goodman
Federal Bureau of Investigation
Gibbes Museum of Art
Life Cycle Engineering
Medical University of South Carolina
South Carolina Historical Society
T. Y. Lin International Engineering
Water Mission
Wells Fargo
On average, more than 8,000 hours of service to the Lowcountry are provided by the cadets each Leadership Day, and more than 20,000 annually, according to The Krause Center for Leadership and Ethics which sponsors the event.