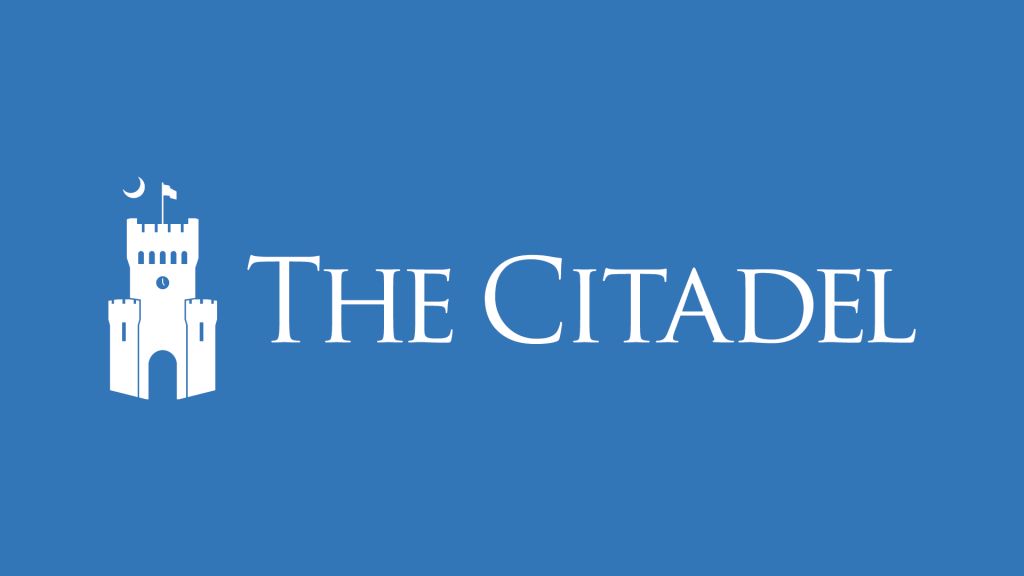 The Palmetto Medal Award, one of the highest honors presented by The Citadel, was given to the college's first lady and the regimental commander of the South Carolina Corps of Cadets in recognition of their exemplary leadership and service. The Citadel Board of Visitors presented the awards to Donna Kangeter Rosa and Cadet Col. George "Dillon" Graham during the college's Corps Day parade on March 24.
Donna Kangeter Rosa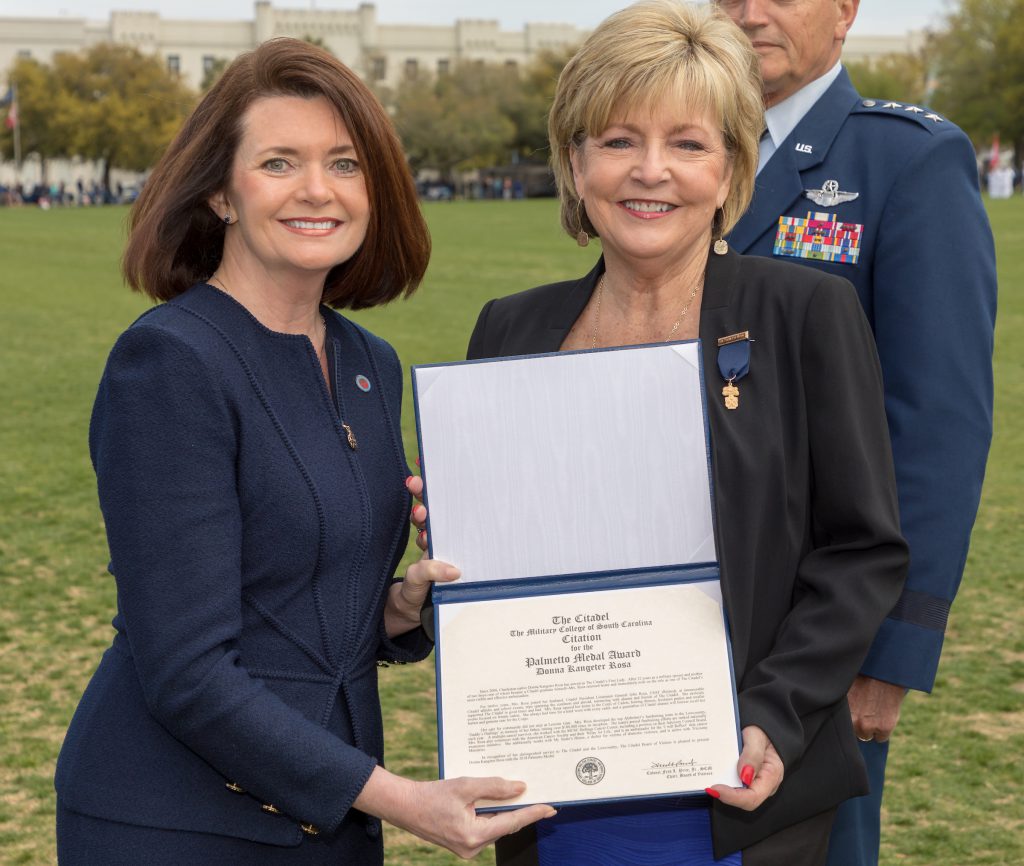 Rosa, a Charleston native, has served as The Citadel's first lady for 12 years. She has joined her husband, Citadel President Lt. General John W. Rosa, USAF (Ret.), in supporting the college and the campus community, attending innumerable athletic and school events, taking trips spanning the contentment and abroad and visiting with alumni and friends of the college.
Rosa opens her home to the Corps of Cadets, hosting dinners and freshmen gatherings and acting as a mentor during events held to support women cadets. She is a regular and enthusiastic spectator at the weekly Corps of Cadets dress parade on Summerall Field, year after year.
Rosa's care for the community extends far beyond Lesesne Gate. She developed the top Alzheimer's fundraising team in the Lowcountry, 'Daddy's Darlings' in memory of her father and raised over $100,000 since its inception. Her team is nationally ranked each year.
A multiple-cancer survivor, Rosa works with the MUSC Hollings Cancer Center in a position on their Advisory Council Board. She also volunteers with the American Cancer Society and the 'Relay for Life,' and is an ambassador for the 'I will Reflect' skin cancer awareness initiative. Additionally, she works with My Sister's House, a shelter for victims of domestic violence, and is active with Tri County Ministries.
Cadet Colonel George Dillon Graham
Cadet Col. George "Dillon" Graham is concluding a distinguished career as the Class of 2018 regimental commander. Graham consistently earned dean's list and Gold Stars for superior academic performance, and was named to the Commandant's and President's Lists multiple times. He earned the title of Outstanding Biology Student for three years, is a Skanchy Student Research Award recipient and served as a medical fellow during a study abroad program in Lithuania.
As regimental commander, the highest-ranking member of The South Carolina Corps of Cadets, Graham culminated an equally impressive career as a leader, holding increasing positions of responsibility in the during his upper class years. Under his direction, cadets performed more than 20,000 community service hours, and Graham personally conducted weekly chemistry tutoring classes at nearby Burke High School, served meals at One80 Place, raised money for Hollings Cancer Center and volunteered for Habitat for Humanity. Graham's unwavering dedication to duty will continue after graduation, as he embarks on a career as a medical officer in the U.S. Air Force.