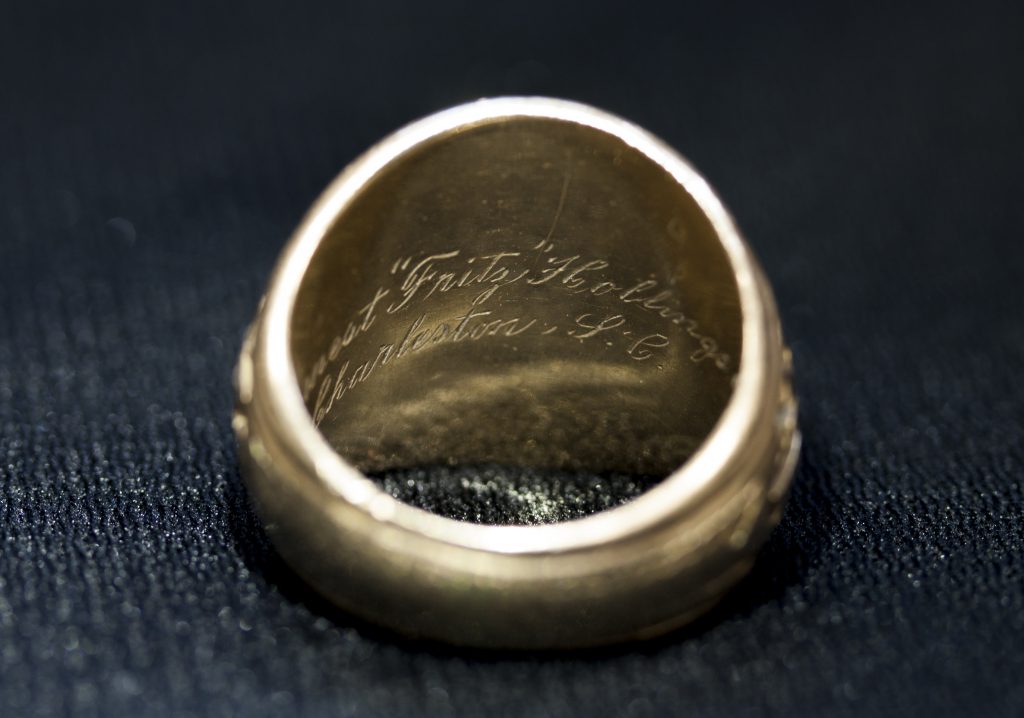 Livestream Friday, Sept. 25, 5 p.m. E.T.
The seniors comprising the Class of 2021 will be celebrated with a traditional Ring Presentation Ceremony at 5 p.m. on Friday, Sept. 25, in McAlister Field House, attended by the South Carolina Corps of Cadets, Veteran and Active Duty students. Close to 550 individuals will be presented with their coveted Citadel bands of gold.
Attendance at the ceremony will be restricted to only ring-eligible seniors due to the need for social distancing to reduce the spread of COVID-19.
Parents, family and friends are invited to watch a livestream of the Ring Presentation on two of the college's social media channels. An account on those platforms is not needed to view the stream at the following links:
How to get photographs of the event
As the presentation event is restricted, the college is providing the following:
Professional photographers will take a picture of each cadet or student receiving a ring.
At no charge, cadet ring presentation photos will be available with yearbook portraits in October on the college's intranet, Lesesne Gateway. Cadets will have access to download them. An announcement of the availability of those pictures will be made later.
Veteran and active duty students will receive their ring presentation photos via email, also at no cost.
Our photographers will also be at the chapel, the War Memorial and on the parade ground taking photos. On Saturday, those photos will be available for families to download, at no charge, here.
Leave policy for seniors on Sept. 26 and 27
There will be no leave for any cadets following the Sept. 25 Ring Presentation.
The Commandant's Office is granting the following leave to ring-eligible seniors: Saturday Sept. 26 from 5:30 a.m. to 10 p.m. and Sunday Sept. 27 from 5:30 a.m. to 10:30 p.m. Those seniors also have the option to spend Saturday night off campus.
Parents are asked to respect the college's efforts to reduce the spread of COVID-19 on campus and are discouraged from entering campus Sept. 25−26 other than for the purpose of picking up a cadet who is eligible for leave.