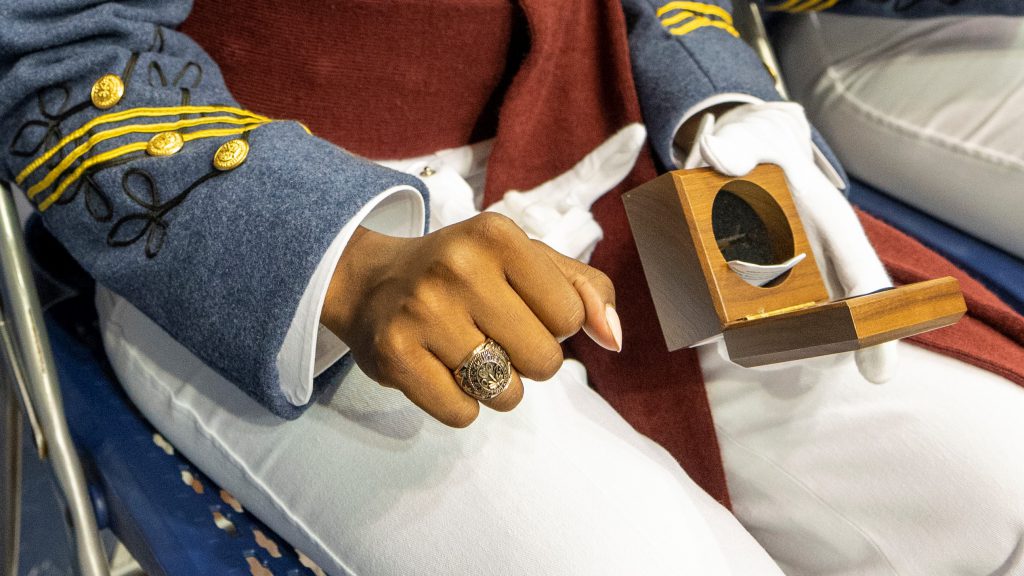 Ring ceremony to be livestreamed for families; Parents Weekend events curtailed
The seniors comprising the Class of 2021 will be celebrated with a traditional Ring Presentation Ceremony at 5 p.m. on Friday, Sept. 25, in McAlister Field House, attended by the South Carolina Corps of Cadets, Veteran and Active Duty students.
Attendance at the ceremony will be restricted to only ring-eligible seniors due to the need for social distancing to reduce the spread of COVID-19, but the event will include the same rich traditions that recipients are anticipating for this important milestone.
Understanding the importance this event also holds for parents and families of the seniors, the college will provide a livestream of the ceremony with link details available on The Citadel Today newsroom and on social media closer to the date.
"Our seniors deserve every bit of pageantry for earning their much anticipated rings as every other member of the Long Grey Line who came before them," said the Commandant of Cadets, CAPT Geno Paluso. "While we wish we could provide everything we would normally on a Parents Weekend, we are pleased to be able to provide this in-person ring ceremony for the Class of 2021. We ask parents, family and friends to respect the protective measures put in place for the weekend for the good of all."
After the ceremony, the cadets, veteran and active duty students will proceed to The Citadel War Memorial to salute, and then to Summerall Chapel for the traditional tapping of their rings on the chapel door, immediately followed by a tented reception for the seniors and senior administration only. Access to Summerall Field and related facilities will be limited to the those who received rings, and required faculty and staff, during this process. Barracks will remain closed to only those assigned to live in each specific facility.
Leave for members of the Class of 2021 for Friday evening may be announced at a closer date. There will be a ring walkthrough photo opportunity for seniors and their parents in the spring, as conditions permit.
The normal Parents Weekend events on campus, such as open barracks and a dress parade, are cancelled out of an abundance of caution for everyone concerned.
The Bulldogs will play Eastern Kentucky University the day after the ring ceremony, Sept. 26, at Johnson Hagood Stadium. Attendance will be limited to season, club-level, and suite ticket and pass holders, as well as designated cadets.
"We understand that it is hard for things to be different, and that it may be disappointing to parents not to be able to enjoy a traditional Parents Weekend, but we greatly appreciate your understanding in the knowledge that everything possible is being done to keep your sons and daughters safe and the campus operating safely during this challenging time," Paluso said.
Decisions about general leave for freshmen and other cadets will be announced closer to Sept. 25.