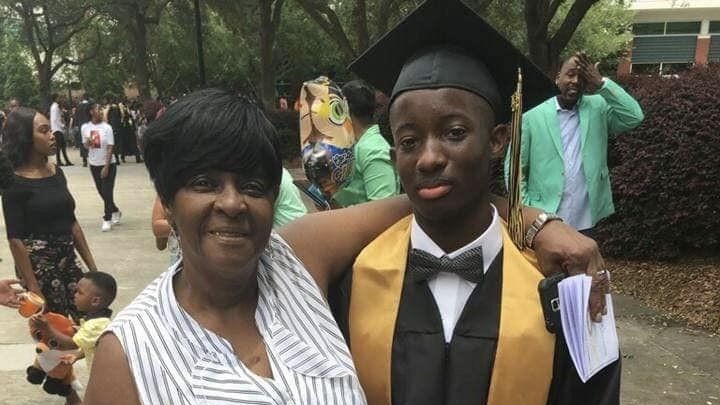 Photo: Cadet Montray Robinson, right, with his grandmother, Delores Brown, who died from COVID-19
"Just take every safety precaution that you can."
If you haven't seen what COVID-19 does to someone, it can be hard to remember that the pandemic is more than just escalating numbers and grim statistics. Behind each number is a real person.
Some in The Citadel family have already felt the costs wrought by the worst pandemic of our lifetime…directly or through their family members.
In fact, at least three cadets have either lost loved ones, or are living with the devastating effects that COVID-19 can have on a family. They all agree — it's our duty to do everything we can to stop the spread and prevent more deaths.
Cadet Montray Robinson, a junior from Goose Creek, South Carolina, lost his grandmother, Delores Brown, to the disease in June.
"COVID is no joke and shouldn't be taken lightly, Robinson said. "You may think that if you're young and you have the virus, you'll be fine and live on. But think about the next person you could've passed it to; he or she could have other conditions that'll worsen the situation. It's happened to my grandma — it can happen to anybody. So please, stay safe."
Even for those who don't suffer the devastating loss of a family member, watching loved ones suffer through recovery is painful.
Cadet Christal Altidor, a senior, was living with her mother, who tested positive for COVID-19 in early June. Altidor was not able to get tested herself, and never showed any symptoms. However, her mother's case was different.
"She did have shortness of breath, breathing was really hard for her," said Altidor. "She was having headaches, body aches, night-sweats from the fever. It was definitely hard on her."
When someone contracts COVID-19, however, there's more to deal with than just the physical illness.
"The virus is unpredictable, so I could have potentially lost my mom," continued Altidor. "I had kind of mixed feelings. You try to stay optimistic when you know a loved one is sick but then again, you're prepared for the worst. It takes a mental toll on you because you hear about a lot of people dying from catching this virus and then someone in your household has it. It's like — what do we do? It felt bad, honestly."
Cadet Tyler Mitchell, a junior from Columbia, South Carolina, lost a close family friend he's known since birth, Carole Hamilton. She was a school counselor in New York who attended the same church, and stayed close even after his family moved from New York.
"She was a very loving person," said Mitchell. "I lived in New York for the first ten years of my life. When I found out she passed away, it hit our family very hard because she was very close to our family. She was one of my Sunday school teachers at Roosevelt-Freeport Church of Christ in Long Island. She made sure that we were leaders within the church."
Stopping the spread
There are things everyone can do to help prevent COVID-19 from affecting our loved ones and our neighbors.
"Think beyond yourself. Wearing masks is being considerate of others," said Altidor. "Wear it to protect others, even if it's annoying. We have to wear them to protect ourselves, and others around us."
According to Anthony Fauci, the nation's top infection disease expert, wearing masks, social distancing, avoiding large crowds, and practicing stringent hygiene — like washing hands well and often — are measures everyone must take to start extinguishing the spread of COVID-19.
"Living up to our duty to protect ourselves and others requires a lot of sacrifices. But, It definitely shows you have to have a lot of discipline, integrity and perseverance," continued Mitchell. "I believe that this is a time where everyone just needs to come together and work together; this isn't the time to be slacking off. We can't be lazy, we can't be absentminded or naive on issues that affect us all."
---
To learn more about what The Citadel is doing to ensure a safe return to campus in the fall, click here.