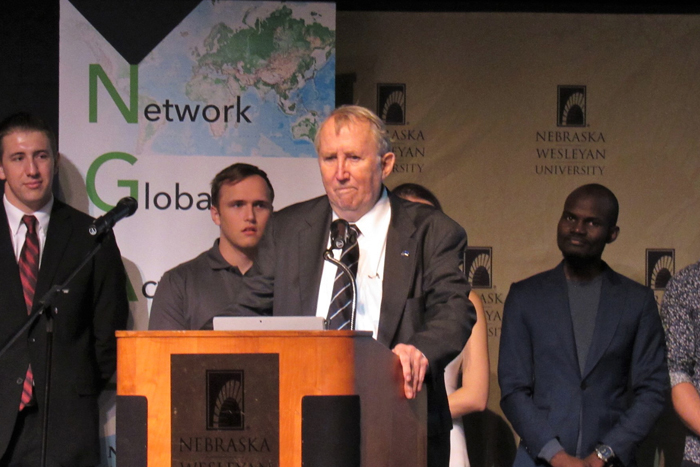 As seen in Silicon Prairie News, by Rod Armstrong
On June 15, Nebraska Wesleyan University in Lincoln hosted the fourth annual Network Globally, Act Locally (NGAL) pitch competition. NGAL is sponsored by the Harry and Reba Huge Foundation in partnership with Wesleyan, the College of Charleston and The Citadel in Charleston, South Carolina, and the University of Tartu and Tallinn University of Technology in Estonia.
"A number of teams compete within each university to qualify for NGAL," said Harry Huge, co-founder and chairman of the Huge Foundation. "These young people look at things that may have been overlooked by others."
The pitch competition was the culmination of an intense program that included a week in Estonia and another in Lincoln touring startups, meeting with mentors and working on their ideas. Sometimes the original idea didn't work out.
"Our original idea failed and we needed to pivot," said Angela Gallo of Nebraska Wesleyan with Parkway, a company co-founded with Jordan Cahill that bills itself as Airbnb for your driveway. "The lesson was don't be overly in love with your idea, and get used to failure."
American students were very impressed with their time in Estonia.
"Estonia was amazing," said KimberMarie Faircloth of the College of Charleston with Anonimity, a company designed to reduce gender and other bias in hiring. "I'd love to go back and continue doing business there."
Estonian students felt similar about their experience in Lincoln.
"America is a big and great country, very different," said Martin Mollits of the Tallinn University of Technology with Timey, a company developing a smart indicator to verify the quality of products like milk. "People here are very friendly, ready to help."
Timey co-founder Laurent Laheb was impressed with some local companies like Hudl and Firespring.
"We went down the slide at Firespring," he said. "The highlight was the Hudl offices; we hadn't heard much about it. We enjoyed seeing the open office space and lifestyle."
Citadel students CJ Walker and Chris Christianson were more familiar with Hudl. They are co-founders of Terch, a sports memorabilia manufacturing concept.
"I had a Hudl highlight film in high school," Christianson said. "It was great seeing the environment, no assigned desks. Everyone was really friendly."
Walker was impressed with how competitive the teams were.
"I'm confident at The Citadel, but that's hardly anything compared to the rest of the world," he said. "It makes you really motivated to work."
Brent Comstock, CEO of BCom Solutions and COO of Change Ventures, a venture capital firm founded by Huge that supports Baltic founders, runs the NGAL program.
"I met the Huge family my junior year in high school," he said. "I started working for Change Ventures my sophomore year in college, and last year Harry asked me if I would run the NGAL program."
The connection to Estonia is a key part of NGAL.
"The objective is really for them to experience both the culture and also to understand how business is conducted in another country," Comstock said. "The program brings the U.S. and the Baltic region together."
Timey walked away with the $3,000 top prize. ResDec, a team from the University of Tartu developing software analysis to speed identification of staph infections, took the $2,500 second prize, and Parkway received the $2,000 third prize. The remaining teams each received $500.
Huge, who practices law on an international scale, received his B.A. degree from Nebraska Wesleyan. The young people he meets through the NGAL program gives him a sense of confidence in the future.
"I thought a competition among students from the U.S. and Estonia would be a good thing," he said. "We have great hopes."