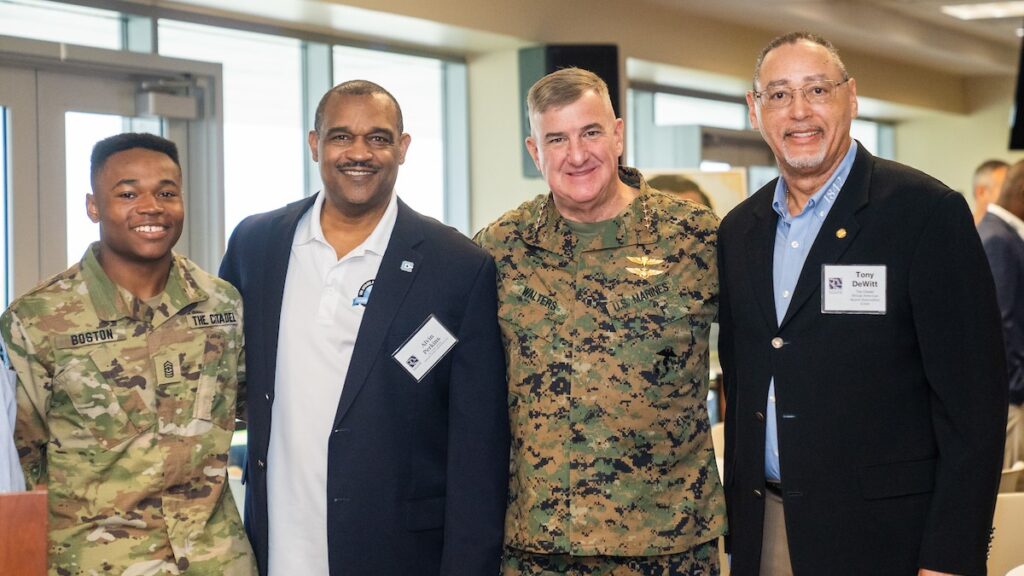 After attending the Black Alumni Collective National Leadership Symposium, more than 140 alumni are taking what they learned back to more than 30 different colleges.
The Symposium — held the second week of March in Charleston and co-hosted by The Citadel, the College of Charleston and the University of South Carolina — focused on African American student recruitment and retention, as well as African American alumni leadership and development.
"The Symposium helped me become a better alum," said Tony DeWitt, '77, president of The Citadel African American Alumni Association. "It gave me an even better understanding of the importance of supporting my alma mater, and I'm excited to bring what I learned back to the CA4 and to enhance the ways we work with, and learn from, other alumni clubs across the nation."
Throughout the Symposium, three key areas stood out as exceptionally successful and important:
The selection of session topics for panel discussions, which were all geared around alumni leadership and provided an interactive exchange of shared learning between fellow volunteers.
The networking opportunities for both new and existing relationships, allowing African American alumni to create new, and strengthen existing, authentic relationships with other volunteers from dozens of institutions.
The integration of the Symposium with Charleston, the host city, which allowed the attendees to attend a Gullah tour, visit the soon-to-open International African American Museum, fellowship in Mother Emanuel AME Church and also give back to the city with a community service project.
"We're all passionate about this work, and to be brought together just further ignites and empowers our passions for our alma maters in a way that provides important connections to other Black alums who are equally passionate about the work," said Allyson Reaves, founder of the Black Alumni Collective.
The Symposium began at the College of Charleston with greetings from CofC President Andrew Hsu, Ph.D., on Thursday, and continued at The Citadel campus on Friday, where The Citadel President Gen. Glenn Walters, USMC (Ret.), '79, delivered remarks. Friday was also an opportunity to celebrate the Class of 1973 — the first class from The Citadel to graduate multiple African American cadets.
The Citadel African American Alumni Association, CA4 for short, was a large participant throughout the event, with Dr. Larry Ferguson, '73, and Norman Seabrooks, '73, serving as honorary co-hosts for this year's Symposium.
"The hospitality shown to us by Charleston was wonderful – the support we got from all three schools was tremendous and necessary for making this a successful event," added DeWitt.
The CA4 consists of nearly 700 members, with their biggest mission being providing mentorship to cadets and actively recruiting members to ensure every incoming African American cadet has a mentor at The Citadel. This mentorship is vital to helping young men and women reach their potential during their Citadel experience, and mentors are encouraged to have two hours of engagement per month with their mentee. The CA4 also provides a discretionary fund to provide urgent financial support to African American cadets, as well as three fully endowed scholarships which are awarded annually.
The Black Alumni Collective was created in 2018 after African American leaders across more than 10 different schools agreed that having a collective voice is essential in moving universities, alumni and local communities forward. Each year the Collective's conference, alumni volunteers and higher education administrators collaborate to further their mission through civic engagement, economics and advocacy.