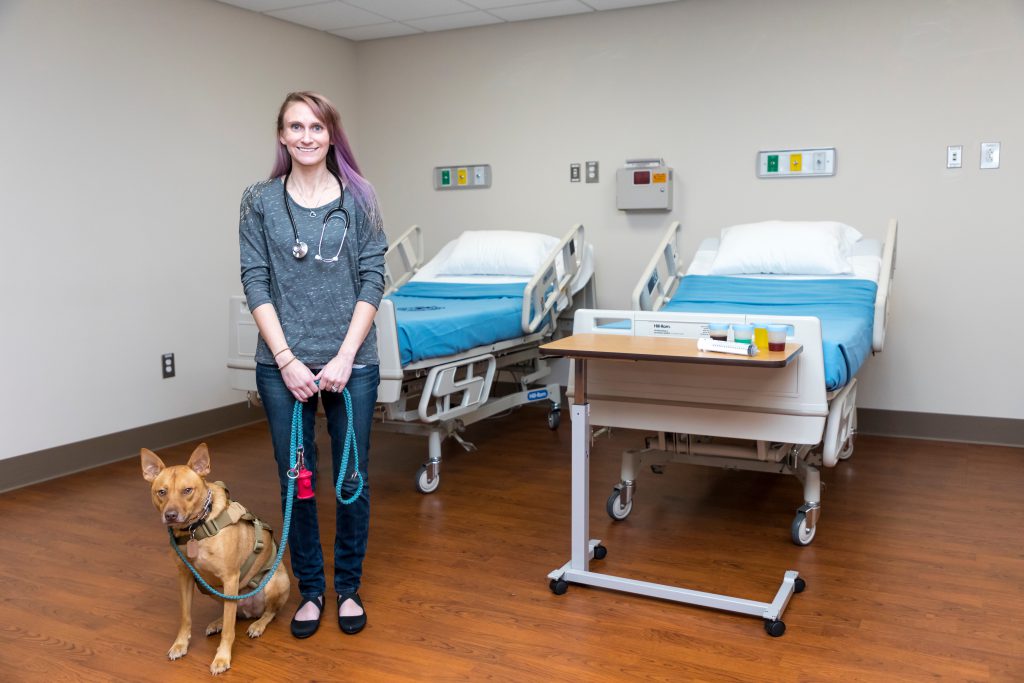 As seen in The Citadel President's Report 2017
Annie Harrington knows the important role that healthcare professionals and caregivers play in a patient's road to recovery. The veteran student from Westchester County, New York, has a two-year-old Australian kelpie service dog named KC who helps her manage the symptoms of post-traumatic stress disorder that she sustained while deployed in the Middle East.
After eight years in the Air Force where she worked as a mechanic on C130s, Harrington, accompanied by KC, is working towards a degree in nursing.
"I learned in the military that I liked working with people," said Harrington, "and from my own experience, I know that good healthcare professionals who take the time to listen to what their patients have to say truly have a gift."
Harrington, whose Air Force career included two deployments—one to Afghanistan and the other to Iraq—is one of 262 veteran students enrolled at The Citadel.As an evening undergraduate student pursuing a bachelor of science degree in nursing, she is also a member of the inaugural nursing class at The Citadel.
"From caring for babies to working with elderly people, the opportunities for good nurses are endless," Harrington said.
The Swain Department of Nursing was created by a generous gift from brothers David, '80, and Christopher, '81, Swain and their wives Mary and Debora. The program was launched in early 2017 to help satisfy the projected demand for nurses in the Lowcountry, the state and especially in the United States military through a traditional classroom and lab-based nursing education curriculum.