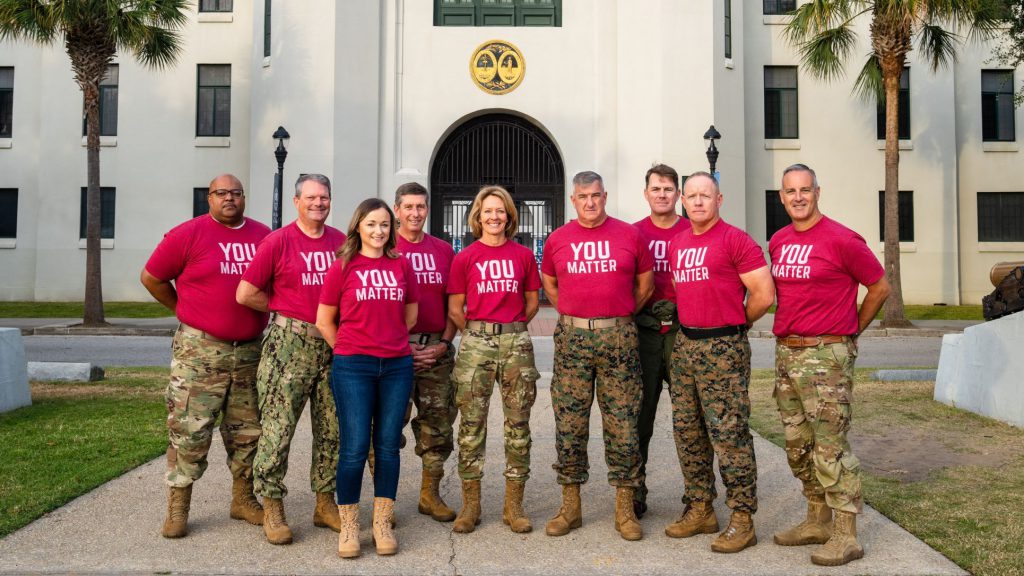 Photo: The Citadel administration poses for a photo to show support for "YOU MATTER" campaign. Left to right: Robert Pickering, '94; Capt. Jeff Lamberson, USN (Ret.), '85; Leah Schonfeld; Col. Cardon Crawford, U.S. Army (Ret.), '83; Sally Selden, Ph.D., SPHR; Gen. Glenn Walters, USMC (Ret.), '79; Cmdr. William Lind, USN (Ret.), '91; Col. Thomas Gordon, USMC (Ret.), '91; Col. Sonny Leggett, U.S. Army (Ret.), '96.
The Boot Campaign started when Americans began lacing up their boots, specifically combat boots, to show their support and gratitude for active-duty service members, veterans and their families. Their decade-long mission has been to honor and restore the lives of veterans and military families through individualized, life-improving programs.
Their latest initiative is YOU MATTER. More than just a slogan, it is a universal message that everyone, especially the veteran community, needs to hear. The Citadel and its college leadership support this campaign and encourage any active-duty military member or veteran to remember the core message – YOU MATTER.
As the number one school for veterans, The Citadel recognizes how important service members are, and for that reason, the college's leadership has teamed up with the Boot Campaign to highlight this important message. The Citadel is proud to offer veterans the opportunity to complete or advance their education in an understanding and appreciative military service environment. Here, veterans have access to all of the programs The Citadel offers and, through the Veteran Student Success Center, will have an easy and supportive transition from service to campus. The Citadel's Veteran Student Success Center is open to all veteran students to increase awareness of VA Educational Benefits and Veterans Center activities.
Resources:
Learn the signs of mental health issues, reach out, and know you are not alone.
Veteran Crisis Line: call 9-8-8 and press 1, text 838255 or chat online at veteranscrisisline.net/chat
988 Suicide and Crisis Lifeline: call or text 9-8-8 or chat online 988lifeline.org/chat