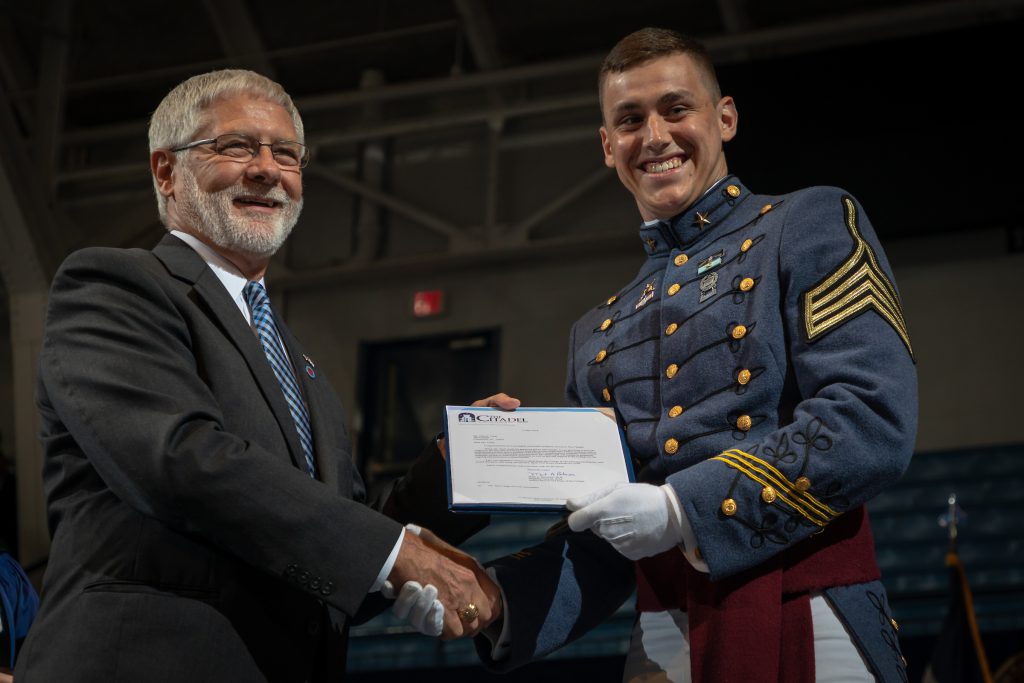 Cadets and faculty received awards during commencement ceremony May 5
Four graduating cadets and two faculty members are being recognized for their outstanding academic and professional achievements. The individuals were presented awards during the South Carolina Corps of Cadets commencement ceremony Saturday, May 5.
Cadets receive Corps' most prestigious honors
Cadets whose grade point averages were the highest in the Class of 2018 were recognized as the David Shingler Spell First and Second Honor Graduates. Recipients of the award receive an inscribed plaque and a stipend for educational expenses at the graduate level.
Cadet John Clark, an accounting major from Macon, Georgia, was named the first honor graduate. Clark is the editor-in-chief of the Gold Star Journal, president of The Citadel Honors Program Student Advisory Council, treasurer of Omicron Delta Kappa, commander of Echo Company and a member of the Summerall Guards. Clark will enter the Army as an officer and took his commissioning oath Friday, May 4.
Cadet Joseph Cook from Goose Creek, South Carolina was named the second honor graduate. Cook is a civil engineering major, serves as officer in 4th Battalion and is a member of Omicron Delta Kappa, Tau Beta Pi and Phi Kappa Phi honor societies. Additionally, he is a STEM tutor in The Citadel Academic Support Center and a member of the Summerall Guards.
Company commander awarded John O. Willson Ring
Cadet Richard Bennet was presented the John O. Willson Ring. The ring has been awarded annually since 1911 to a senior elected by their peers as the finest, purest and most courteous member of the class.
Bennett is political science major from Washington, North Carolina. He is the commander of Bravo Company and has earned gold stars multiple semesters for his academic achievements.
During commencement week, Bennett was also presented the Col. Floyd W. Brown Jr. Memorial Award for his contributions to the success of cadet life. After graduating, Bennett will enter the Army as an officer; he took his commissioning oath Friday, May 4.
Algernon Sydney Sullivan Awards presented to two dedicated to academic excellence
The Algernon Sydney Sullivan Awards were presented to Cadet James Andrus and Jack Rhodes, Ph.D. The awards are presented annually through the New York Southern Society to a student and faculty member in recognition of high thought and noble endeavor.
Andrus is a mathematics major with minors in computer programming and cybersecurity from Enfield, North Carolina. His commitment to service includes tutoring math and computer science to younger cadets and leading The Citadel's Cybersecurity Team and Math Club. Andrus will enter the Navy as an officer and took his commissioning oath Friday, May 4.
Rhodes is a professor in The Citadel Department of English, Fine Arts and Communication and the director of The Citadel Honors Program. Rhodes' dedication to academic excellence motivated him to create honors program more than 30 years ago. Since then, he has mentored hundreds of young men and women to make the most of their talents and take on challenges with confidence.
Grimsley Award presented to criminal justice professor, researcher
Matthew Zommer, Ph.D., received the James A. Grimsley Jr. Award for Undergraduate Teaching Excellence for his love of teaching, commitment to scholarship and dedication to the Corps of Cadets.
Zommer is an associate professor in The Citadel Department of Criminal Justice. His research in international criminal justice has taken him to countries around the world, and his findings are often shared in his classes. Zommer also serves as faculty advisor to the Criminal Justice Society and The Citadel's Alpha Phi Sigma chapter. He has arranged guest speakers, initiated fundraisers, organized trips and facilitated numerous community service efforts.