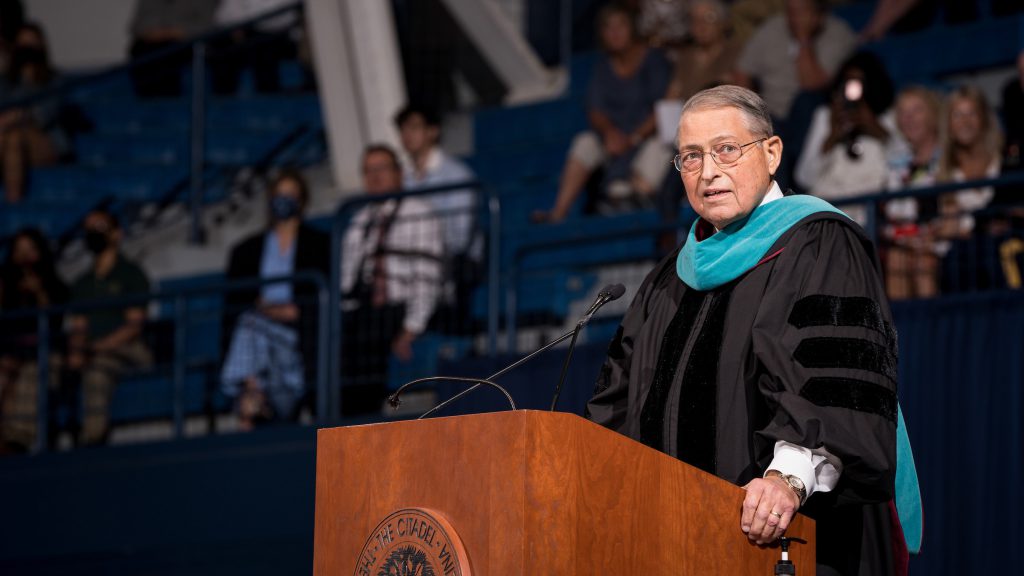 Photo above: Thomas "Tommy" Young III speaking as president-elect for The Citadel Alumni Association during The South Carolina Corps of Cadets Class of 2021 commencement ceremony on campus at McAlister Field House in Charleston, South Carolina on Saturday, May 8, 2021.
Thomas R. Young III ("Tommy") passed away peacefully Tuesday, July 27, 2021 at the Spartanburg Regional Hospice Home. Born March 25, 1952, he was the son of the late Thomas Rudolph Young Jr and Mary Jane Edwards Young.
Tommy is survived by his wife of 45 years, Elizabeth Chapman Young; and their Children, Thomas Rudolph Young, IV (Kristy), Bryan Chapman Young, and Elizabeth Ann Young Miers (Lee); his siblings, Kenneth Edwards Young (Cindy), Dr. Edward Hotchkiss Young (Clark), Mary Jane Young McWilliams, Berkeley Wilson Young; Elizabeth's brothers, Joseph Wallace Chapman Jr. (Ashley) and Norman Hinman Chapman (Muffet); and Tommy and Elizabeth's six grandchildren, Thomas Rudolph Young V, John Wallace Young, Mattie Mae Young, Mary Elizabeth Miers, Ann Louise Miers, and Ruth Walton Miers, and many nieces and nephews.
Tommy graduated from The Spartanburg Day School in 1970 and The Citadel, The Military College of South Carolina, in 1974. Tommy returned to Spartanburg after graduation and went to work with his father at Young Office Supply Company, which Tommy's father and grandfather started. Under Tommy's leadership and that of his son, Thomas, the company has grown to three locations, i.e., Spartanburg, Greenville and Asheville, and is now known as Young Office. Tommy loved his work and all of the many employees he worked with, including all former associates of Young Office.
Tommy also loved Spartanburg and serving the community in many ways through his business and personal efforts. He served in leadership roles with numerous community organizations, including Board Chair for the Spartanburg Chamber of Commerce (One Spartanburg, Inc), the Carolina Piedmont Foundation (USC Upstate Foundation), Mountainview Nursing Home, The Spartanburg Regional Healthcare Foundation, The Arts Partnership of Greater Spartanburg (Chapman Cultural Center) and the Spartanburg County Foundation. His extensive work in the community included 17 years of service on the Board of the Spartanburg Hospital for Restorative Care, President of the Rotary Club of Spartanburg and The Piedmont Club, and President-Elect of The Citadel Alumni Association. He also served on the boards of the YMCA of Spartanburg, the Spartanburg Boys and Girls Club, the local chapter of the American Cancer Society, and the local chapter of the Boy Scouts of America.
Among his many achievements, Tommy was very proud to be the recipient of three special awards, the 2010 Neville Holcombe Distinguished Citizenship Award, given by the Spartanburg Area Chamber of Commerce, an Honorary Doctor of Public Service degree from the University of South Carolina in 2017 for his tireless efforts and leadership with many arts, education, health care and service organizations, and the South Carolina "Order of the Palmetto" presented by S.C. Governor Henry McMaster in 2019.
Tommy's leadership was also displayed within many organizations associated with the office products industry locally as well as nationally. These include the Steelcase Furniture Dealer Advisory Council, Independent Stationers, Carolina Office Products Association and the National Office Products Association.
Tommy was a longtime member of First Presbyterian Church where he served as a Deacon and an Elder and assumed many volunteer roles. Anyone who knows Tommy knows that he loved life. He loved his church, his family, his business, his community and his "Citadel Bulldogs".
Funeral services will be held at First Presbyterian Church at 11:00 AM on Friday, July 30, 2021, and conducted by Dr. Lewis F. Galloway and Reverend Joanne R. Hull.
In lieu of flowers memorials may be made to First Presbyterian Church, 393 East Main Street, Spartanburg, S.C. 29302; Spartanburg Regional Healthcare System Foundation, 101 East Wood Street, Spartanburg, S.C. 29303; The Citadel Foundation, 171 Moultrie Street, Charleston, S.C. 29409; or to the charity of your choice.
Condolences may be expressed to the family at www.JMDunbar.com.