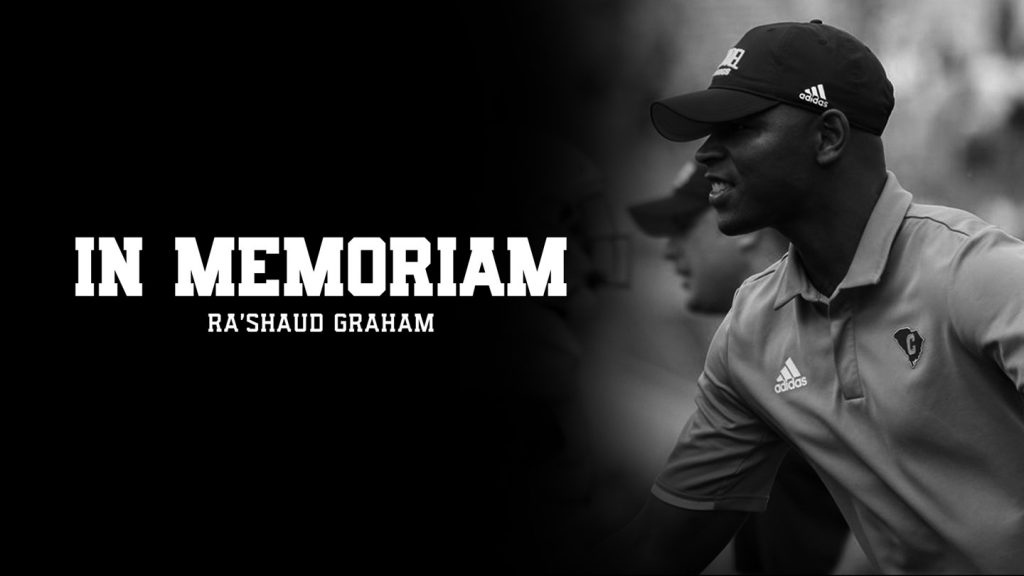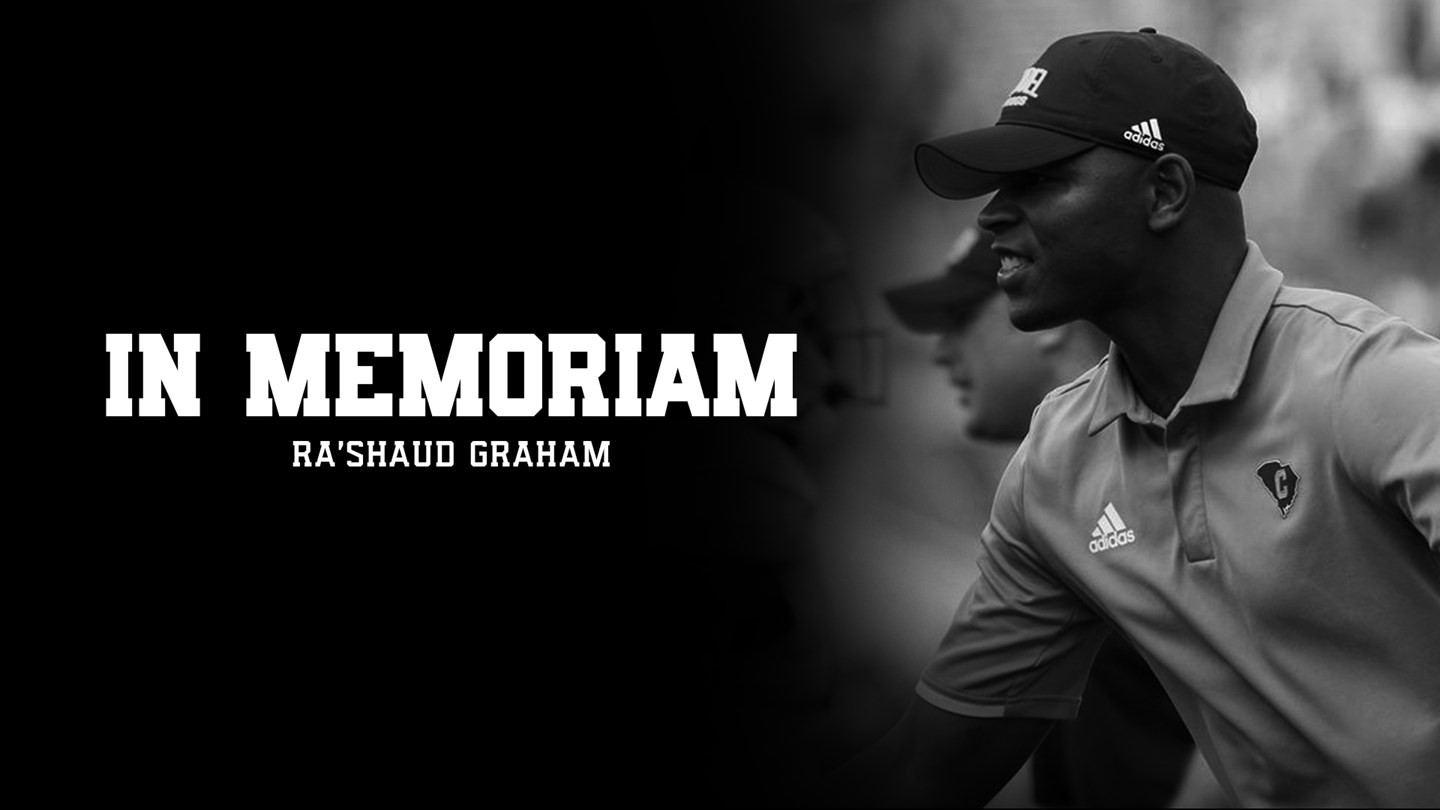 A young, principled leader lost, but his impact on countless people leaves a legacy
May 1 Update:
The memorial service for Ra'shaud Graham will be held Saturday, May 2 at 1 p.m.
Those wishing to pay their respects can still view the service, which will be live-streamed at this link.
Original story below:
The Citadel family, and many people in Lake City, South Carolina, are mourning the passing of a young leader who impacted the lives of the many people he served. Ra'Shaud Graham was a member of The Citadel Class of 2017 who went on to serve as a coach in his hometown of Lake City, and then returned to campus to lead the Fellowship of Christian Athletes chapter, and to serve as the Bulldogs' football team chaplain.
On Tuesday, April 28, Graham drowned when his kayak overturned in a waterway in Berkely County. He was engaged and planned to marry this summer.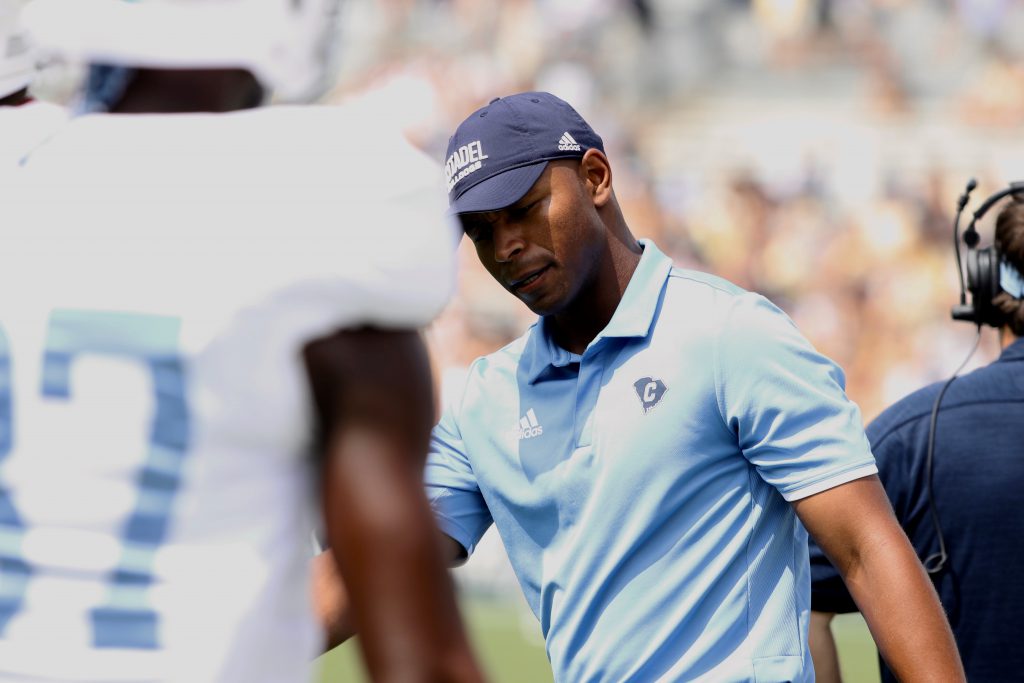 "We are going to hurt from this huge loss of one of our own. We will be forever grateful for the inspiration and guidance that he gave our football program," said head football coach Brent Thompson. "Ra'Shaud was one of the most genuine people and had a tremendous impact on our athletes this past year. Our thoughts and prayers go out to his family and friends during this very difficult time."
Graham came to The Citadel after graduating from Lake City High School. He spent two years as a member of the Bulldog track and field team before becoming a company commander and a member of the Summerall Guards.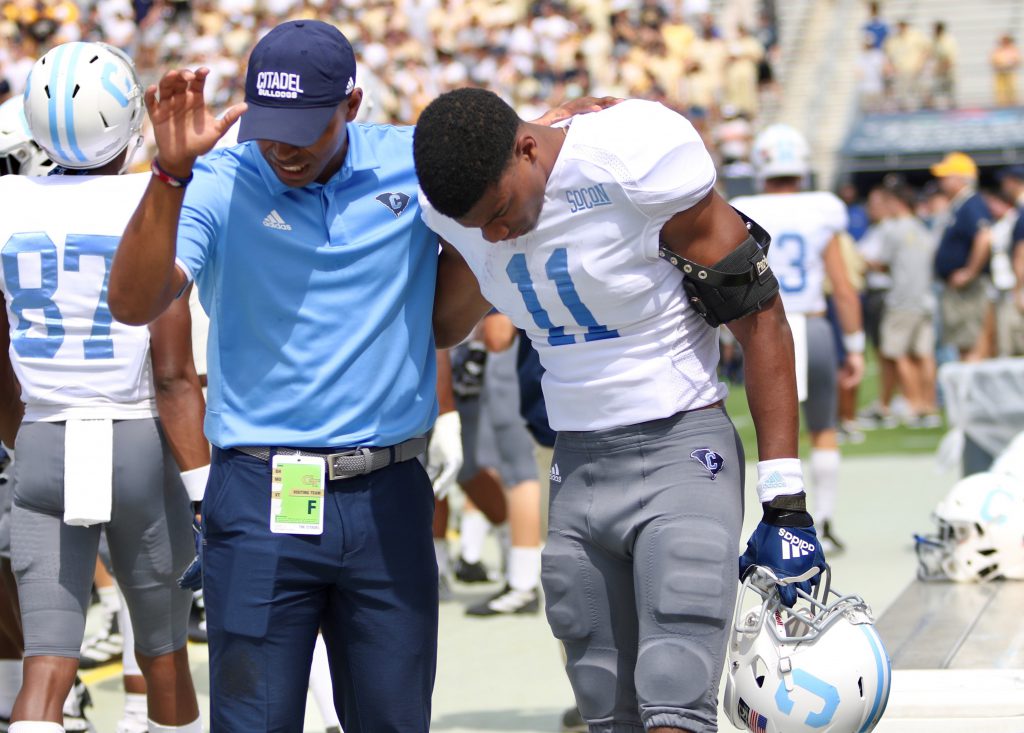 "Ra'Shaud Graham was an outstanding leader for Lowcountry FCA," said Lowcountry FCA Metro Area Director Justin Neally. "He sacrificed so much to answer his call to ministry. The legacy he leaves on campus and the impact made on all whom he met, will live on for eternity."
Memories being shared by Graham's friends and family
In reacting to Graham's death, dozens and dozens of people are sharing messages to him and tributes about him on his Facebook page, many expressing that Graham had become "family" to them and helped them through the Christian faith during difficult times.
"You will truly be missed, but your legacy will live on forever, and the boys will make sure of it! We will continue to keep your family and fiancee in our prayers." Grant Drakeford
"Though Ra'Shaud is a life gone too soon, his is not a light extinguished, not even close. I had the great honor of meeting you early in my college career, and though our brushes thereafter were brief, every interaction you had — whether it was with me or with others — had a way of making the day a little brighter and the future seem a little more hopeful. You were an inspiration to so many and though you may not be with us anymore in body, your spirit of positivity lives on in the thousands of lives you touched just by being yourself.
Logan Barber, USN, Citadel Class of 2018
"Everyone needs to hear this message from a beautiful soul that will forever leave an impact on this world. He never saw "color," he looked on the inside. Oh what lessons he taught in his short time on this earth. Fly high Ra'Shaud Graham and watch over us from Heaven. You will never be forgotten!!"
Johnette Williams-Coker
In addition, members of the local media are reporting on his loss after having known Graham through his role with the football team, one report calling him the "ideal Citadel man."
Words from Dr. Joe R. Molina, chaplain to the Corps of Cadets and director of religious activities
Dear Friends,
I am extremely saddened and sorry to report the death of a colleague, friend and brother in the faith, Ra'Shaud Graham, Citadel Class of 2017.
Ra'Shaud lost his life in a tragic boating accident on the morning of Tuesday, April 28th in Berkley County.
He was the Fellowship of Christian Athletes (FCA) Director at The Citadel as well as volunteer Bulldogs football team chaplain.
He had a stellar cadetship and upon graduation returned to his high school to teach and coach. He joined the Citadel's Collegiate Ministries Team in JULY 2019.
Those of you who knew him well, will attest to his warm personality and ministerial heart. To be sure, his most distinguishing attribute was a vibrant and contagious Faith in God and God's eternal promises. I derived inspiration and encouragement from his undaunting commitment. His personal faith gives me assurance of his present state, as he rests in our God's firm and gentle embrace.
Please join me in praying for his family as they deal with this tragic loss.
Meanwhile, continue to stay healthy and safe.
All God's Very Best!
Dr. Joe R. Molina, CDR-SCM
Chaplain to the Corps of Cadets,
Director of Religious Activities and Adjunct Prof.
Ra'Shaud Graham in his own words