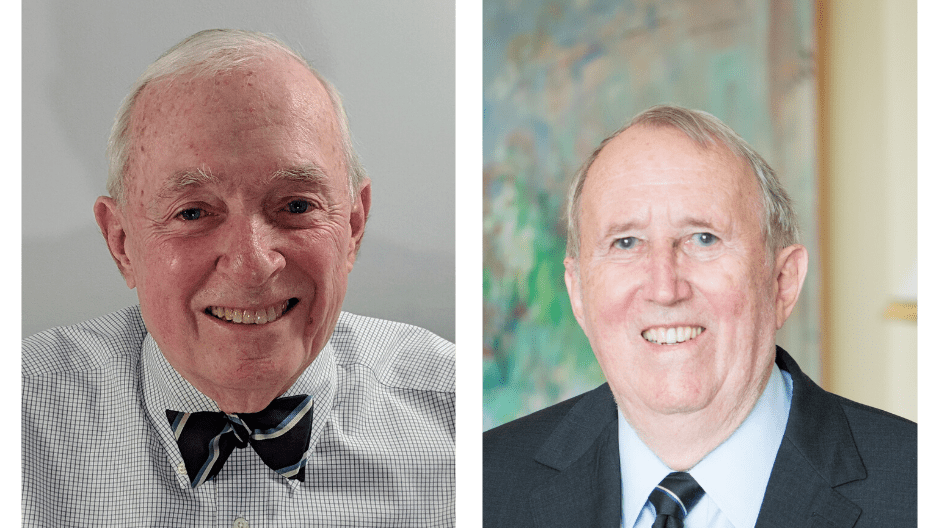 Honorary degrees to be presented posthumously to two principled leaders
The Citadel is remembering, and posthumously honoring, two dedicated servant leaders who were to receive honorary degrees as part of The Citadel Class of 2020 commencements, but who have sadly both died before they could accept the honors.
Dr. James Martin Hayes Jr. Citadel Class of 1960
Dr. James Martin Hayes Jr. was a primary care physician, revered in the health care community and among his legions of patients for his leadership, dedication and compassion. He passed away on March 12, 2020.
In 1960, Dr. Hayes graduated from The Citadel and went on to attend the Medical College of South Carolina. After graduating from medical school, Dr. Hayes spent two years as a physician in the U.S. Army Medical Corps, including a year in Vietnam as commanding officer of the 332nd General Medical Dispensary, where he was awarded the Bronze Star for meritorious service.
A former board member of the Medical Society of South Carolina and Roper Hospital, Dr. Hayes played a pivotal role in the 1997 merger of St. Francis and Roper hospitals. After more than 35 years in private practice, Dr. Hayes began working as a volunteer physician at the Barrier Islands Free Medical Clinic, where he also serves as chair of the board. The Johns Island clinic provides free medical services to people who otherwise could not afford health care.
For his unwavering support of the sick and uninsured, and for his many contributions to the medical community of the Lowcountry, The Citadel Board of Visitors is proud to posthumously award Dr. James Hayes the honorary Doctor of Humanitarian Service degree.
Read or leave tributes to Dr. Hayes on this website.
Harry Huge, The Harry and Reba Huge Foundation
At the time of his death on April 27, 2020, Huge was slated to be awarded an Honorary Degree by The Citadel as part of the Class of 2020 commencement honors for his lifetime of work, dedicated to expanding opportunities for — and protecting the rights of — marginalized members of society, according to Winfred Bo Moore, Ph.D., dean for The Citadel School of Humanities and Social Sciences.
Harry was born into modest circumstances, but through talent and hard work and with his wife and indispensable partner, Reba, always at his side, he acquired a first-rate education, rose to the pinnacle of the American legal profession, specialized in safeguarding the rights of the disadvantaged, and generously financed a wide-range of expanded educational opportunities better to meet their–and the nation's—needs. Harry will be sorely missed by all who had the great, good fortune to know him. But his public works and his personal story will continue to be shining examples of what America, at her best, can produce and of what Americans, at their best, can be.

Winfred Bo Moore, Ph.D., dean for The Citadel School of Humanities and Social Sciences
Huge was a leader, an advocate, a role model and a philanthropist. From his modest beginnings in Superior, Nebraska, he attended Nebraska Wesleyan University on a basketball scholarship, earning a commission in the U.S. Army Reserve after graduation.
After completing law school at Georgetown University, Mr. Huge began making a name for himself in the legal field, becoming one of the nation's most prominent attorneys. In his career, Mr. Huge represented victims of asbestos poisoning and families of the victims of the September 11 attacks. He provided legal counsel to civil rights activists and worked to expose social injustices. Mr. Huge also provided opportunities for deserving students through a non-profit organization he established with his wife. The Harry and Reba Huge Foundation supports and provides study abroad opportunities for scholars who aspire to be leaders, and The Citadel is fortunate to be one of three institutions of higher education in the United States to partner with the Huge Foundation.
In recognition of his tireless work to secure equality and justice, and for his generous support of future leaders, The Citadel Board of Visitors is proud to posthumously award Mr. Harry Huge the honorary Doctor of Humane Letters degree.
For more information about services and memorials for Mr. Huge, please visit the foundation here.