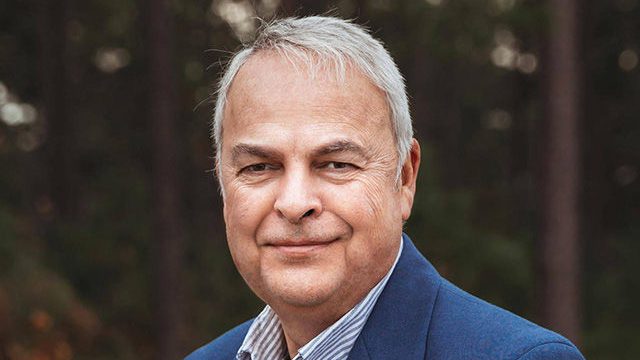 Aberdeen Town Commissioner Ken Byrd, 66, died unexpectedly at home on Wednesday, June 26.
"It was with shock and sadness that I received the news from our town manager of sudden passing of Commissioner Ken Byrd," said Aberdeen Mayor Robbie Farrell.
"We had just sat together at a board meeting on Monday night and there was no indication of any health issues he might have had," he added. "His wealth of experience as a career officer in the United States Air Force brought a lot of ideas and insights to the Aberdeen Town Board, and he was passionate about many things concerning Aberdeen and Moore County."
The son of a career Air Force officer, Byrd graduated from Cocoa Beach High School in Florida, near Cape Canaveral. He attended The Citadel in Charleston, Class of 1974, and had continued a close association with the college throughout his life. He was a volunteer director for The Citadel's Alumni Association, overseeing activities in the Eastern North Carolina area.
"I can't say enough about how involved he was with our Alumni Association," said Tom McAlister, The Citadel's Alumni Association executive director and associate vice president of Alumni Affairs.
Byrd had joined the Alumni board last year, serving as one of 40 district directors throughout the world. He was also active with the organization's communication committee.
"Col. Byrd will be remembered for his steadfast dedication and loyalty to our alma mater, where he selflessly served in a number of capacities," McAlister said.
Upon college graduation, he was commissioned a Second Lieutenant in the United States Air Force, initially in the Air Force Reserve and then on active duty.
He served in Desert Shield/Storm and later was assigned to the Pentagon. Following his military retirement, Byrd worked in the private sector as a consultant.
His wife, Becky, is a native of Aberdeen and the couple raised four children and later settled in the Legacy Lakes community upon retirement.
Byrd became involved in local politics and community interests. He had previously served on the Aberdeen Planning Board, was a former board member of the Academy of Moore County charter school, and was past chairman of Friends of the Aberdeen Library. Byrd was also known to assist the Aberdeen Fire Department with fundraising efforts.
"He was such a nice man, just a nice man," said Barbara Allred, Friends' vice chair. "Ken was very instrumental in getting the Aberdeen Library organized. We are so appreciative."
Aberdeen Fire Chief Phillip Richardson said he could always count on Byrd's help with fundraising suppers.
"Whether it was serving chicken strips or cooking the spaghetti. He was in a lot," said Aberdeen Fire Chief Phillip Richardson. "Ken was definitely a friend of the Fire Department and everyone else here."
"He was an outstanding guy and was very civic-minded. He served all his years with the military and you could tell when he got out, he was still looking for a way to serve," Richardson added.
In 2015, he was elected to the Town Board and had recently announced that he would not seek a second term of office. In May 2018, Byrd had also unsuccessfully challenged state Rep. Jamie Boles for his seat in a hotly contested Republican primary.
"I have had a great time serving and I want to give someone else an opportunity to do the same," Byrd said, speaking to The Pilot on Monday. "The town of Aberdeen is continuing to grow and will need strong, dedicated leadership to guide the growth and town staff as new opportunities come forward."
Mayor Farrell said his passing leaves behind a void on the Town Board.
"My thoughts are with his wife and children at this time," he said.
Funeral arrangements have not been announced. The care of the family is entrusted to Crumpler Funeral Home-Aberdeen.