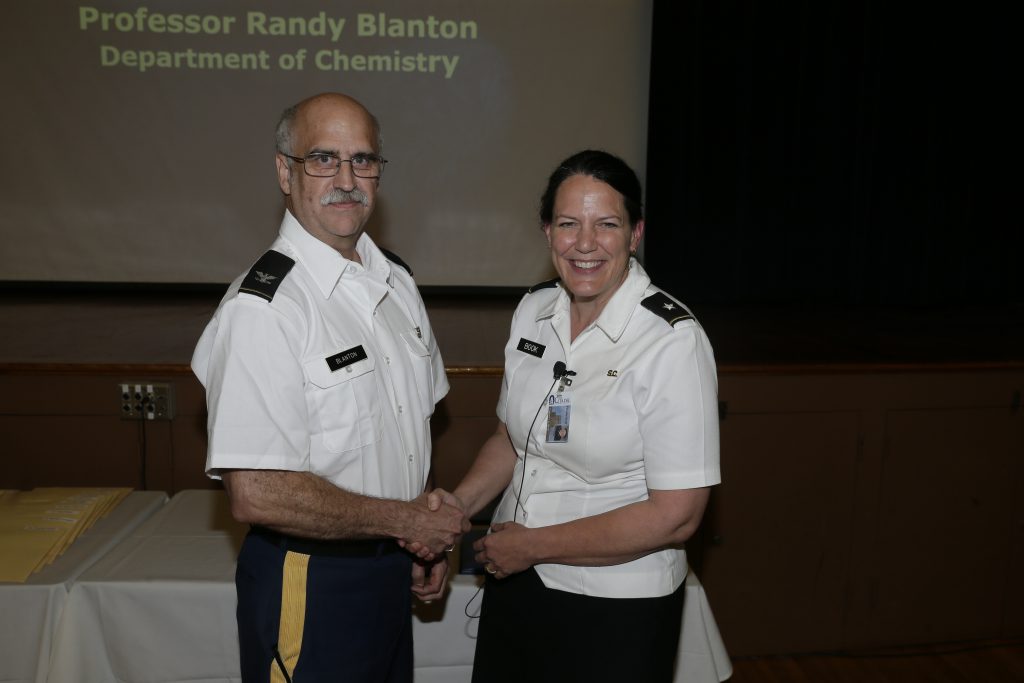 The Citadel congratulates Col. Randy Blanton, Ph.D., for receiving the 2016-17 C.A. Medbery Excellence in Teaching Award. Citadel Provost Brig. Gen. Connie Book, Ph.D., presented Blanton the award April 26 at the faculty meeting and luncheon.
Blanton, a professor of chemistry in the School of Science and Mathematics, has been teaching at the college for 30 years. An esteemed faculty member, he shows a commitment to teaching and has a genuine interest in the welfare of all his students. Blanton is known for sharing his personal experiences with students so that they can learn more about him as an instructor and scientist.
The award was established by the Medbery family in honor of Professor Clint Medbery to recognize dedicated teachers of science and technology who are devoted to excellence in teaching at the freshman level. While presenting Blanton the award, Book described him as "a thoughtful teacher who encourages his students to develop their critical thinking skills through a challenging chemistry course." Book also stated that Blanton is always willing to help his students. She went on to share a quote from one of his students, "Dr. Blanton never hesitates to answer any question and always seems to know how to explain difficult lessons in several ways."
In 2015 Blanton was the recipient of the Excellence in Teaching and Service Award.