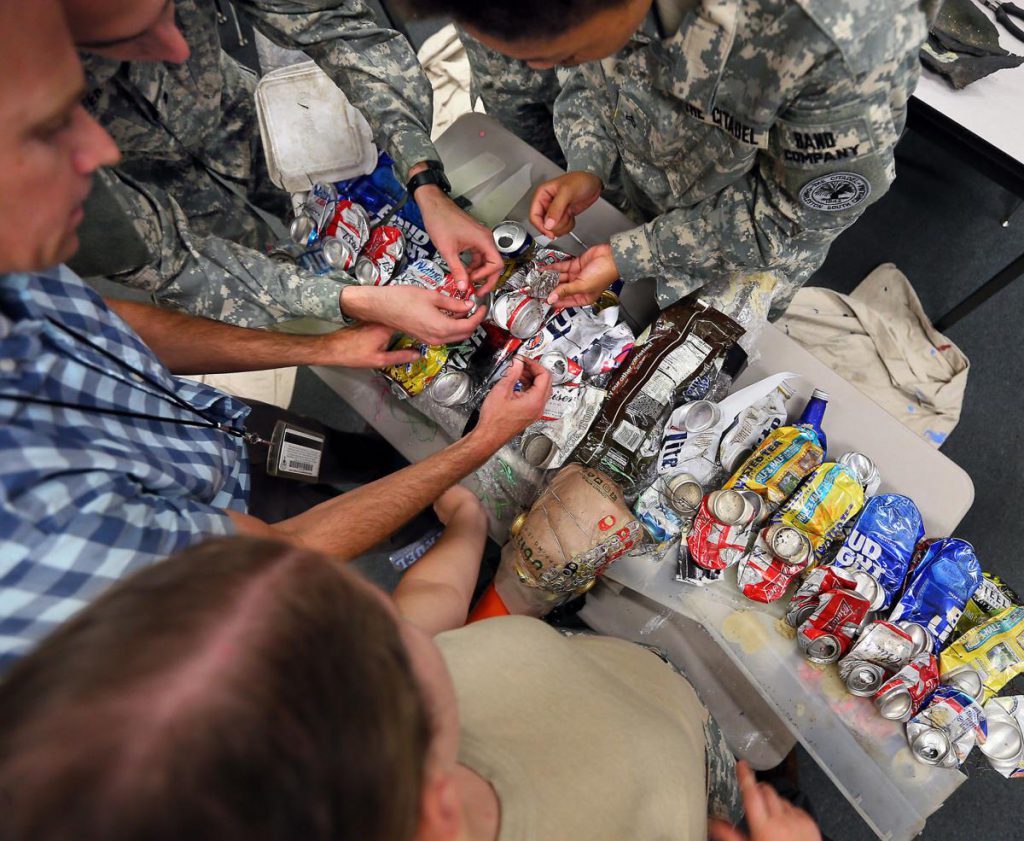 As seen in The Post and Courier by Bo Petersen
Some 7 tons of plastic or rubber litter float in Charleston Harbor at any given time, everything from tire shreds to drink bottles.
This past weekend, pieces from five bags of harbor junk compete for cash prizes near Hilton Head Island.
A group of cadets from The Citadel have entered a diving pelican sculpture in the Port Royal Sound Foundation Recycled Art Contest, to be judged against other schools and groups for a potential $2,000 in prizes.
It's an unusual extension of research by cadets under physiology professor John Weinstein. He estimated the tonnage of plastic pollution in the harbor and is studying its sources and consumption by marine creatures.
Cadets under Fine Arts professor Rick Sargent partnered with biology students on the art project.
They'll be bringing their best to the contest. The pelican's neck is fashioned from the skin of an orange traffic cone. Its head is a clump of plastic bags with bottle caps for eyes. Its wings are crushed beer cans. It appears to be diving to feed in water made from plastic.
Floating on the "water" are a plastic fast food tray, pairs of water shoes, an old whiskey bottle, a warped LP with a gold ball in its center hole and a section of car tire tread.
All of that came from bags of litter the cadets collected — within an hour — from the Ashley River marsh near campus.
Earlier in the week, a group of the 10 or so cadets who have had their hands in the artwork leaned over the table in their camouflage uniforms, putting the last pieces together. They looked like MASH surgeons.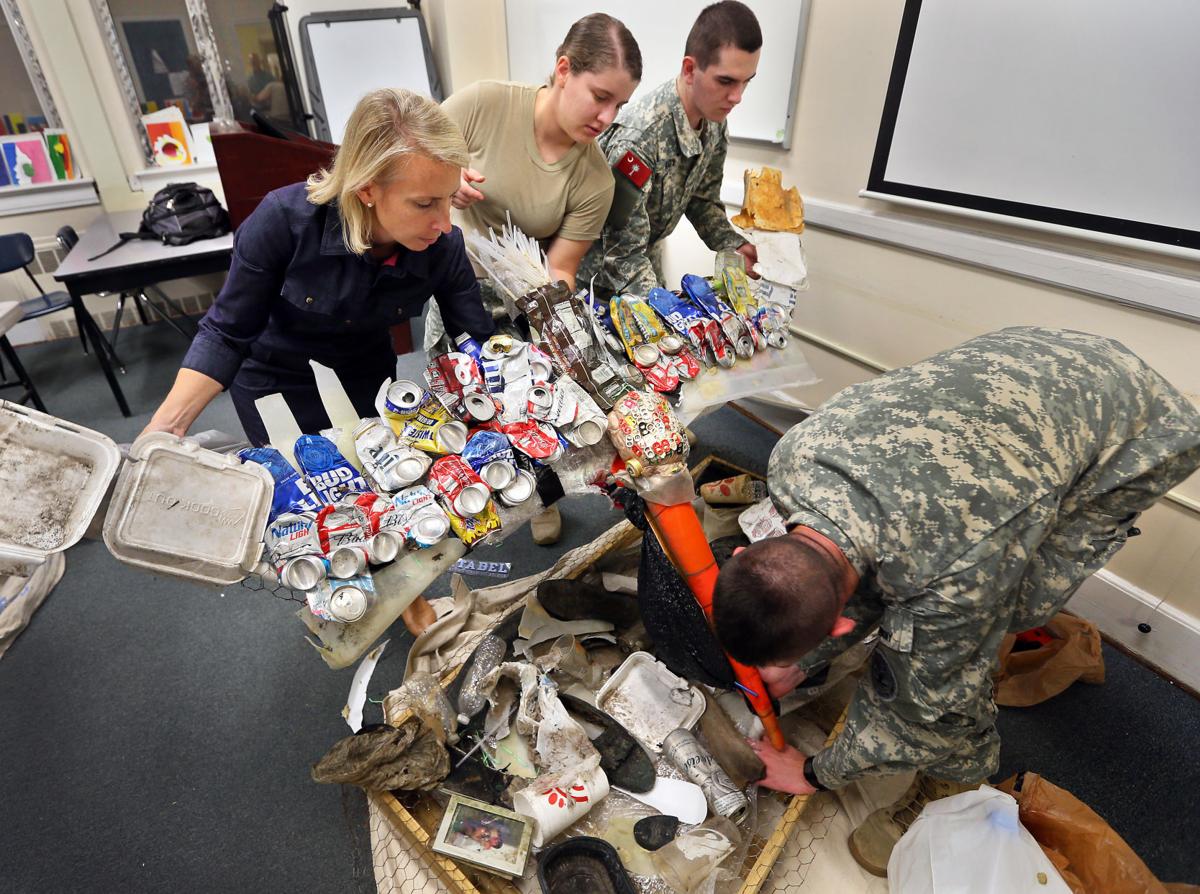 "I was surprised to see how well the materials came together to create the pelican. It's actually turning out pretty good," said cadet Skylar Cooper.
Sargent saw the project as a means to teach how art can have function as well as form, along with a conservation lesson. If they win a prize, the money will be used to provide art supplies for elementary and middle school students at an educational summer camp run by The Citadel.
The effort is both trendy and timely.
Recycled plastics have become a popular art form, pushed by anti-plastic pollution groups and adopted by a number of leading artists.
More commercial uses are being found for the material. South Carolina businesses are turning recycled plastic into a variety of products, including carpet, car parts, furniture stuffing and sprinkler heads.
Meanwhile, more municipalities are banning single-use plastic bags because of the amount of litter and dangers of its consumption by wildlife.
The city of Isle of Palms in 2015 became the first in the state to pass an ordinance banning businesses from offering the bags to customers. Folly Beach followed suit about a year later, adding foam containers to its ban. Other municipalities have now approved bans. Charleston City Council will vote Nov. 13 on a ban.
Some restaurants have begun doing away with plastic straws.
All that is taking place against a bill in the Statehouse waiting for the Senate's session in January, a bill that would make the Legislature the only government body that can restrict the use of bags, or "auxiliary containers" in its language.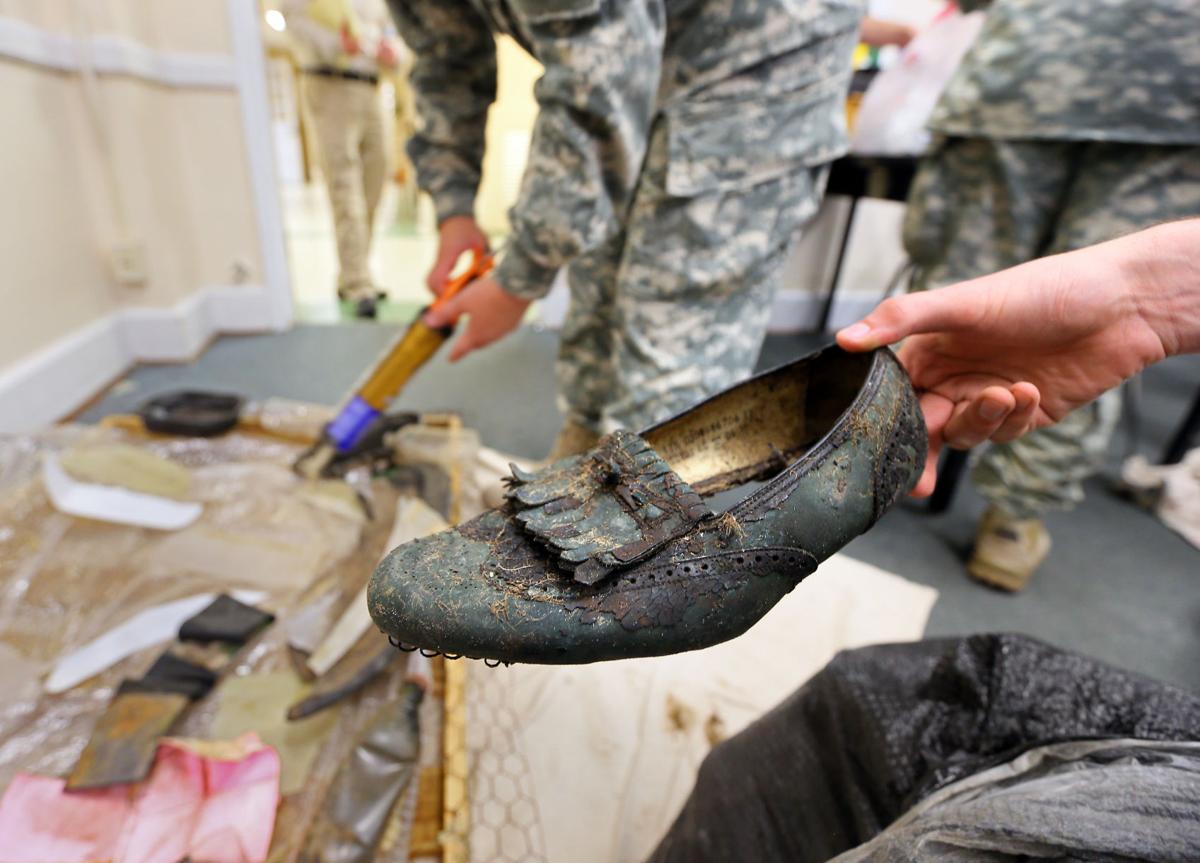 Supporters said any limitations would hurt the business sector and the bans do not get to the nub of the problem, which is litter. Opponents said the measure was an attempt to take away local government control over anti-pollution efforts, and that the plastics industry is seeking preferential treatment in the Statehouse.
The measure passed the House in the spring by a 3 to 2 margin.
Roughly 37,500 tons of plastics were recycled in the state in 2016-17. That's up from about 24,000 tons five years earlier, according to the state's environmental agency.
But that's still a fraction of the tons trashed. About six billion plastic bottles end up in landfills annually across the two Carolinas.
Weinstein couldn't help a wry smile as he watched the "fruits" of his research sculpted.
"It's conserving by cleaning it up, but it's also raising awareness of not only the global problem but our own backyard problem," he said. "And it's better than having it sit in the marsh."
Seanna Adcox contributed to this report.