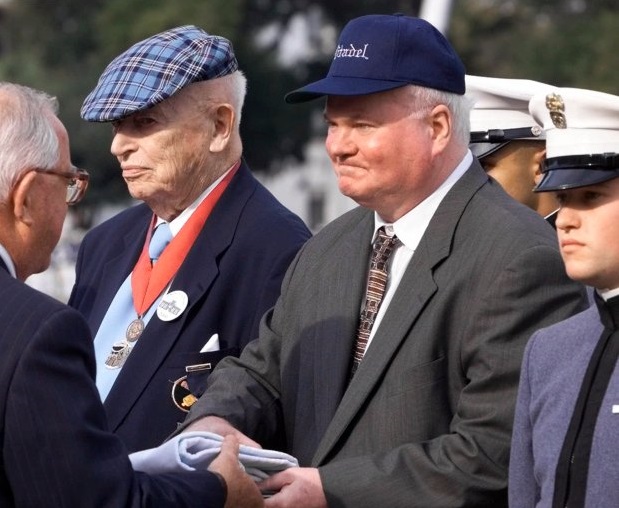 As seen in Manning Live, by Tommy Wampler
The Citadel School of Humanities and Social Sciences is hosting a free public event to explore the life and legacy of celebrated American author Pat Conroy, entitled, "Pat Conroy at The Citadel Symposium." The symposium takes place from 9 a.m. – 5:30 p.m. on Saturday, March 3, at the college's Holliday Alumni Center. The daylong gathering will feature presentations and panels with guests ranging from literary experts to Conroy's friends and loved ones.
Conroy earned more than a dozen literary awards as the author of 12 books. All of his books, including The Great Santini, The Lords of Discipline, and The Prince of Tides were set in the South Carolina Lowcountry.
Conroy and The Citadel
After graduating from The Citadel with an English degree in 1967, Conroy returned to Beaufort, S.C., where he had lived with his family during his teenage years, to teach. As his career as an author flourished, he became estranged from his alma mater for years, but was eventually invited back on numerous occasions. In 2000, Conroy received an honorary degree from The Citadel alongside Thomas Nugent Courvoisier who was the subject of Conroy's book, The Boo, which is about Courvoisier's time as the college's assistant commandant in charge of discipline. (Photo right).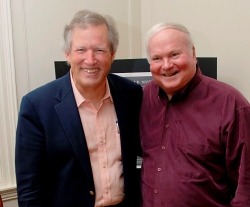 A year later, Conroy accepted an invitation from the president of The Citadel to be the commencement speaker for The Citadel Class of 2001. During that speech Conroy said, "I was finishing up The Lords of Discipline and I tried to think of a line or words that would sum up better than anything how I felt and how other people feel about this college. I wanted it to be something ringing and affirmative, something true, something to be true for every person who has ever gone through the long gray line. I came up with this line, 'I wear the ring.'"
In 2014, Conroy was inducted into The Citadel Athletic Hall of Fame, and he joined classmate and fellow author John Warley (photo right) for a Piccolo Spoleto presentation at The Daniel Library on campus. Additionally, in February 2018, a banner memorializing the author's time as a basketball player at The Citadel was unfurled in McAlister Field House for permanent display. Conroy passed away March 4, 2016.
The Citadel Department of English, Fine Arts and Communications is leading the symposium.
"In the wake of Pat Conroy's untimely death in 2016 and the 50th anniversary of his graduating class in 2017, it seemed appropriate that The Citadel should do something to honor the legacy of its most famous literary alumnus," said Sean Heuston, symposium organizer and Citadel professor of literature. "The symposium will bring together distinguished Conroy experts, Citadel students and a wide range of people from the community who shared an interest his personal life and in his work."
Presentation schedule
The symposium will include time for questions from members of the audience after as many discussions as possible. The presentation schedule is as follows:
9 – 10:45
Military Brats, by Nathalie 

Dupree

Conroy the Cadet, by John Warley
The Education of a Writer: The Resonant, Unmistakable Sound of Pat Conroy and The Citadel, by Alex Macaulay
The Boy with the Books: Pat Conroy and The Citadel's Daniel Library in Memoir & Fiction, by Jonathan Haupt
10-11:30 a.m.
Cadet and Student Panel: The Lords of Discipline at Today's Citadel
Scarborough Multimedia Room, Holliday Alumni Center
Sumerlyn Carruthers: "What It Means to Be a Whole Man"
Grant N. Miller: "Long Gold Line"
Kyle Zachwieja: "The Real Carolina Man"
Jacob W. Wood: "Manhood Defined by The Lords of Discipline"
Natalie L. Rodgers: "The Identity of Will McLean"
Prentiss A. Walton: "The Citadel, the Sentinel, and Identity"
11 – 12:15
A Product of this Artistry: Pat Conroy and The Citadel, by Catherine Seltzer
1:30 – 3:00
Life with Pat Conroy, by Cassandra King
Pat Conroy: My Champion, My Mentor, My Brother, by Shannon Faulkner
Conroy's Reconciliation with The Citadel, by Gregg Smith
3:15 – 5:30
Recollections of Conroy by Joseph P. Riley Jr.
Pat's Kind of Fame: The Celebrity Writer from the 1970s On, by Kirk Curnutt
Dispatches from The Prince of Tides by Brian Hicks
3:30 – 5
Cadet and Student Panel: The Lords of Discipline, Identity Honor, and the Ring
Scarborough Multimedia Room, Holliday Alumni Center
Bryce Pigeon: "Ill-Defined Ideals: The South in Pat Conroy's Lords of Discipline"
Kaileigh Ashby: "To Make Them Wear the Ring: Militant Masculinity in The Lords of Discipline"
Elijah Melendez: "What's a 'Man'? A Discussion of Identity in Pat Conroy's The Lords of Discipline"
Ivan Dingle: "Honor in The Lords of Discipline and at The Citadel"
Symposium panelists' biographies
Kirk Curnutt
Professor and chair of English at Troy University, award-winning novelist, and scholar of American literature.
Nathalie Dupree
Best-selling author, chef, and cooking show host. The four-time James Beard Award winner is also founding chair of the Charleston Food and Wine Festival.
Shannon Faulkner
Educator in the Greenville County School district whose experiences as the first woman to enter The Citadel's South Carolina Corps of Cadets led to a decades-long friendship with Conroy.
Jonathan Haupt
Executive director of the Pat Conroy Literary Center, past director of the University of South Carolina Press, member of the South Carolina Academy of Authors' Board of Governors, and co-editor of an anthology of seventy writers' essays about Conroy.
Brian Hicks
Senior writer and metro columnist with the Charleston Post & Courier, author or co-author of five books, and the recipient of numerous professional awards, including South Carolina Journalist of the Year and Best Humor Columnist in the Southeast.
Cassandra King
Best-selling novelist whose five novels, one book of nonfiction, and short stories, magazine articles, and essays have won numerous awards and honors. King and Conroy married in 1998.
Alexander Macaulay
Associate professor of history at Western Carolina University, award-winning teacher and scholar, author of Marching in Step: Masculinity, Citizenship, and The Citadel in Post World War II America, and Citadel graduate.
Joe Riley
Mayor of Charleston for 40 years, Riley oversaw the transformation of Charleston into a global destination for travel and business, and now teaches at The Citadel (his alma mater) as the first Joseph P. Riley, Jr. endowed chair of American government and public policy.
Catherine Seltzer
Associate professor of English at Southern Illinois University. Seltzer is the author of Understanding Pat Conroy and a forthcoming biography of Conroy.
Gregg Smith
Citadel graduate and close friend of Conroy who played a crucial role in the reconciliation between Conroy and The Citadel.
John Warley
Critically acclaimed novelist, Citadel classmate and baseball teammate, and lifelong friend of Conroy.