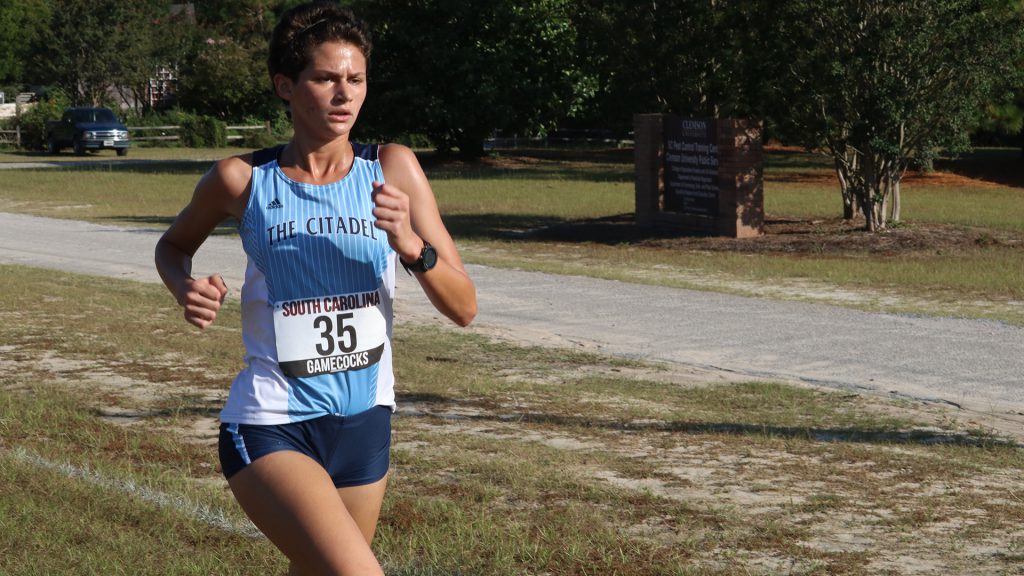 As seen in The News-Herald, by Paul Schenkel
Many college freshmen find the adjustment from high school a challenge. There are tougher academics, life (and laundry) on their own for the first time, new friends to make.
But Amber Opp wasn't most college freshmen.
And her workload this past school year — her first as a cadet at The Citadel — wasn't typical of a freshman, though she wasn't technically a "freshman" until March.
Opp took 18 credit hours both semesters and participated in three sports that combined to span the duration of the academic calendar in addition to the strict daily requirements of life as a cadet and the extra time constraints that accompany college athletics.
"You have to know how to balance your priorities because there's so many things you could be doing throughout the day," Opp said. "You just need to make the time for (everything). That was very difficult for me first semester. … If you have 20 minutes between classes, that's study time. You have to use every minute you have."
Opp described her daily routine as a 5:30 a.m. morning practice followed by morning formation (to breakfast), morning classes, lunch formation, afternoon classes, evening practice and dinner formation.
And those were the slow days.
"Our training schedule has a plan for the day," said Opp. The plan often includes commandant meetings and leadership classes.
Opp participated in cross country in the fall, indoor track in the winter and outdoor track in the spring. So her schedule also included a Thanksgiving dinner drive for needy families and a track clinic for children in Mount Pleasant, S.C., about 30 minutes from campus when traffic is light.
Cadets are thrown right into the fire on "challenge week" the first week they arrive for classes.
"We got up at 4:30 every morning, did physical training (PT) in the morning, got tortured in the most tame way possible," she said. "That whole week was back-to-back doing things, we were always busy. That's the way it is the whole year. This is just getting you ready for a 24-hour schedule."
Finally by March, "knobs" or first-year students, become freshmen on recognition day. Opp said tasks that day included a more rigorous PT than normal at 4:30 a.m.; then at "the gauntlet" they included lifting a huge log and a fireman carry.
Opp injured her back on the latter exercise, costing her all but one outdoor meet this past spring. But before that, she had already set her mark for the Bulldogs in athletics.
The four-time NCHSAA state cross country qualifier and county champion in the sport — who was also Draughn's female athlete of the year as a senior in 2016-17 after being named conference track runner of the year with wins in the 800, 16700 and 3200 meters — broke a program record for the women's 6,000 meters in her first time running the distance and was part of the distance medley relay team which broke the school's freshman record.
She lowered her time in the 3k by more than 30 seconds, ran her two fastest miles ever on the same day despite shin splints and advanced to the NCAA Southeast Regionals in cross country.
Opp said participating in the same three sports at the high school level only prepares you so much for doing so at the NCAA Division I level, much less at a military college.
First, there's only about a week between sports' seasons in college, she said.
"I knew how much more training I would need to compete at a high level in college, but I didn't realize how much more vigorous and demanding the training would be," she said. "Coaches monitor your progress throughout the day, make sure you're on top of everything, drinking enough water."
Not everyone can cut it. Opp said her freshman class shrunk from about 800 in August to about 600 by May. And she had it tougher than most. Opp estimates fewer than 1 percent of cadets participate in three sports.
"You have to stick it out. Everything you go through is worth it in the end," she said. "What I like most about Citadel is the camaraderie. We've all gone through the same torture. Everyone is really close.
"Next year should be easier. I think I'll get more sleep for sure. I'm excited to mentor younger teammates next year and tell them the things I wish I had known coming in."
Opp started running at Table Rock Middle in seventh grade and said coaches James Davis (TRMS), Adam Mazzolini and Laura McGlamery (Freedom H.S.) and Patricia Drake and Jonathan Dameron (Draughn), as well as all her family and high school teammates "have been a huge part of my accomplishments and have inspired me to continue running."
The political science major hopes to be in the Army's signal corps when she graduates from The Citadel as a second lieutenant.