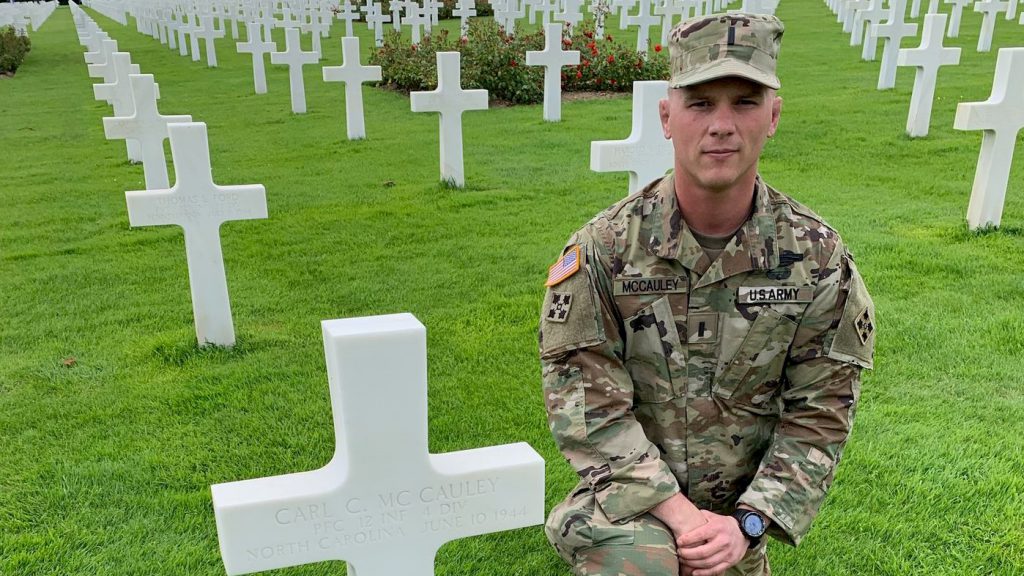 Photo: Lt. Samuel McCauley, Citadel Class of '15, vising the grave site of his great uncle Carl McCauley. (Source: Anna McCauley)
Watch the on-air coverage here.
Thursday marks the 75th anniversary of the Normandy landings, also known as D-Day.
On June 6, 1944, Allied forces invaded Normandy in Operation Overlord during World War II. D-Day was the largest seaborne invasion in history.
To honor those who fought during WWII, servicemen from all over the U.S. are in France, including men and women from North Carolina.
Army Staff Sgt. Michael Moody is a Charlotte native, but for the D-Day anniversary ceremonies, he's in France. Moody is part of a special group of more than 1,300 U.S. service members partnered with 950 troops from Canada and Europe to commemorate the anniversary of the Normandy landings.
"Being here at Normandy is a privilege and an honor," said Moody. "I'm glad to be able to pay my respects to our military four fathers. I'm grateful to be here to help celebrate and honor their contributions, what they did for our country and our people for World War II."
Army Lt. Samuel McCauley was also selected. He is stationed at Fort Carson in Colorado Springs, but is a North Carolina native.
As part of his participation in the 75th anniversary of D-Day ceremonies, he was able to visit the grave site of his great uncle, Carl McCauley, a Burlington native who died on June 10, 1944, in Normandy fighting for the US Army. He was 19 years old.
Carl McCauley is buried at the Normandy American Cemetery in France, where Samuel McCauley recently got the chance to visit. Samuel, like his great uncle, is part of the Fourth Infantry Division, and Samuel is the first member of his family to pay his respects in person at the grave site.
"People need to know the sacrifices that have been made for them so that we can stand here in a beautiful place and do interviews freely," Anna McCauley, Samuel's mother, said Thursday morning from the family home in Masonboro. "If it weren't for the sacrifices that all of the men in the service made for us, we might not be able to do that."
Samuel McCauley is part of the cordon for the arrival of President Donald Trump and French President Emmanuel Macron on Thursday.
As part of the D-Day commemoration, Samuel also escorted WWII veterans through the cemetery, soaking up living history lessons from those who stormed the beach at Normandy.
"He graduated from The Citadel with a history degree so he loves history," Anna said of Samuel. "I think a poignant moment for him was escorting a World War II vet around the cemetery and the gentleman telling him how he had fought from the beaches to the Battle of the Bulge."
Anna said her son will be in France until early next week.