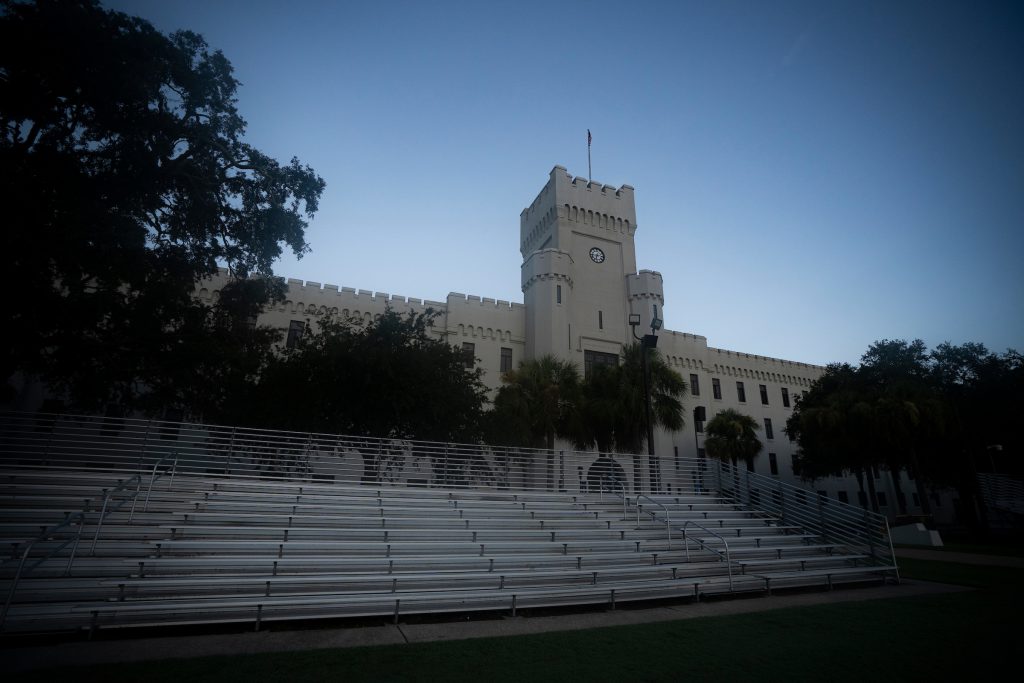 College providing Sept. 25 Ring Presentation livestream and individual photos
All Parents Weekend events originally scheduled for October 2 – 4 are cancelled due to precautions underway to keep campus as safe as possible by reducing possible COVID-19 spreading events.
There will, however, be an opportunity for parents to engage with The President of The Citadel. Gen. Glenn M. Walters, USMC (Ret.), will hold a virtual parents' engagement on Oct. 1 at 7 p.m. Eastern Time. Parents can connect with Walters by submitting questions via the Facebook Live link while watching the event.
"We understand that it is hard for things to be different, and that it may be disappointing for parents not to be able to enjoy a traditional Parents Weekend, but we greatly appreciate your understanding in the knowledge that everything possible is being done to keep your sons and daughters safe and the campus operating safely during this challenging time," said The Citadel Commandant of Cadets, CAPT Geno Paluso.
Parents, family members and friends are strongly discouraged from coming onto campus during what would have been Parents Weekend, in support of the college's efforts to minimize COVID-19 exposures on campus with the goal of continuing in-person instruction until Thanksgiving furlough.
The Commandant's Office is making decisions about leave, based on conditions, on a week-to-week basis. If leave is granted that weekend, it will not be announced until late in the week.
Everything you need to know about the Ring Presentation, photos and leave
Members of the Class of 2021 will be celebrated with a livestreamed, traditional Ring Presentation at 5 p.m. on Friday, Sept. 25, in McAlister Field House. Only ring-eligible cadets, veteran and active duty students will attend the event.
"The Citadel is committed to helping ring recipients and families celebrate this special day," said Col. John Dorrian, USAF (Ret.), vice president, Office of Communications and Marketing. "As a member of The Citadel Class of 1990, I know just how much this day means to cadets, and to those who love and support them. We also know our ability to continue in-person on campus until Thanksgiving is fragile and relies on the cooperation of everyone in The Citadel family. We are providing the richest experience possible during these unusual circumstances and greatly appreciate the understanding of parents."
As the presentation event is restricted, the college is providing the following:
Professional photographers will take a picture of each cadet or student receiving a ring. (No other photographers are permitted into the event.)
At no charge, cadet ring presentation photos will be available with yearbook portraits in October on the college's intranet, Lesesne Gateway. Cadets will have access to download them. An announcement of the availability of those pictures will be made later.
Veteran and active duty students will receive their ring presentation photos via email, also at no cost.
Our photographers will also be at the chapel, the War Memorial and on the parade ground taking photos. On Saturday, those photos will be available for families to download, at no charge, here.
Leave policy for seniors on Sept. 26 and 27
There will be no leave for any cadets following the Sept. 25 Ring Presentation.
The Commandant's Office is granting the following leave to ring-eligible seniors: Saturday Sept. 26 from 5:30 a.m. to 10 p.m. and Sunday Sept. 27 from 5:30 a.m. to 10:30 p.m. Those seniors also have the option to spend Saturday night off campus.
Parents are asked to respect the college's efforts to reduce the spread of COVID-19 on campus and are discouraged from entering campus Sept. 25−26 other than for the purpose of picking up a cadet who is eligible for leave.