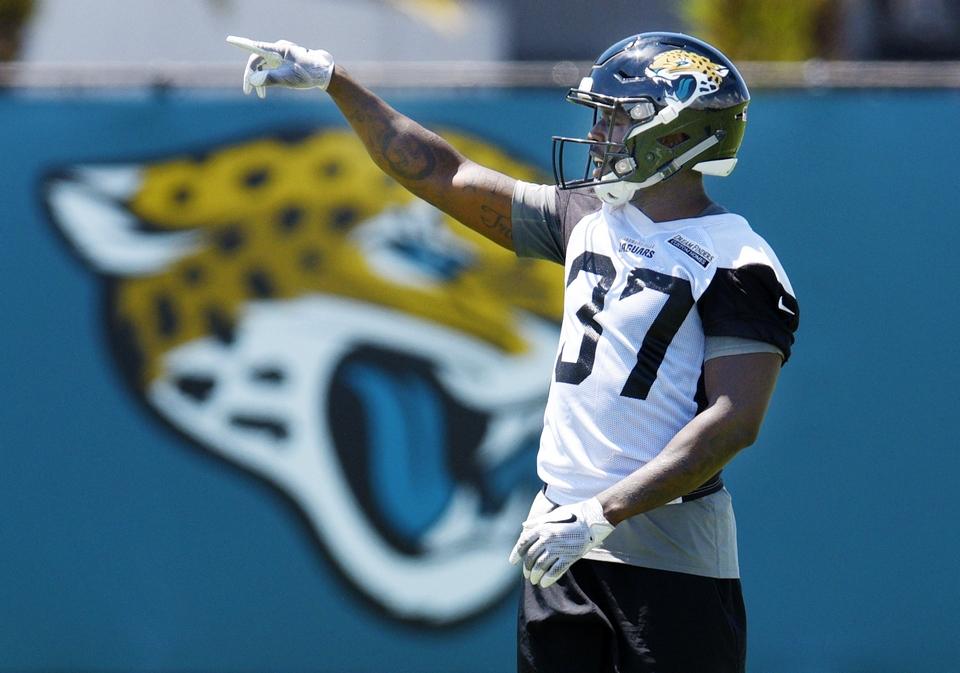 As seen in The Florida Times-Union, by John Reid and Bob Self
Jaguars undrafted free agent cornerback Dee Delaney arrived for work around 6:30 a.m. on Tuesday to begin his second week of organized team activity workouts at TIAA Field.
Like for all rookies and undrafted free agents, Delaney's schedule was filled with meetings, a two-hour practice, a weightlifting session and then more meetings that were expected to last until 7 p.m.
Though the OTA schedule is rigorous, Delaney said it's nothing compared to what he experienced when he played at the Citadel, a military college located in Charleston, SC.
As a freshman, he was required to wake up at 6 a.m. to clean the barracks. There were daily inspections — shoes had to be shined and the brass on his uniform required to be polished — in order to pass inspection by his squad leaders.
He had to be in formation to march before they were allowed to eat breakfast. Once seated, he wasn't allowed to have his hands above the table. He also was required to sit on the front 3 inches of his chair.
According to the Citadel's code of conduct rules, freshmen (Knobs) have to be prepared to recite an item of knob knowledge — cadet prayer or alma mater — while they are eating in the mess hall.
If they are addressed, they have to stop eating.
Along with required physical training, Delaney was assigned to a mentor upperclassman cadet. One of Delaney's duties was taking out the upperclassman cadet's trash.
Delaney was a three-sport star at Whale Branch High School in Seabrook, SC. He was a standout wide receiver and cornerback, but the only schools that offered him a football scholarship during his senior year in 2013 were the Citadel, Western Carolina and Georgia State.
″The Citadel really prepared me for life after football and during football,″ Delaney said. ″But it was just tough having somebody smaller than me yell at me every morning and have to sweep somebody's else mess that's not mine. We had to salute the seniors. We all had duties. Sometimes you have to do things you really don't want to do. And I didn't have to go to the Citadel, but I felt it would set me up for the future and it turned out to be a good thing for me.″
Despite the strict rules, Delaney emerged on the football field. He was a three-year starter and a two-time Walter Camp FCS All-American in 2015-16. As a senior, he had six interceptions and 35 tackles.
After four years at the Citadel and graduating, Delaney wanted to opportunity to play on a bigger stage that would help improve his NFL draft stock. He went from a strict military school emphasizing duty, honor and respect to the University of Miami, where he could wear flip-flops and shorts to class.
He transferred to Miami as a graduate player for his final year of eligibility last season. In 10 games with the Hurricanes, he had one interception and 39 tackles. In April, he went undrafted in the NFL Draft.
Asked to compare the Citadel to Miami, Delaney laughed and said it's like comparing heaven and hell.
″At Miami, you obviously had more freedom,″ Delaney said. ″But it wasn't really a difference for me because I was so used to the military aspect that I just carried it over to Miami. At the Citadel, I got close with my classmates. At Miami, I got close with a couple of players, but it was just a little different there.″
Now, Delaney is trying to carry over the discipline he gained at the Citadel to land a spot on the Jaguars' 53-man roster.
Jaguars coach Doug Marrone said he expects to see discipline from players that come out of the service academies and military schools. In 1993, Marrone was an assistant at the United States Coast Guard Academy.
″When you think training camp is tough and you think that what they do at the academies is unbelievable,″ Marrone said. ″I do see some of that discipline. You want to be able to see that. I don't think you can go to one of the academies for that long of a period of time and not have some type of discipline to yourself. And some leadership qualities.″
With All-Pro cornerback Jalen Ramsey not attending the Jaguars' OTAs for the second consecutive week, Delaney and several other cornerbacks are getting extra reps during drills. During a play on Tuesday, Delaney covered second-round pick DJ Chark closely on a slant route, but he couldn't break up the pass thrown by quarterback Blake Bortles.
″I feel pretty good, I'm just trying to get better each day,″ Delaney said. ″I'm just trying to show everything that I learned at the Citadel.″