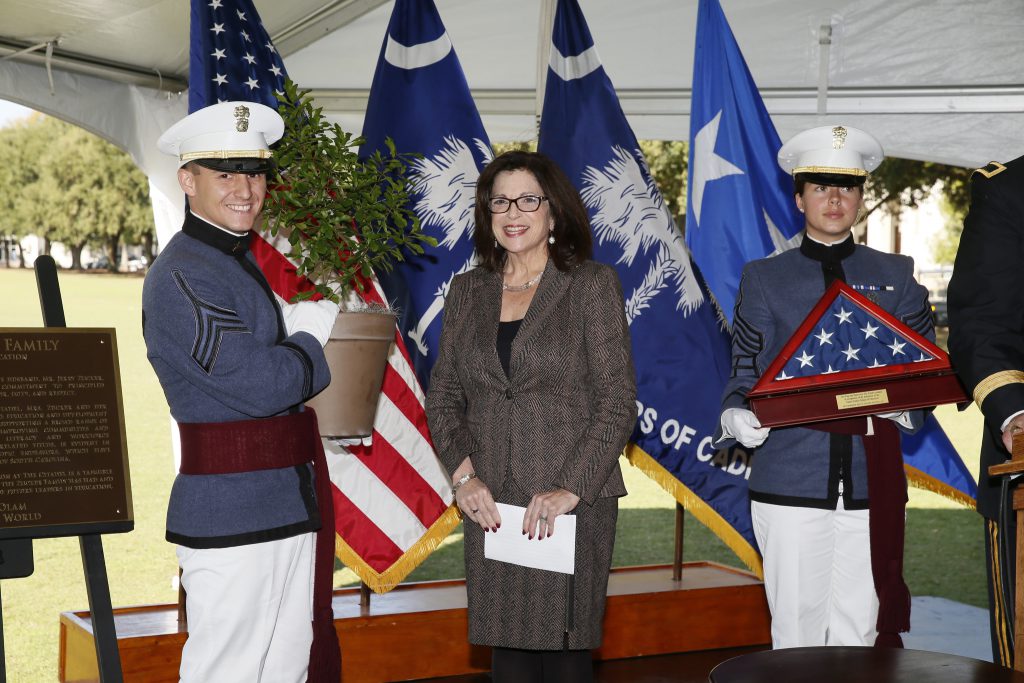 Photo above: Anita Zucker with cadets at 2014 announcement of gift to The Citadel to expand the school of education through The Citadel Foundation
The first Greater Issues address of 2020 will be given by Anita Zucker, the namesake of The Citadel's Zucker Family School of Education.
The address will be on Tuesday, Feb. 4 at 12:15 in McAlister Field House. The event is open to the public, with limited seating available on a first-come, first-served basis.
Zucker is the chairperson and chief executive officer of The Intertech Group. The InterTech Group, Inc. (TIG) of North Charleston, SC and its affiliates operate a diverse group of domestic and international businesses in sectors that include aerospace, financial transaction services, sports and entertainment, specialty chemicals and consumer products. In addition to the company's operating platforms, TIG and its affiliates are substantial investors in a number of publicly traded companies throughout the world.
In 2014, Zucker signed a $4 million gift agreement with The Citadel designed to elevate the Zucker Family School of Education to national prominence through development of scholarly and practical tools for improving education and noteworthy direct assistance to area classroom teachers and school leaders. In naming the Zucker Family School of Education, The Citadel marked its first school named after a substantial donor.
The Greater Issues Series was founded in 1954 to engage Citadel cadets' interest and knowledge in important topics of the day. Since it was established by the Mills B. Lane Memorial Foundation, the series has brought presidents, heads of state, scholars, diplomats, journalists and distinguished business and military leaders to The Citadel, its cadets, students, faculty and staff and the Charleston community.