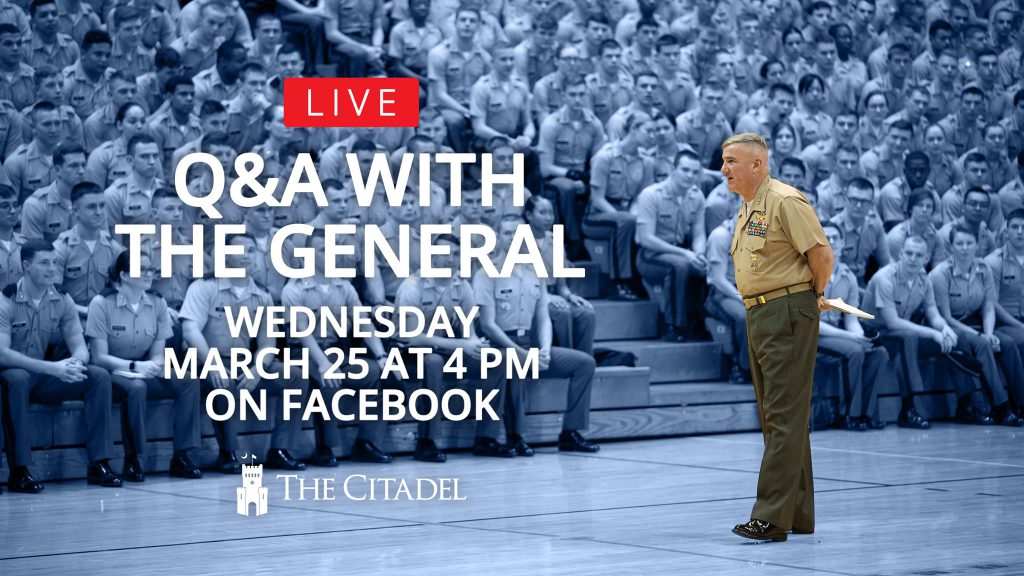 "These are unprecedented times for our country; unprecedented times for our school. We can get through this by working together," the president of The Citadel, Gen. Glenn M. Walters, stated before taking questions during a March 25 Facebook Live session.
One of the key messages of the session was that Class of 2020 commencement ceremonies for the South Carolina Corps of Cadets and The Citadel Graduate College will be held as virtual ceremonies broadcast online, due to the COVID-19 pandemic.
"This is not the situation any of us would wish for, but we want everyone to continue working toward what will be an important celebration, even if it cannot be in person.

We are working on solidifying our plans to make it the best experience possible.

All members of the Class of 2020 who are academically qualified will technically graduate May 9. As for the ceremony, we are going to hold the virtual commencement as close to that as possible, but we aren't ready to announce the final date yet.

We will try to manufacture some of those traditional components of the Corps of Cadets graduation that are near and dear to our hearts, online."

Gen. Glenn Walters, President of The Citadel
During the session which had almost 6,000 views, Walters answered questions from cadets, parents, employees and other members of The Citadel community.
He addressed questions about next steps for seniors who have military posts waiting for them after graduation — assuring them that they will receive their commissions, even if not during the traditional ceremonies held on campus.
For cadets and students with jobs awaiting them, Walters stated that every effort was underway to ensure they graduate on time. In addition, he reminded all cadets and students that The Citadel Career Center is fully functioning and ready to help answer questions, and also with summer internships.
Walters referred to the process underway to determine how the state's public institutions will settle with cadets, students and families for room and board during the time campuses are closed. In addition, he praised cadets and students for continuing to show leadership and resilience during this challenging time when campus life has been upended.
The class and concern you are showing, and the way you are handling this, makes me very proud of all of you. Please take care of each other. And cadets, remember you are still in a part of the Corps. Use your chain of command to communicate.

Remember, we will get through this together with flying colors.

Gen. Glenn M. Walters, USMC (Ret.), President of The Citadel
Watch the recording of the president's Facebook Live session below.