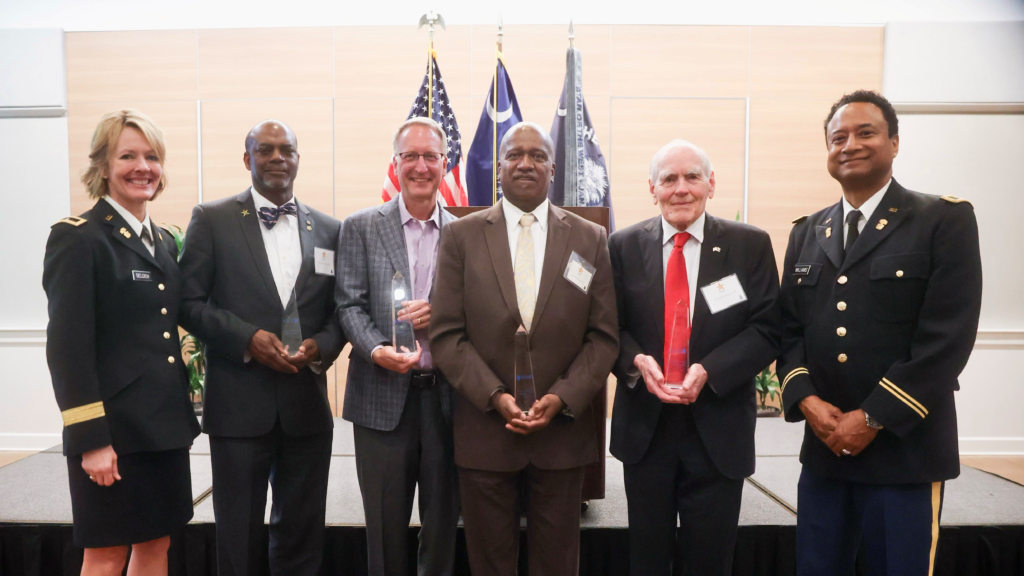 The Citadel School of Engineering inducted four new members into the Academy of Engineers on April 20 — Arnold Benson, '73, Mike Fuhrman, '91, Charlie Watson Jr., '58, and Melvin Williams, '00. The Citadel Academy of Engineers honors engineering leaders from both the public and private sectors who have enjoyed substantial success in their professional lives and made significant contributions to their communities.
Each of the Academy of Engineers inductees have lived a life consistent with the School of Engineering's mission — which is to educate and develop principled engineering leaders to serve a global community. Each inductee also shares The Citadel's values that include integrity, diversity, professional and intellectual development for all, respect for others and excellence through continuous improvement.
The 2023 Academy of Engineers inductees are:
Arnold Benson, '73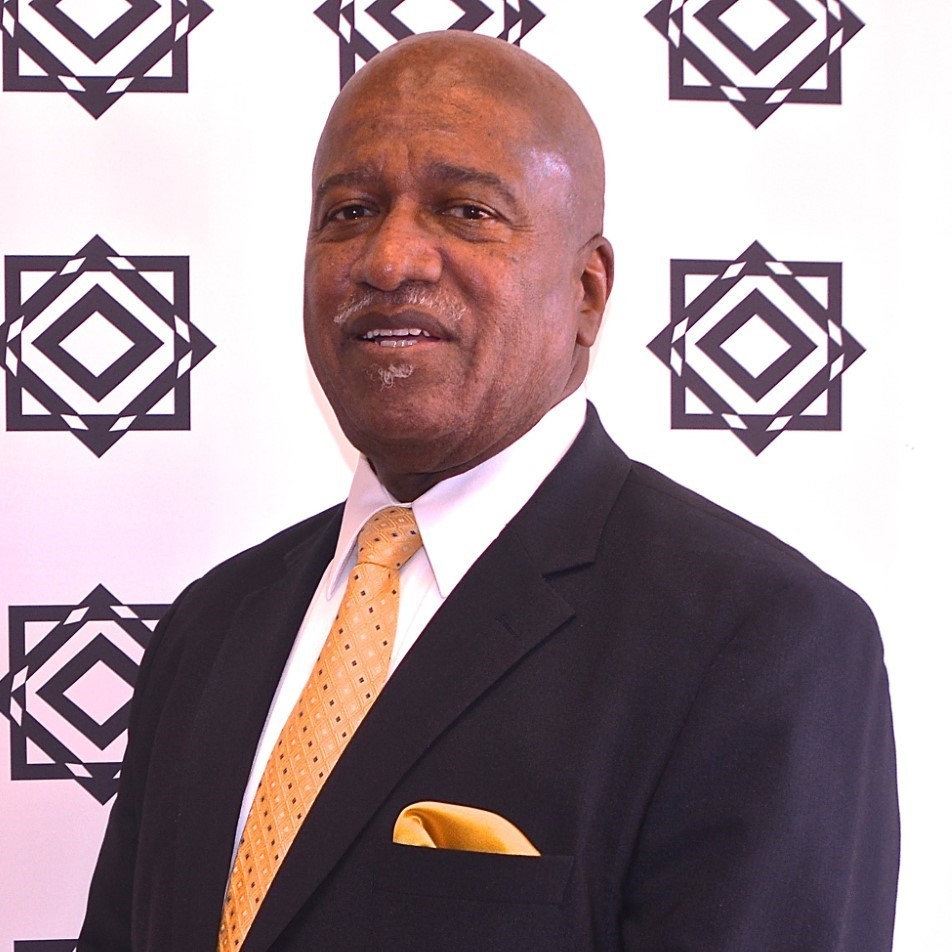 Arnold Benson is a native Charlestonian and a 1969 graduate of Burke High School, right around the corner from The Citadel. Benson graduated from The Citadel in 1973 with a Bachelor of Science in Electrical Engineering. He was a member of the African American Society while on campus. Benson is one of the six oldest living African American cadet graduates of The Citadel.
After graduation, Arnold began working in Columbia for South Carolina Electric & Gas Company, now Dominion Energy, in the Transmission Line Design Department. For the first 11 years of his career, he was a Project Engineer and responsible for designing transmission lines throughout South Carolina. Also, he was able to design several lines out of the V. C. Summer Nuclear Plant in Jenkinsville, South Carolina.
For the remainder of his career, he worked in the CAD field. He was on the starting team of the IBM Mainframe CADAM/MicroCADAM system, a Lockheed Martin software, as the trainer for the technicians and draftspersons of Transmission Line and Substation Design Departments. The system was on the IBM's mainframe workstations, high-end personal computers and personal computers which he was responsible for training on each type of computer. He did training sessions at several yearly International CADAM Conferences.
He was instrumental in lowering the department budget on IBM mainframe workstation monthly maintenance fees by repairing the workstations himself. When South Carolina Electric and Gas Company became a subsidiary of SCANA, Benson was sent to train several power companies new to the CADAM system.
In 2000, after CADAM/MicroCADAM was replaced with AutoCAD on a PC, he eventually became solely responsible for the day-to-day operations of the CAD system, software and hardware until he retired in January 2012 after 38 enjoyable years.
Mike Fuhrman, '91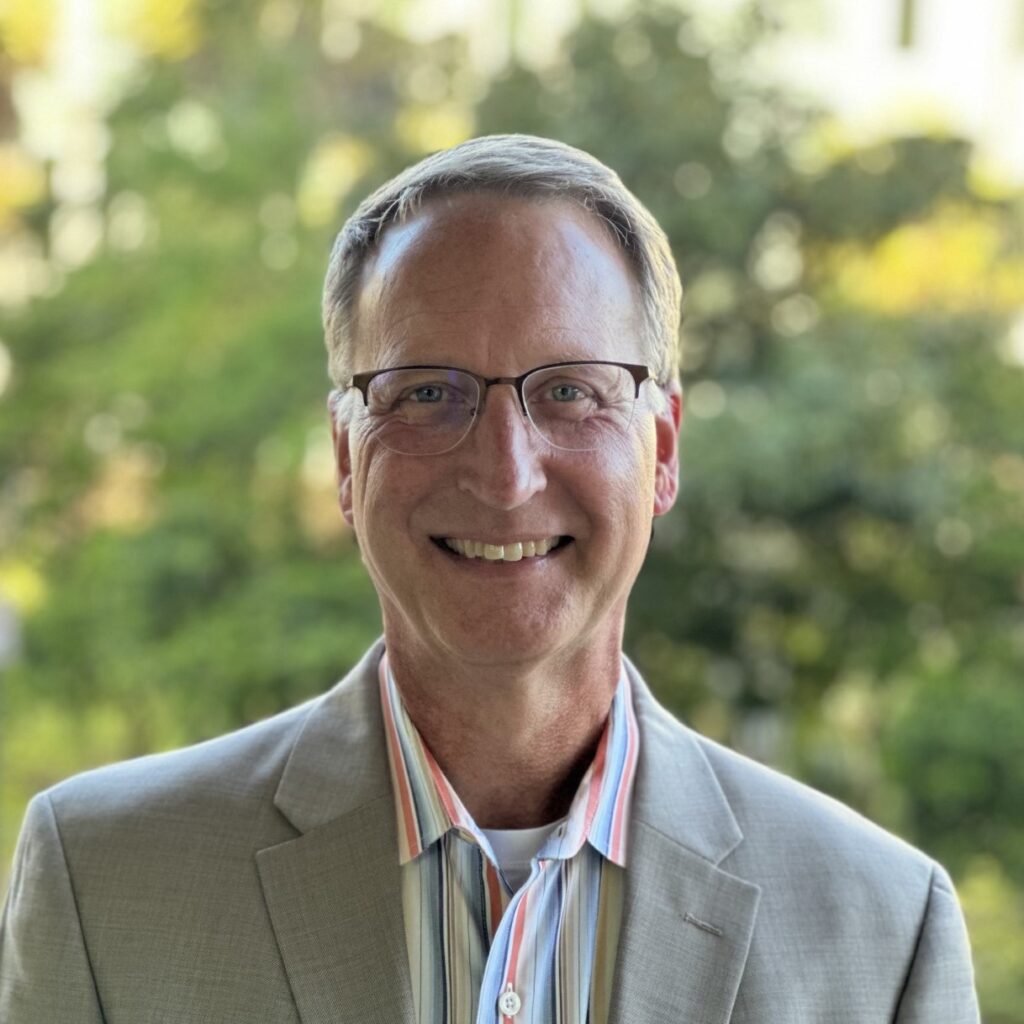 Mike Fuhrman grew up in Fairport, New York and chose to leave New York to attend The Citadel in 1987. He majored in Electrical Engineering and accepted a commission into the Air Force as a Scientific Analyst following graduation in 1991. He was assigned to the Air Force's Electronic Warfare Center in San Antonio, which later became the Air Force Information Warfare Center in 1993. It was there that he cross-trained as an Intelligence Officer and led a team collecting and analyzing data on critical infrastructure in specific areas of interest. In 1995, the Air Force decided to create the very first operational unit tasked with protecting Air Force infrastructure and developing doctrine and capabilities to destroy and disrupt enemy infrastructure. Fuhrman was one of the ten initial cadre members hand-selected by the 9th Air Force Commander to stand up the 609th Information Warfare Squadron at Shaw AFB in Sumter, South Carolina.
In 1997, he separated from the Air Force and joined a start-up called The WheelGroup, which was building the world's first network intrusion detection system, designed to observe network traffic and provide near-real-time alerts of specific attacks. It grew rapidly and in 1998 Cisco Systems acquired the company and integrated it into a newly formed Security Business Unit. Inside Cisco, Fuhrman rose rapidly through the ranks, ultimately becoming Vice President of Security Services & Cloud Operations. By 2012, he was leading a team of 500 people across the world who were focused on advanced security technologies for Cisco including web and email security, threat intelligence operations, 24/7 data center operations on a global scale and endpoint security generating 250 million dollars in annual revenues.
He left Cisco in 2015 and joined a private equity-backed data center company called Peak 10 in Charlotte, North Carolina, as their first Chief Technology Officer and was responsible for design, development and 24/7 operations of a nationwide private cloud offering. Peak 10 acquired ViaWest in 2017, and he became the Chief Product Officer of the combined company – responsible for all product strategy and software development along with integration of the two product portfolios. In 2020, he rose to the role of Chief Operating Officer overseeing the company's Cloud & Managed Services business delivering a 17% growth rate between 2020 and 2023 on a 120 million dollar annual revenue stream.
He has been a member of The Citadel School of Engineering Advisory Board for more than 10 years.
Charles Watson Jr., '58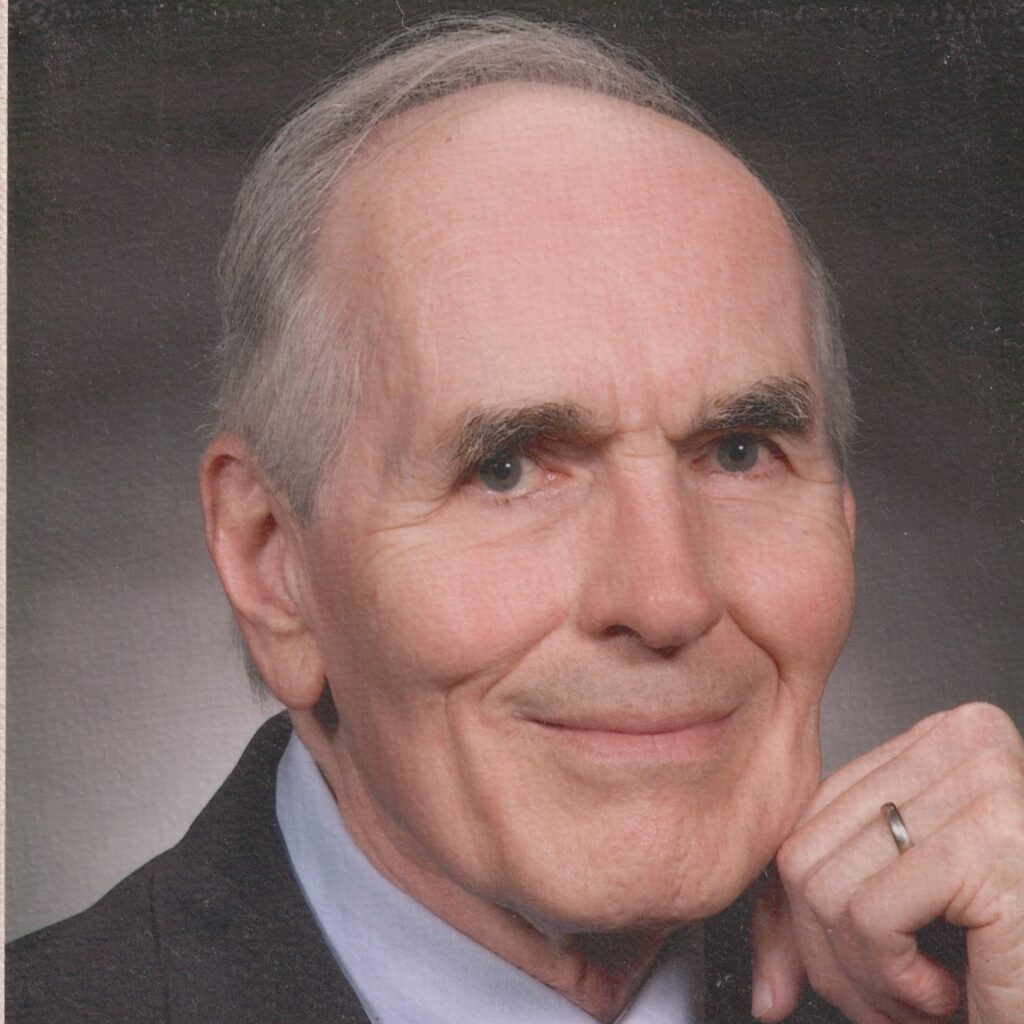 Charles "Charlie" Maxcy Watson Jr. is a retired professional engineer. His engineering career spanned more than 42 years, most of which were in the private practice of consulting engineering.
Watson graduated from The Citadel in 1958. He was a member of the 1957 Junior Sword Drill, the 1957 Bond Volunteers and was selected as a Distinguished Military Student. As a senior, he was a member of the 1958 Summerall Guard and commander of Foxtrot Company. He was a distinguished military graduate but accepted a reserve commission in lieu of a regular army commission.
Watson spent more than three years with the Virginia Department of Highways in Richmond, Virginia and two years of active duty with the United States Army Corps of Engineers. In August 1963, he accepted a position at Albemarle Paper Manufacturing Company in Richmond, Virginia. There, he met Clyde L. Wilkins, PE, Georgia Tech 1948. Clyde hired him, was his boss and became his mentor and lifelong friend. They both left Albemarle about the same time and joined the firm of Frank C. Vaughan, PE in Richmond, Virginia. Frank Vaughan was a consulting engineer working exclusively in the pulp and paper industry. After this engagement and two shorter ones, they had been working together for almost ten years. Watson also provided construction observation services for all structural engineering work for the new Richmond Colosseum.
In March 1973, Watson and Clyde Wilkins founded the firm of Wilkins & Watson, Inc., Consulting Engineers. The new firm would specialize in the planning and design of industrial plant facilities, specifically targeting the pulp and paper industry because of the depth of their knowledge and experience. The firm was successful. Clyde retired in 1992 and Watson operated the firm until 1997 when it was sold to AEC Engineering, Inc., in Minneapolis, Minnesota. He retired from AEC in 2000 and now lives in Kelso, Washington.
Melvin Williams, '00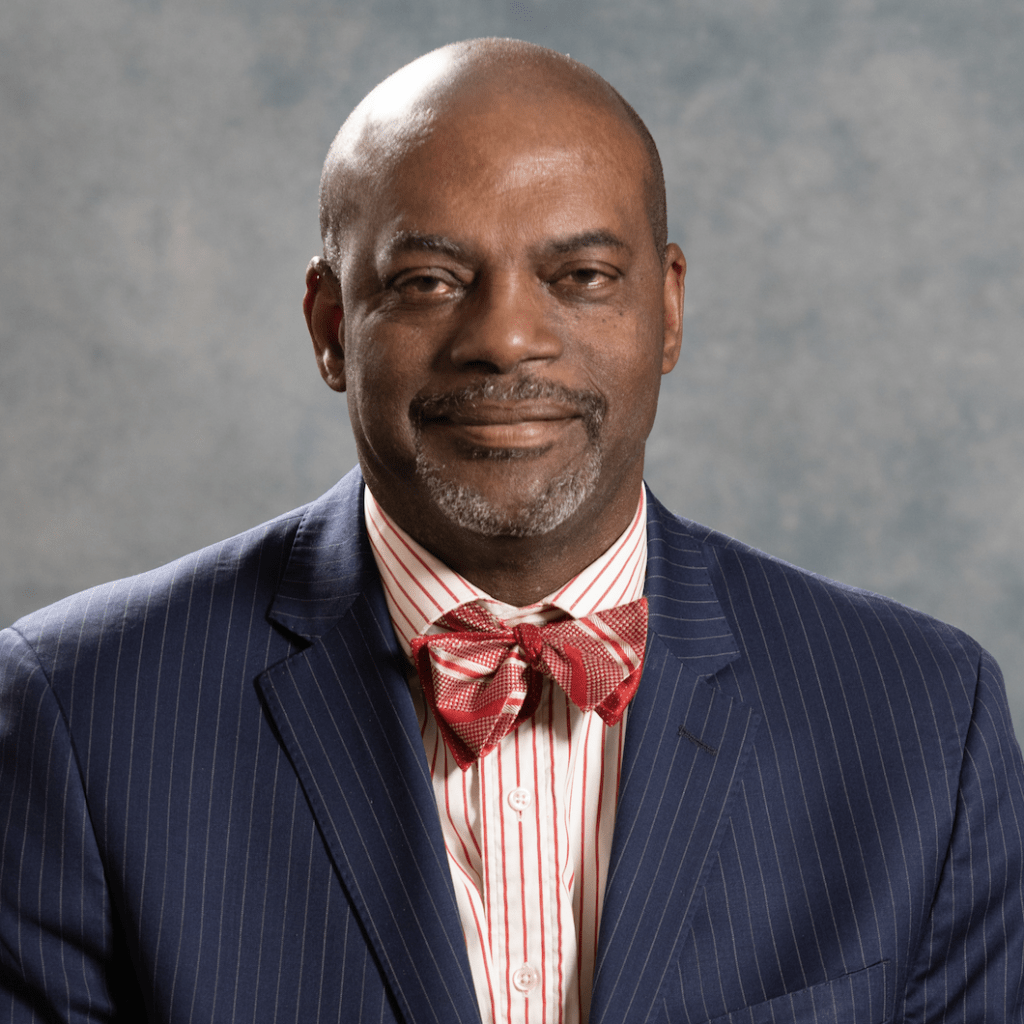 Melvin C. Williams, F.SAME, FACEC, earned a Bachelor of Science degree in Civil Engineering Technology from South Carolina State University and a Bachelor of Science degree in Environmental and Civil Engineering from The Citadel, both with honors. As vice president with Terracon Consultants, Inc. he is a Fellow with both the American Council of Engineering Companies (ACEC) and Society of American Military Engineers (SAME). He has a more than 25-year history of working to improve his community and the engineering industry and holds leadership positions at the local, state and national levels in several community and engineering organizations.
Williams' national service includes serving as the senior vice chair for the Executive Committee of ACEC along with chairing the Council's Planning Cabinet, which advises the Executive Committee and the Board of Directors on strategies and implementation steps for strengthening ACEC's governance and progress. He serves on the board of the ACEC Research Institute, along with serving as a member of the Fellows Committee, Engineering Excellence Awards Committee, Transportation and the Chair Emeritus committees. He is also very involved and active with other national organizations such as the National Society of Black Engineers (NSBE), SAME and the American Society of Civil Engineers (ASCE). Locally, he is a member of the ACEC of South Carolina, Charleston Civil Engineering Club and the American Society of Highway Engineers of South Carolina, just to name a few. To assist with advocating for the development of a more diverse engineering workforce he serves on the National Committee for Diversity, Equity, Inclusion and Belonging for both ACEC and SAME. For this service Williams was named the 2023 "Engineer of the Year" by the Charleston Engineering Joint Council and a 2022 Ground Breaker by GroundBreaker Carolinas Magazine.
Williams believes in being a steward of his community, so he serves on the Medical University of South Carolina Hollings Cancer Center Advisory Board, Trident Technical College Foundation Executive Board, The Charleston Chamber of Commerce Board along with several chamber committees — South Carolina SmartState Review Board, South Carolina Economic Development Association Board and the Charleston Berkeley Dorchester Council of Governments, among others. Working to develop the next generation of engineers, he serves on The Citadel Civil Engineering Advisory Board and the South Carolina State University Engineering and Computing Advisory Board. He is also often called upon to mentor engineering students and young professionals. For his community service he was presented with the ACEC 2019 Community Service award, which is only given to a maximum of five individuals from across the United States.