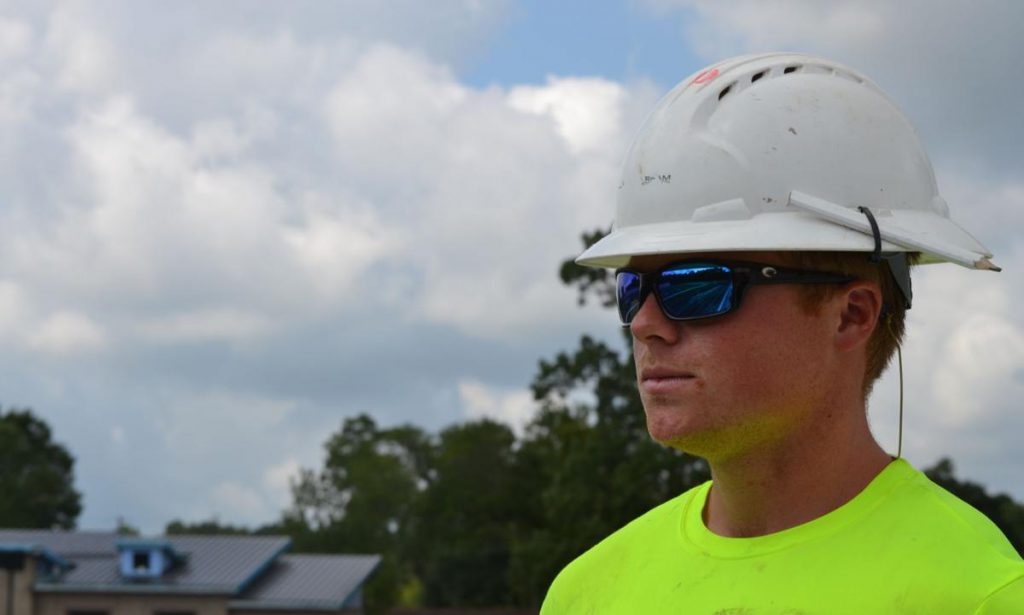 As seen in Moultrie News, by Zach Giroux
Upon graduating from any institution of education, former pupils are sometimes able to seek ways to give back to their school or personnel who made their learning experience memorable. As a token of gratitude, by happenstance, Citadel rising junior and 2016 Wando graduate James Jennings seized the opportunity to show his thankfulness toward his high school's alma mater by helping construct the newly built Charleston County District 2 Stadium on the campus of Wando High School.
"It's really been humbling and an honor to join another team at the same field. It's been very fulfilling to be a part of what's going to be there years and years and years to come is awesome for lack of better words," Jennings said.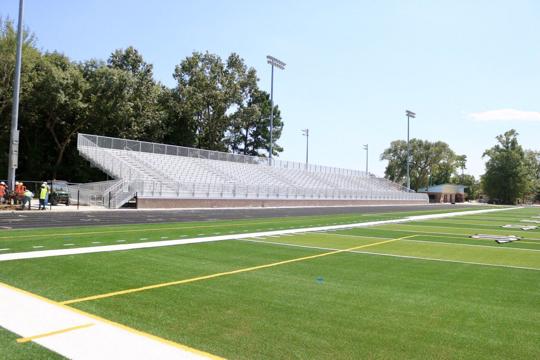 Jennings, a former Wando football player, was no stranger to the game by any stretch of the imagination. He was accustomed to the grind on the gridiron as he played a pivotal role at the linebacker position during his time wearing a Warriors uniform. After taking his lumps over the seasons, he decided upon graduating and enrolling at The Citadel it was most wise to make a difference off the field rather than on it.
When Jennings arrived at The Citadel in 2016 he decided to study construction engineering, a brand new major at the time, which focuses on the designing, planning, construction, and management of infrastructures such as roads, tunnels, bridges, airports, railroads, and other projects – such as sports stadiums.
If Jennings had it his way he would have pursued football at The Citadel, but unfortunately the option was out of the question due to an excessive amount of concussions he's undergone in his playing days. He says this change in his lifestyle has helped shift his focus and allowed him to pursue his passion for construction and led him to the engineering path he's on today.
While undergoing his studies during his sophomore year Jennings sought out a former Citadel graduate who was working with a local construction firm, Hill Construction, on the new multi-purpose sports complex that began in January 2018.
He capitalized on the summer internship opportunity to mix his education with his passion for the game, viewing this as a learning experience but also a vacation for the mind of a football fanatic. On site of the construction, Jennings played a hands-on role by helping with the goal post foundation, prepping and finishing walls, quality control and supervision.
"I did a lot of the minor stuff, not necessarily minor but harder and more specific that make the job flow," Jennings said. "It's hard to appreciate the minor details until you see each step of the project come together."
Jennings remembers when he was first on the scene, the foundations were still being formed for the bleachers and surrounding buildings and there were no standing structures visible. "Watching the whole thing come right out of the ground and being a part of that was so cool."
When asked how the new stadium layout compares to the old one, Jennings chuckled, "It's definitely a whole other ball game. The press box and field house is state-of-the-art. I'm so excited to see those stands fill up with people and they're aluminum stands so you know they're going to be bending and loud compared to the concrete ones."
The new stadium features a giant digital scoreboard, a concession stand, air-conditioned press boxes and halftime rooms for teams. The field itself is a cork-infill turf which is said to make it softer and cooler than Wando's previous field conditions, according to Jennings.
"I'm sorry to see the old stadium go, I really had a lot of fun memories playing on that old field," Jennings said. "But it's exciting to see what the new one is going to bring."
The construction costs of the new stadium were approximately $16 million and will accommodate up to 6,000 fans, according to Charleston County School District.
The 7-acre site is still under construction, the final inspection will be done on Aug. 29. The stadium is set to be ready in time for Wando's first home game on Aug. 31 vs Stall High School at 7:30 p.m.