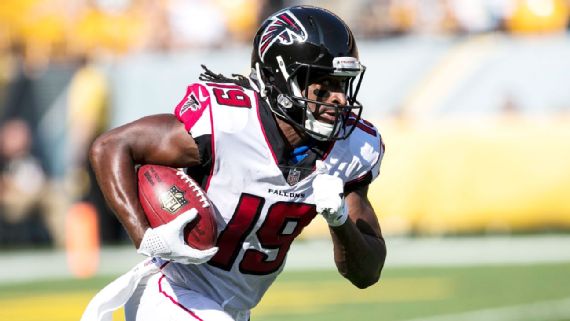 As seen on ESPN.com
Atlanta Falcons receiver Andre Roberts has won the 2017 Salute to Service award.
Roberts, whose parents served in the U.S. Army and who is widely engaged in military appreciation events with the Falcons, will be recognized on Saturday during the "NFL Honors" prime-time program, when The Associated Press announces its individual league award winners.
In his honor, USAA, which provides insurance and other services to U.S. military members, veterans and their families, will contribute $25,000 to the official aid societies representing all five military branches.
"True heroism is measured by a person's willingness to sacrifice themselves for the safety and freedom of others," Roberts said Wednesday. "The men and women of the U.S. Armed Services are the greatest collection of heroes in our world today. I'm honored to salute their service, and I'm forever grateful for the military heritage of my mother and father, both Army veterans, as well as the values of service to country and fellow man I received at The Citadel."
The other finalists were Carolina Panthers coach Ron Rivera and former Tennessee Titans coach Mike Mularkey.
With the Falcons, Roberts has made multiple visits to local Veterans Affairs hospitals, spent a day fishing with veterans at Fishing with the Falcons, and selected the Tragedy Assistance Program for Survivors as his organization for the NFL's My Cause, My Cleats program. His coach, Dan Quinn, was the 2016 recipient of the Salute to Service award.
Roberts also has an offseason travel schedule that takes him to military bases across the nation. He has volunteered at youth camps at Nellis Air Force Base in Nevada; Luke Air Force Base in Arizona; Naval Air Station Oceana in Virginia Beach, Virginia; Fort Lee in Richmond, Virginia; Fort Bragg in North Carolina; Joint Base Charleston in South Carolina; Schofield Barracks in Hawaii; Yankee Stadium in New York; Fort Jackson in South Carolina; Fort Benning in Georgia; and Fort Campbell in Kentucky.
"Andre's support of the military community is authentic, genuine and greatly appreciated," said Vice Admiral (Ret.) John Bird, USAA senior vice president of military affairs. "Having grown up the son of two Army members, he knows the sacrifices military members and their families make. Giving back to those who are willing to give all makes Andre a well-deserving recipient of this award."
Roberts was selected by a panel that included Bird and Quinn, Pro Football Hall of Famer Roger Staubach, Rocky Bleier, Chad Hennings, Jim Mora and Tod Leiweke.