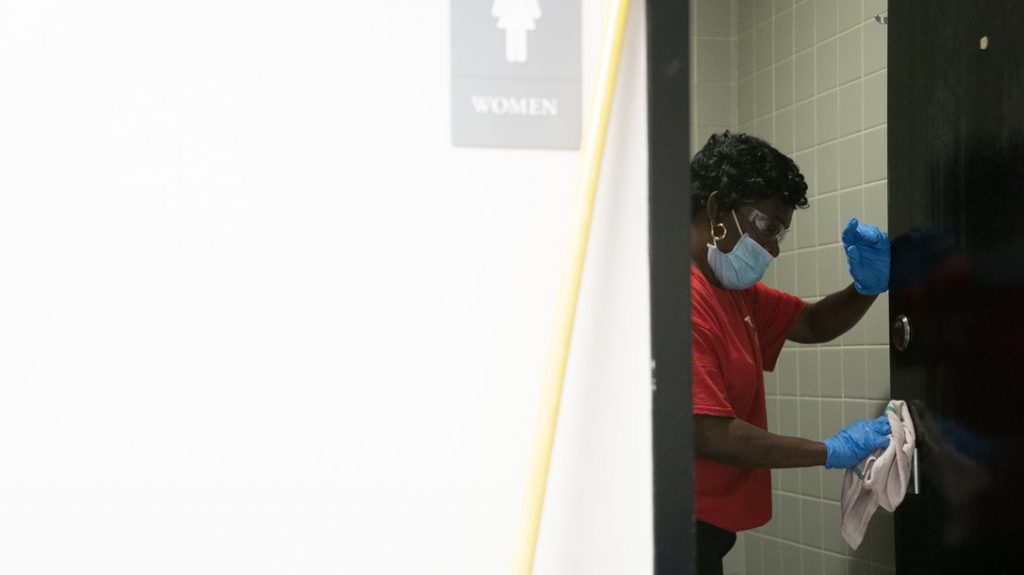 Iris Hamilton-Seabrook is thankful to have a job. Hamilton-Seabrook, who has been at The Citadel for 10 years, works for the Budd Group, the company that provides custodial services for the college. Before the pandemic, Hamilton-Seabrook worked in Capers Hall, Summerall Chapel, Human Resources and the Career Center. Interaction with the employees in those buildings was as much a part of her daily routine as emptying trashcans. But now with most employees telecommuting and social-distancing mandates in place, Hamilton-Seabrook finds herself working in isolation and garbed in personal protective equipment to get her job done.
The Citadel employs more than 1,000 people, not including contract employees like Hamilton-Seabrook. Since South Carolina Governor Henry McMaster ordered schools and colleges closed on March 15, approximately 1,400 in-person classes have been moved to an online platform and most of the college's employees are working from home. According to Leah Schonfeld, assistant vice president for human resources, there are about 50 employees on campus at any given time whose jobs are considered essential, including information technology, facilities and public safety personnel. "There are many unsung heroes behind the scenes who are still working each day and remain dedicated to our campus mission and The Citadel family," said Schonfeld.
Among those employees working from home are finance, payroll, and human resources staff who are assisting employees and students and responding to new issues that stem from the stay-at-home order—new leave laws, concerns about working remotely, refund checks distribution to students. There are also employees whose jobs cannot be performed from home. Some are taking leave, some—temporary employees, like barbers and tutors—are on unemployment and some are helping out in other areas. Some of the seamstresses in the Tailor Shop have started sewing masks for the campus community, and some of the athletic coaches are serving as academic advisors and assisting cadets remotely.
Still on campus are personnel in the Department of Facilities and Engineering who have been working tirelessly to get the campus ready for the day that campus operations return to normal. Retired Navy Capt. Jeff Lamberson who serves as vice president for facilities and engineering said there are approximately 80 essential employees who work in shifts to ensure that social-distancing guidelines are followed. Air dryers and soap dispensers are on order, safety maintenance is being performed and an additional housing unit with 52 cadet beds is being added. "We are taking advantage of this time to make improvements for the health and safety of our students and our faculty and staff," said Lamberson.
Hamilton-Seabrook has a new normal. She wears a mask, goggles, gloves and slip-resistant shoes. She's working all over campus now. Today, it was Jenkins Hall. She uses hospital-grade disinfectant to wipe down doorknobs, handles, light switches, walls, computers—anything being touched. "We have to stay at least six feet away from each other," she said of her coworkers in the Budd Group. "We're separated. It doesn't feel good, but you got to stay safe, so we do what we gotta do."