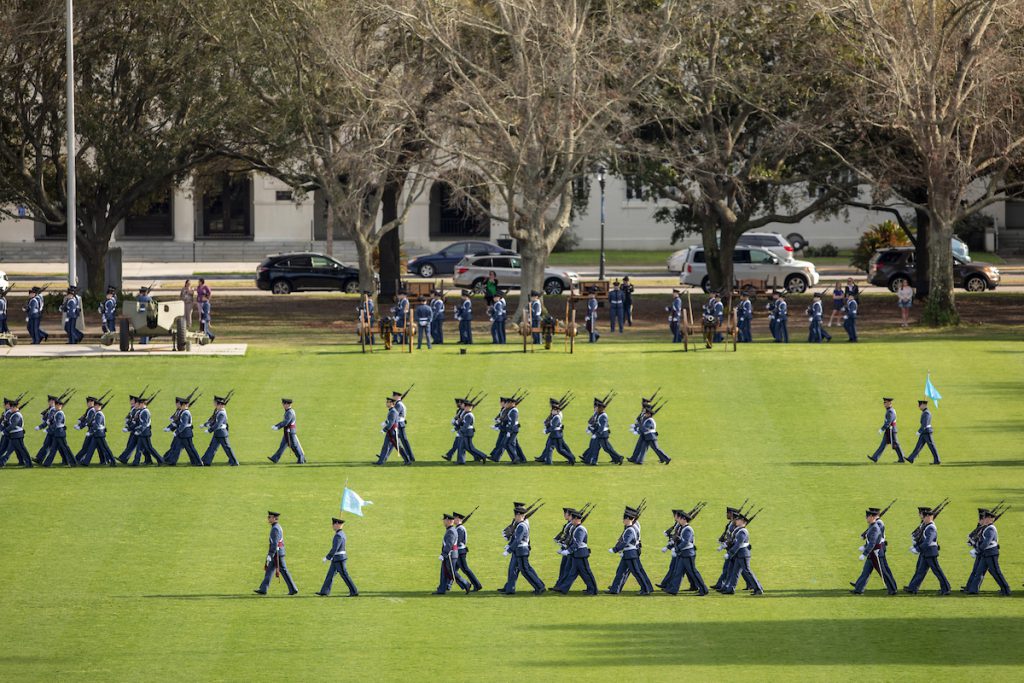 Dean's List is a recognition given to cadets and students who are registered for 12 or more semester hours and whose grade point average is 3.20 or higher, with no grade of I (Incomplete) and no grade below C for work in a semester. In the case of cadets, the medal is worn on the cadet uniform during the following semester.
Abernathy, Samuel J.
Achterkirch, Peter S.
Ackerman, Blake G.
Adams, Jackson L.
Aiken, Andrew C.
Akers, Michael J.
Allen, Dominique J.
Anderson, Jordan D.
Anderson, Marshall J.
Andrus, James L.
Armand, Ryan F.
Armstrong, Christopher R.
Arroyo Arias, Katherine
Baghdady, Mohamed G.
Bagwell, William S.
Bailey, Logan A.
Baker, Andrew P.
Baker, John W.
Bakley, Jake P.
Balding, Kenneth C.
Ballard, Nathaniel A.
Barbee, Allen H.
Barberena, Daniel J.
Barbot, Jenifer L.
Barnes, Cedric T.
Barnes, Virginia G.
Barry, Benjamin N.
Baucom, Taylor K.
Bauknight, Paul F.
Beall, Lucas D.
Beasley, Jack Henry
Becker, Andrew S.
Behnke, Timothy J.
Beier, Booker J.
Belida, Dylan C.
Bell, Austin J.
Bellanova, Christopher L.
Bennett, Autumn E.
Bennett, Richard J.
Bergert, Jacob M.
Bermudez, Lawrence J.
Besancon, Hunter B.
Bianco, Cory B.
Bickley, James M.
Bishop, Dylan T.
Bishop, William T.
Black, Daniel J.
Blackburn, Zachary T.
Blair, Matthew B.
Blanchard, Richard S.
Blanton, Samuel C.
Blanton, Sean A.
Boeckel, Cameron P.
Bogdan, Andrew T.
Bogertey, Sean P.
Bolus, Dawson G.
Bowles, Robert H.
Bowman, Joshua C.
Boyd, Jackson D.
Boyle, Andrew B.
Braddock, Charles W.
Bridenbaugh, Donald P.
Bridges, Devlen A.
Broad, Breana M.
Brooks, Harrison L.
Brooks, Rowan S.
Brown, Cameron L.
Brown, Henry T.
Brown, Oliver L.
Brown, Trevor K.
Brown, William P.
Bruce, Carla C.
Bruner, Colby A.
Bryant, Mitchell T.
Bucci, Christopher J.
Buda, Jackson W.
Buffington, Steven C.
Bullard, Tevon M.
Burckhalter, Andrew C.
Buren, Johnathan A.
Burger, Sean W.
Burgess, Tyler A.
Burke, Clayton M.
Burnett, Tristian R.
Burris, Rian D.
Butler, Jamme J.
Byelick, Thomas M.
Byrnes, Matthew A.
Cain, Jeffrey A.
Calkins, Hunter C.
Campbell, Coleman L.
Campbell, Peyton A.
Capers, Christina A.
Carbaugh, George M.
Carney, Paul C.
Carr, Josiah M.
Carruthers, Sumerlyn C.
Carsten, Robert T.
Carter, Chandler R.
Carter, Craig R.
Carter, Grayson K.
Caughman, William J.
Cavazos, Christopher C.
Chapman, Edward B.
Chapman, Jacob R.
Charles, Samuel B.
Chatman, Devon M.
Chen, Boey
Cheng, Kai Yuan
Chien, Chun-Yu
Ching, Hsin-Yun
Chiu, Cheng-Yu
Choppa, Jacob A.
Christensen, Andrew P.
Chu, Chun-Jung
Churchill, Stephen J.
Clark, John S.
Clark, Timothy G.
Cleland, Cole A.
Cline, Carli E.
Clingman, Rebecca C.
Cobb, Cameron C.
Cochran, Edward H.
Coker, John T.
Collette, Alexander R.
Collins, Emmett M.
Coluccio, Salvatore C.
Colyer, William B.
Conley, Charley J.
Conroy, John F.
Cook, Joseph K.
Cook, Richard L.
Cooper, Grayson S.
Coppola, Matthew R.
Cordes, John D.
Cornelio-Ruiz, Maria C.
Coste, Charles L.
Cothran, Taylor S.
Cox, Jefferson L.
Craft, Gregory C.
Craft, Justin M.
Cramer, Christopher M.
Crawford, Jacob T.
Crawford, James A.
Crawley, Hunter E.
Cribb, Robin D.
Croft, John W.
Crosby, Zachary S.
Cucinotta, Nicolas P.
Culler, Holden K.
Cummings, Richard C.
Currie, Austin S.
Curtis, Joseph E.
Cyr, Chase E.
Daley, Savanna M.
Daniels, Asyria R.
Daniels, DaSean J.
Davidson, Robert G.
Davis, Caleb M.
Davis, James S.
Davis, Jonathan D.
Davis, Jordan A.
Davis, Lee H.
Davis, Zachariah T.
Dawes, Preston M.
Days, David J.
DeLage, Michael P.
DeStefano, John W.
DeWitt, Devin C.
Dekle, John L.
Delpizzo, John R.
Derrick, Daxton S.
Deveny, Brandon P.
Diegel, Andrew B.
Dilday, Tinslee Y.
Dingle, Ivan Paul M.
Dobin, Mitchell D.
Dockins, Ross A.
Doherty, Oliver A.
Douglass, Brandon J.
Driggers, Dylan C.
Duane, Martin L.
Duggan, Dana A.
Duzz, Brandi M.
Dykens, Adam N.
Dymond, Matthew L.
Eason, Hunter C.
Edwards, Alexis M.
Eich, Ethan V.
Einstein, Charles C.
Eiserman, Zackery R.
Eklund, Koby T.
Ellis, Dontel T.
Ellmann, Timothy L.
Emge, Jacob J.
Epps, Blakely T.
Evans, Charles W.
Evdemon, Matthew G.
Everly, Brooke
Ezell, Christopher S.
Fachko, Tyler B.
Farnham, Michael L.
Farr, Tyler G.
Felt, Mitchell J.
Ferguson, Joseph H.
Fernandez, Michael C.
Fiddie, Joshua T.
Fischer, Connor N.
Fleckenstein, Noah M.
Floyd, Cody M.
Floyd, Coleman D.
Flynn, Kylie J.
Foggo, Ian W.
Forster, McKinley J.
Foster, Gabriel C.
Foster, Hunter M.
Foster, Richard R.
Foulds, Taylor S.
Fox, Carson W.
Fox, Logan M.
Frazee, Philip S.
Free, Jared A.
French, Dylan J.
Frierson, Matthew E.
Fritz, Jacob M.
Fuhrman, Connor M.
Galletto, Joshua S.
Galloway, Frederick B.
Ganezer, Joshua H.
Garrell, Raymon B.
Geis, Conrad L.
Geter, Aaron T.
Getreu, Trevor L.
Gibbons, Mason B.
Gibson, Cecilia K.
Gill, Corey M.
Godek, Jacob P.
Goethe, Stone Q.
Goldhorn, Alexandra W.
Gonzalez, Gabriel A.
Gonzalez, Rafael G.
Goodwin, Joshua R.
Graham, George D.
Gray, Connor W.
Green, Alexander M.
Green, Jeremy C.
Green, Robert H.
Greer, James F.
Griffith, Thomas S.
Grizzle, Avery M.
Gudenburr, Douglas H.
Guild, Alexandria S.
Gurley, Aaron D.
Gursky, Stephen T.
Guy, Trace J.
Hajek, Michael W.
Hall, Huston Z.
Hamilton, Joseph T.
Hamilton, Michael J.
Hance, Ryan C.
Hanshaw, Thomas P.
Hardee, James L.
Harker, Colby A.
Harley, Hart L.
Harlow, Tyler L.
Harper, Dillon W.
Harriman, Christian H.
Harris, Ty'Rhonza S.
Harrison, Claire E.
Hart, Joseph S.
Hartzog, William F.
Hatler, Douglas C.
Hawkins, Terry G.
Hayes, Blayne P.
Hayes, Weston D.
Haynes, Greyson C.
Heape, Edwin R.
Helms, Charles B.
Hembree, Brayden B.
Hemphill, Paul H.
Henson, Matthew M.
Herbst, Paige L.
Herzler, Ralph E.
Hildenbrand, John A.
Hill, Ruston L.
Hoffman, Brandon M.
Hoke, Thomas G.
Holliday, Johnathan D.
Honeycutt, Richard O.
Hooper, Zachary C.
Hopersberger, Michael A.
Horton, Brandon A.
Hough, Jason P.
Hsu, Pang J.
Hudak, Andrew J.
Hughes, Shane J.
Huntington, Ryan M.
Inglis, John B.
James, William D.
Jeffcoat, Braxton S.
Jeffords, Davis M.
Jenkins, Adam T.
Jenkins, Grace C.
Jernigan, William T.
Jhang, Rong Rong
Johnson, Adin P.
Johnson, David L.
Johnson, Hunter B.
Johnson, Jacob C.
Johnson, James E.
Johnson, Jonathan M.
Johnson, Kyle R.
Johnson, Talmadge A.
Joiner, Jarod B.
Jones, Olivia D.
Jordan, Madison J.
Jordan, Mason B.
Jowers, Austin B.
Joyner, Cameron G.
Just, Alex J.
Kardohely, Sarah E.
Karres, Gus M.
Keane, Christopher R.
Keel, Richard D.
Keller, Katherine M.
Kelley, James D.
Kelley, Liam C.
Kent, Evan H.
Kent, Jesse L.
Ketphan, Phromnachanok
Khan, Fauzan A.
Kiel, Justin M.
Killough, Noah L.
King, Jonathan K.
Kinnear, Jonathan P.
Kinsey, Chase B.
Kinson, John P.
Kirby, Ryan A.
Klassen, Benjamin C.
Kline, Jason A.
Kordonis, Frank N.
Kraftsow, Matthew A.
Krone, Victoria G.
Kuhn, Clayton M.
Kulick, Stephan D.
Kurtz, Evan C.
LaFlamme, Canaan J.
Lanetti, Matthew G.
Lantz, Michael I.
Larsen, Eric P.
LeBlanc, Lemuel J.
Leask, Logan M.
Lee, Christian A.
Lee, Tsu-Hang
Leggett, Zachary S.
Lewis, Christopher B.
Liang, Chia-Wei
Lilly, Dylan M.
Lima, Michael
Lipscomb, James E.
Little, Cameron L.
Loeffler, Dawson B.
Loggins, Blake A.
Long, Morgan T.
Lucas, Brady J.
Lucillo, Jial Alain J.
Ludwigsen, Dillon V.
Lum, Tai S.
MacEwen, Nathan P.
MacNair, Houston S.
Mack, Andrew T.
Mai, Koy A.
Maier, Colin
Major, Evan C.
Malek, Seth W.
Malott, Candice L.
Malott, Joshua D.
Marquez, Jack A.
Marr, Daniel P.
Martin, Jace K.
Martindale, Trent W.
Martinez, Dalia P.
Martinez, Lewis E.
Massey, Gabriel J.
Mathis, William R.
Mathwig, Nicholas W.
Matthews, Eugene H.
Matthews, Weston W.
Mayo, Braden K.
McCann, Dennis P.
McCathern, Jeremy M.
McCormick, Joseph C.
McCormick, Kyle T.
McGee, Jeffrey H.
McGuirt, Whitney S.
McIntosh, Christopher E.
McIntosh, Kory J.
McLeod, John H.
McNeill, Adam I.
McQuitty, Samuel D.
Meacham, Matthew C.
Melendez, Elijah J.
Middleton, Caleb C.
Milchling, Michael A.
Miller, Grant N.
Miller, Griffin P.
Miller, Logan R.
Miller, Lucas H.
Miller, Matthew G.
Miller, Maxwell H.
Miller, Thomas W.
Milligan, Ronnie R.
Minges, Andrew D.
Mitchell, David D.
Mitchell, Gage C.
Moffa, Antonio S.
Molina, Antonio S.
Moll, David J.
Moon, William C.
Moore, Aaron E.
Moore, Robert A.
Moran, Lucas M.
Morris, Gene E.
Mueller, John A.
Muenter, Grant R.
Muller, Payton M.
Munday, Matthew A.
Murn, Abigail L.
Murphy, Michael E.
Murphy, Michael H.
Myrtle, John A.
Nagel, Alexander C.
Najdawi, Zane C.
Nations, Austin L.
Nawabi, Noah L.
Nee, Matthew P.
Neil, Peter M.
Neira, Kyle G.
Newton, Aaron M.
Newton, Andrew Russell L.
Niehoff, Adam J.
Niepsuj, Christopher M.
O'Melia, Kaitlynn C.
Olsen, Robert J.
Ortiz, Dillon A.
Osborne, Addison L.
Osborne, Tanner W.
Outlaw, Tony M.
Owens, Brandon C.
Owens, Brian E.
Palmer, Ryan C.
Pappagallo, Joseph R.
Parker, Gavin A.
Parker, Sebastian N.
Parmely, Byron K.
Pascoe, David M.
Payne, Jacob G.
Peeples, Nathaniel C.
Philipkosky, Megan M.
Phucharoen, Thitiphop
Pickens, William M.
Pierce, Myles E.
Pippins, John C.
Poe, Milton S.
Poole, Colton A.
Porter, Clayton D.
Powers, Jacob M.
Pozzani, Jennifer E.
Price, Colton M.
Price, Tierra N.
Prince, Austin B.
Prince, Meryl E.
Pyritz, Jack L.
Qu, Jiaxin
Quimby, James R.
Rabiu, Gabriel A.
Rainey, Brandon L.
Ranchero, Brandon
Ransom, Matthew J.
Reddy, Alec J.
Reinhart, Nicholas G.
Reyes, Cesar E.
Reynolds, John H.
Rice, Michael L.
Richardson, Alex C.
Richardson, Bailey E.
Richerson, Jake L.
Richmond, Dereck T.
Rider, John L.
Riegel, Madyson S.
Rispoli, Paul J.
Rizer, Kirkland L.
Roberts, Clark A.
Rodgers, Natalie L.
Rodriguez, Caricia
Roides, Joshua M.
Root, Sawyer W.
Ross, Huntor J.
Rossbach, Skyler L.
Rothell, Nicole M.
Roudabush, Scott A.
Rubino, Angela N.
Russell, Christopher G.
Russell, Matthew S.
Ryan, Patrick A.
Sambets, Chandler M.
Santiago, Samuel L.
Sauls, Isaac D.
Savage, Hunter C.
Sawyer, Cameron L.
Saxby, Brandon C.
Scerbo, Joseph C.
Schall, Kyle A.
Schindler, Jake A.
Schoonover, Grant J.
Scoggins, Nathaniel T.
Scurry, Elliott A.
Sears, Christian D.
Sears, John P.
Seigler, Robert S.
Sementilli, Michael A.
Sexton, Brendan A.
Shaddrick, John J.
Shane, Nathan R.
Shave, Christian C.
Sheriff, Colton R.
Shewack, Rachael D.
Shin, Colin H.
Shugart, William W.
Shugarts, Nicholas W.
Simon, Jeff K.
Sineath, Erika N.
Singleton, Devin L.
Sinnott, Ryan J.
Sloan, Nicholas T.
Smith, Briggs A.
Smith, Dustin K.
Smith, Moriah F.
Smith, Samuel H.
Smith, Thomas B.
Smith, Troy V.
Smith, William Michael C.
Smolenski, Joseph A.
Snoke, Andrew N.
Snyder, James W.
Snyder, Richard B.
Solomon, Randolph
Somsri, Thitprapan
Sotile, John C.
Spoehel, Elizabeth S.
Sposato, Cole J.
Stamler, Ryan A.
Stokes, Christian L.
Stolar, Isaac T.
Subervielle, Matthew R.
Suggs, Dylan M.
Swanson, Erik C.
Sweere, Evan C.
Taglieri, Zachary M.
Tamblyn, Sebastian D.
Terenzio, John A.
Thackston, Marc E.
Thelan, John Z.
Thoma, Charles C.
Thompson, Scott J.
Thorsen, Christopher L.
Townsend, Matthew J.
Trocha, Nicolas C.
Troy, Nicholas R.
Truesdale, David T.
Turnage, Jared W.
Turner, Charles L.
Tye, William C.
Updyke Mundy, James P.
Valenciano Rojas, Emelie V.
Van Zyl, Willem J.
Vandiver, Anthony J.
Viveiros, Seth J.
Vlass, Tyler J.
Vu, Van
Waarum, Samantha D.
Waldrop, Patrick Q.
Walker, Charles N.
Wall, Conner A.
Wamsley, Joshua M.
Waskiewicz, Alexis E.
Watson, William B.
Weakland, Mark M.
Webb, Raleigh G.
Weber, Weston L.
Weir, John D.
Wharton, Thomas F.
Wheat, Adam C.
Whelan, Edward C.
Whitaker, Za'Von J.
White, Tre'von M.
Wiegand, Robert C.
Wilder, Matthew B.
Williams, Edgar B.
Williams, Levi O.
Wilson, Devan T.
Wilson, Preston A.
Wilson, Robert K.
Winch, Nicholas R.
Wittman, Andrew D.
Wood, Jacob W.
Woodard, Jacob D.
Woods, Christopher J.
Wosu, Ugonna O.
Wright, Denzel R.
Wyble, Darrian R.
Ye, Huazhou
Yu, Daniel
Zachwieja, Kyle A.
Zeigler, Brennen A.
Zeltner, Victoria J.
Zimmerman, Patrick J.
Zorn, Sarah J.