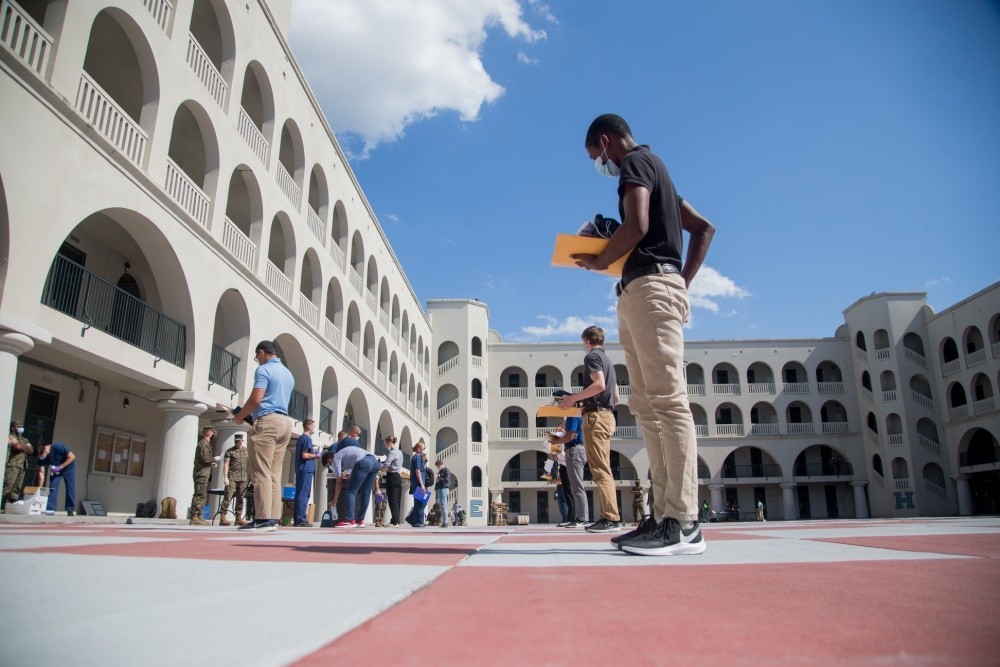 Photo above: The United States Marine Corps used The Citadel campus over the summer as a medical staging area to quarantine new recruits headed to Parris Island boot camp for basic training. Since the coronavirus pandemic hit, The Citadel curtailed parade activities and other events that would bring cadets together on the grounds of the military college. (Photo/Staff Sgt. Rebecca L. Floto, U.S. Marine Corps)
When Citadel cadets went home for spring break last year, they were told to pack up their computers and books because the week vacation might last a little longer. Little did they know they wouldn't return until the fall semester nearly five months later.
The same unknown fate faced College of Charleston and Charleston Southern University students over the last year as well.
Each school has been faced with unprecedented challenges throughout the pandemic, forging their own paths and learning new lessons. After nearly three semesters of hybrid models and curtailed programs, all three schools are optimistically looking to return to a sense of normalcy this fall.
For College of Charleston, in-person learning is its bread and butter. The school had to pivot on a dime last march and students and faculty made the best out of what they could, Dean of the School of Business Alan Shao said.
"We don't want to get away from the interaction between staff and student. You naturally lose that when you go fully online," Shao said.
Silver linings came from the adjustment in that the school is now better equipped to handle last minute emergencies like hurricanes and natural disasters. College of Charleston also honed how to offer quality education through online learning.
"We were really well managed," Shao said. "President Andrew Hsu did a magnificent job in terms of making it through these really challenging times where there was no precedent. Now we're talking all about return, and there's a lot of excitement on campus."
College of Charleston projects a record enrollment for the fall semester, which Shao considers amazing given everything the world has been through. He attributes a lot of that interest to the school's diligence in communicating with its students, parents and prospects, keeping in touch more than ever before with emails and phone calls.
The students' return to campus will not only bring the campus back to life, but the presence will uplift downtown Charleston as well, Shao said.
Charleston is a part of the school and Shao understands the two co-exist and depend on one another.
"Our two primary markets are students and community from an academic standpoint. The more that the students work in the community, the better the community benefits through internships, class projects and more," he said.
The Citadel benefited from a partnership of its own, giving the school a planning advantage heading into the 2020 academic year, according to Col. John Dorian, vice president for communications and marketing.
With cadets at home, the United States Marine Corps used the campus over the summer as a medical staging area. Marines quarantined on campus while awaiting transport to Parris Island for boot camp.
The Citadel observed the USMC's protocol and quarantining methods and learned firsthand the importance of strictly adhering to protocol. The experiences laid the groundwork for The Citadel's successful protocols put in place for the 2020 academic year.
"It seems so long ago, but no one had any real feel for how effective the message of masking and hygiene methods would be in preventing spread," Dorian said.
The financial partnership with the USMC additionally helped make up for some of The Citadel's lost revenues from not being able to deliver in person experiences for the remainder of last year.
While parades and other events and programs have been curtailed since March 2020, The Citadel as been able to maintain in-person classes since the fall and plans to open fully open for campus in August with returns to parades, campus visits and a more permissive leave on the weekends.
"It's tough, and it's a marathon. Our cadets are people like everybody else and nobody likes living this way," Dorian said.
The structure and discipline have really made a difference in this type of unprecedented environment, however; and Dorian sees how cadets have built up even stronger endurance.
"Our cadets, to their infinite credit, have learned a lot of valuable lessons here about following those protocols for each other. That it's not about you; it's about the people around you," Dorian said. "If you take care of yourself and follow the protocols and do good peer leadership and hold each other accountable, you can operate in an environment even as tough as a COVID environment."
That balance has been the hardest for CSU, maintaining its roles as both an educational institution as well as a residence for students, according to Laurel Glover, assistant professor of public health in CSU's College of Health Sciences. Glover is also the infection control/COVID-19 coordinator for the university.
"Protecting the health of everybody while making sure that we can continue to teach and work and live — it's not one challenge, it's all of it," Glover said.
Like CofC, Charleston Southern classes primarily have been virtual all year, and students are faring much better during the spring semester now that they've gotten the hang of protocols, wearing masks on campus, screening and knowing what to do if they're sick or exposed.
"Our students are very adaptable," Glover said. "I can't imagine coming to live in a dorm and taking classes online for a year."
Internships have also taken a huge hit, which has been a detriment to both students' education and the community that looks annually to the help. Complications came from pulling students from businesses that no longer wanted outsiders to visit, as well as both exposing students to offsite risks and then bringing them back on campus.
With the coronavirus turning a corner, CSU, like The Citadel and CofC, feels confident about its plans to return to full in-person learning in the fall as well.
"It's been a challenging year, but fall looks promising for us all to return to a lot closer to normal," Glover said.