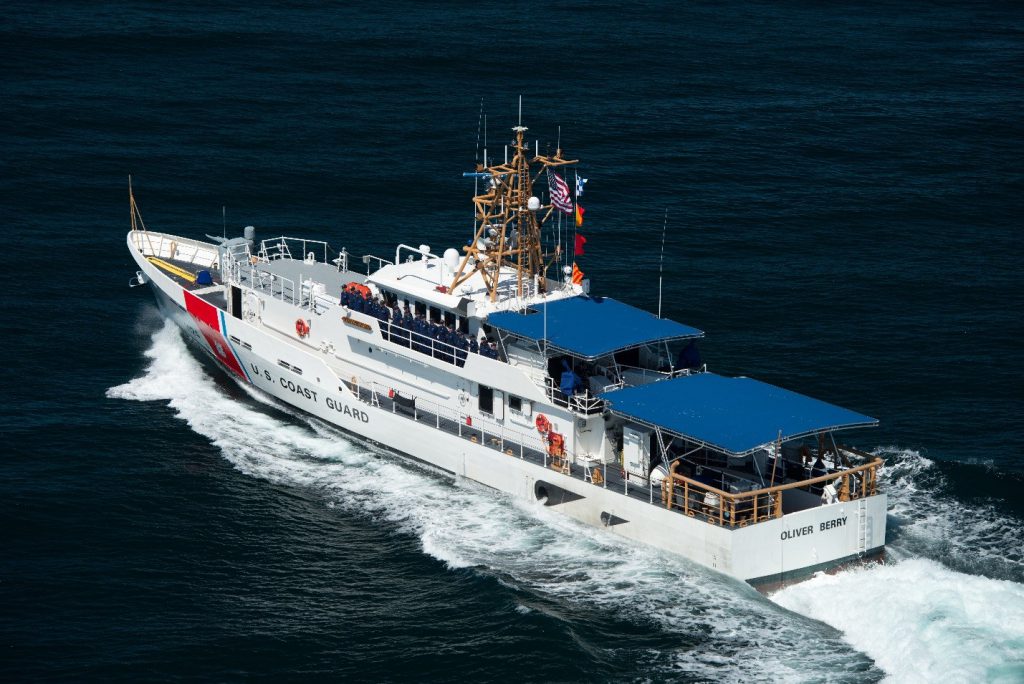 Chief Petty Officer Oliver Fuller Berry, a member of The Citadel Class of 1928, dedicated his life to serving others. Now, the Coast Guard cutter named in his honor will continue Berry's legacy of service.
Scheduled to be commissioned on Oct. 31 at Base Honolulu in Hawaii, the USCGC Oliver Berry (WPC 1124) is the first of three 154-foot Coast Guard fast response cutters that will primarily serve the main Hawaiian Islands. Able to reach a maximum speed of more than 28 knots and having an endurance of five days, the fast response cutters are set to replace the current sentinel class cutters and feature advanced command, control, communications, computers, intelligence, surveillance and reconnaissance equipment, including the ability to launch and recover standardized small boats from the stern. The Oliver Berry is the first Coast Guard ship named after a Citadel alumnus.
Berry was born in Marion, South Carolina on March 2, 1908, and grew up in Florence, South Carolina, where the Berry family lineage can be traced back to Revolutionary War patriot Andrew Berry. Upon graduation from The Citadel in 1928 (photo right), Berry received his commission as a second lieutenant in the U.S. Army Reserve but a year later resigned his commission and enlisted as a seaman apprentice in the U.S. Coast Guard.
Eventually achieving the rating of chief machinist's mate, Berry became one of the world's first helicopter maintenance specialists. A distinguished expert mechanic on original Coast Guard aircraft including landplanes and seaplanes as well as helicopters, he was lead instructor at the very first U.S. military helicopter training unit, the Rotary Wing Development Unit, which was established at Elizabeth City, North Carolina in June 1946. He was also prominent in the development of the first rescue hoist.
Notably, Berry was involved in a 1946 helicopter rescue in Newfoundland that earned him a commendation and the Silver Medal of the Order of Leopold II by Prince Charles, Royal Regent of Belgium. Through his masterful technical expertise, Berry was able to quickly disassemble a helicopter in Brooklyn, New York, which was then flown in a cargo plane to Gander, Newfoundland, where he reassembled it in time to find and rescue 18 survivors of a crash aboard a Belgian Sabena DC-4 commercial airliner.
"As I learn more about Chief Petty Officer Oliver Berry through this commissioning process, and learn about his resourcefulness and leadership in developing the specialty of aviation maintenance, I am constantly impressed," said Lt. j.g. Peter Driscoll, executive officer of the Oliver Berry. "The cutter helps cement the strong bond between our aviation and afloat communities; it is a privilege to be a part of her plank owner crew and carry Oliver Berry's legacy forward into the 21st century."
The commissioning ceremony will be presided over by U.S. Coast Guard Pacific Area Commander Vice Adm. Fred Midgette. Also in attendance will be the cutter's sponsor Susan Hansen, a distant cousin of Oliver Berry, and members of the Hawaii Citadel Club, who will present a plaque to be prominently displayed on the cutter.
"I received an outpouring of support from local Citadel graduates with a desire to provide support and to attend the commissioning ceremony," said retired Air Force Col. James L. Pasquino, Class of 1976. "The Hawaii Citadel Club is honored to represent The Citadel as the USCG cutter is named in honor of Oliver Berry, '28, and to establish a connection with the ship and crew as they perform their missions in Hawaii and the Pacific Islands."
Berry passed away on Sept. 13, 1991.