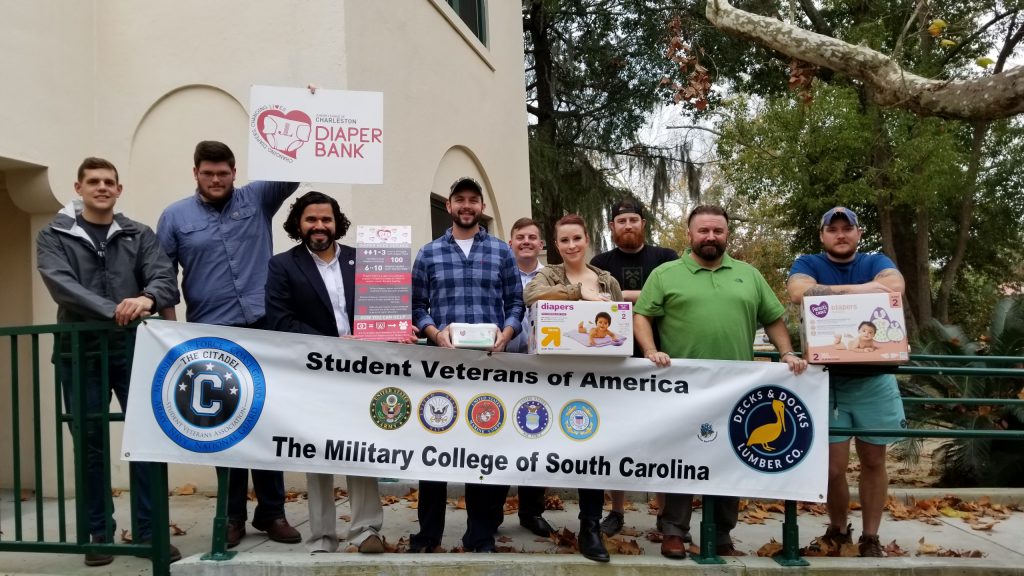 The Citadel Student Veterans Association (CSVA), in conjunction with the Junior League of Charleston, is hosting a diaper drive to benefit families in the Lowcountry. They started Dec. 1 and will continue until the end of the day Dec. 15.
"The Citadel Student Veterans Association strives to partner with various non-profits in the Charleston area to give back to the community in which we live," said Juan Campana, CSVA president. "We were approached with the idea of hosting a Junior League of Charleston diaper drive. After learning of the constant need for disposable diapers for families in the Lowcountry we decided this would be a good fit for our group this holiday season."
Many lower income families in the area do not have washers and dryers, and cannot wash cloth diapers in laundromats because it is not permitted due to contamination of the machines. Disposable diapers are their only option.
The Junior league of Charleston started a new diaper bank in 2017 that collects, packages and works with partner organizations to distribute diapers those in need throughout the Lowcountry.
"Disposable diapers can be expensive forcing some families to choose between buying groceries and buying diapers. That could mean the children sit in wet diapers longer than needed, developing rashes and then requiring medical attention. It's a whirlwind of costs that we wish to help offset by holding this diaper drive," said Robin Hillyer Miles, program coordinator for The Citadel's military and veterans' affairs office.
CSVA members have canvassed campus and collected diapers by golf cart, continuously promoting the diaper drive across campus.