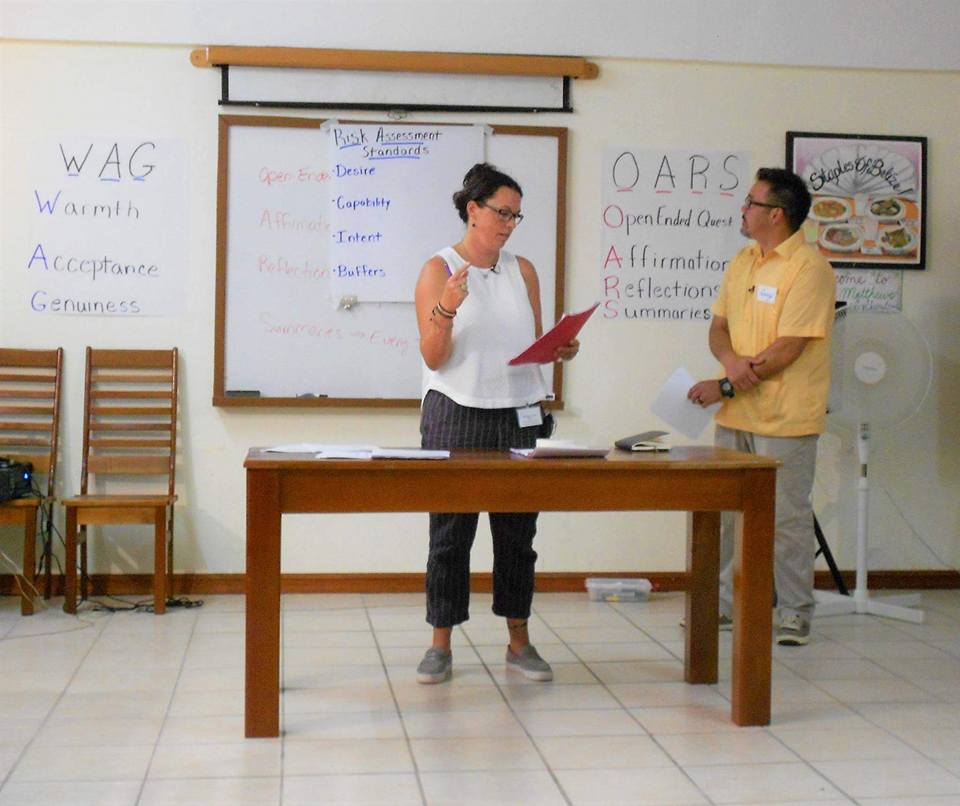 Picture: Adjunct instructor Jill Ilagan and Professor Guy Ilagan conducting a workshop at Galen University in Belize, June 2017
A group of youth service professionals in Belize is more aware of how to assist in preventing suicide because of workshops led by two Citadel Graduate College professors. A husband and wife team of professors, Guy Ilagan, Ph.D., who teaches counselor education, and Jill Ilagan, PsyD., an adjunct instructor of psychology, recently returned from leading suicide prevention workshops in San Ignacio and Dangriga, Belize.
"In a country where very few psychologists and mental health professionals exist nationwide, youth workers in Belize are recognizing the importance of mental health support in their country and are taking action to combat the lack of services that are in place for suicide prevention," said Guy Ilagan. "The professionals we had the opportunity to train in Belize are highly concerned and capable people, who are eager to intervene when students are at risk for suicide. Now they will have more tools to be as successful as possible."
The team joined professor Kendra Hoyt, who spearheaded the workshops, at Galen University in Belize to teach over 50 school counselors, social workers and youth services workers how to identify and assess potentially suicidal youth, as well as how to respond to crisis situations by employing basic counseling techniques.
"Working in Belize was an eye-opening and significant experience for me," said Jill Ilagan. "Witnessing the youth workers' frustration at not having adequate support in place while remaining compassionate and filling in the gaps themselves was inspiring."
The Citadel is a part of the Consortium for Belize Education Cooperation (COBEC), which sent the Ilagans to help facilitate the workshops by making part of their trip possible through a grant. A partnership between COBEC, the Youth Resilience and Inclusive Social Empowerment Project and Galen University was underwritten by the Belizean government as a result of the rise of youth suicides in the country.
"We feel confident that this is the first of other activities in which our faculty will partner with Galen University to address professional development needs of educators in Belize," said Larry Daniel, Ph.D., dean of the Zucker Family School of Education at The Citadel.
Since the completion of the seminars, plans are being made for continued training and the establishment of protocols to put in place at local schools, such as the country's first suicide prevention hotline.
A broadcast news report from Belize Today on the suicide prevention workshops can be seen below at 24:46: