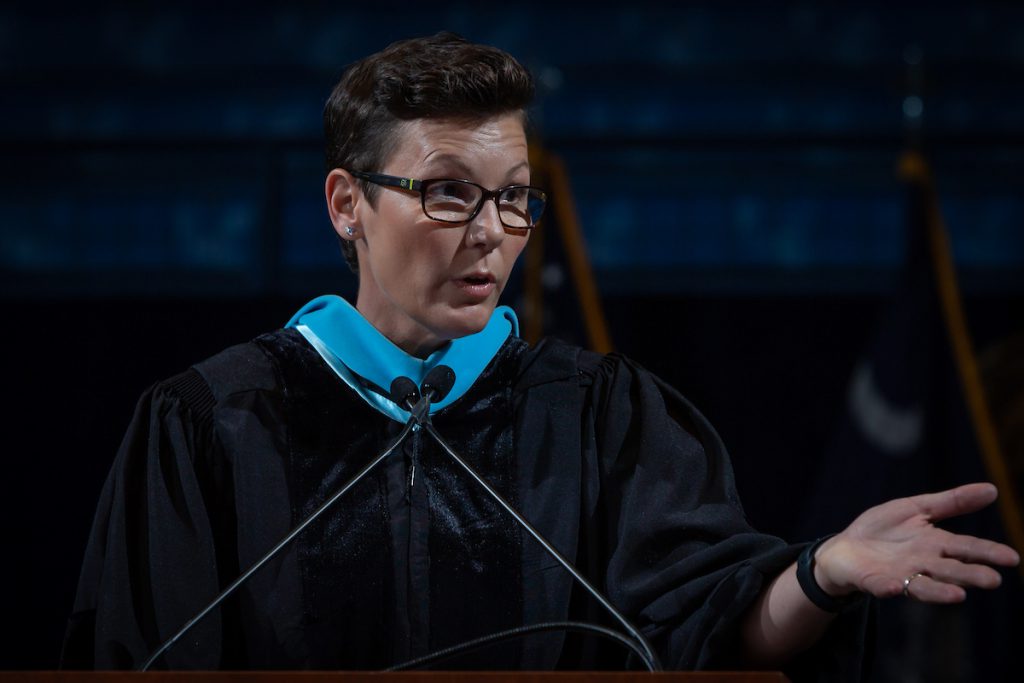 Award-winning, decorated combat veteran photographer Stacy Pearsall to address graduates
Stacy L. Pearsall is an award-winning photographer and decorated combat veteran whose images have helped many appreciate the heroism of wounded veterans. Most recently, her work was featured in the Smithsonian National Portrait Gallery.
At 3:30 p.m. on Saturday, May 5, Pearsall will address members of The Citadel Graduate College (CGC) Class of 2018 in McAlister Field House. Approximately 360 master's level, veteran and evening undergraduate (non-cadet) students will graduate from CGC programs during what is the 50th anniversary of the graduate college.
"Stacy Pearsall embodies the pursuit of excellence, the exercise of principled leadership, and the selfless dedication to the welfare of others that The Citadel strives to instill in all of its students," said Tara Hornor, Ph.D., associate provost for planning, assessment, and evaluation and dean of enrollment management. "Ms. Pearsall is a distinguished combat veteran, photographer, author, athlete, an eloquent advocate for veterans' rights, and a dedicated educator. It is a distinct privilege to welcome her as The Citadel Graduate College Class of 2018 commencement speaker."
Capturing life under fire
A native of Corpus Christi, Texas, Pearsall joined the United States Air Force when she was 17. During her Air Force career, she quickly distinguished herself as a combat photographer, traveling to 41 countries and serving three tours of duty in Iraq. Wounded twice, Pearsall earned the Bronze Star Medal and Air Force Commendation with Valor for heroic actions under fire.
Pearsall is one of only two women to win the National Press Association's Military Photographer of the Year award and the only one to win it twice. Her photographs have published in Time, The New York Times, USA Today, and Sports Illustrated, and been broadcast by CNN, BBC, and PBS. She gained national exposure when she shared her experiences as a female combat photojournalist on the Oprah Winfrey Show in 2009. Articles about Pearsall and her photography appeared in Popular Photography, the Los Angeles Times, Harvard Business Review, and Women's Health.
Pearsall today
Retired from the military, Pearsall is an author, educator, military consultant, public speakerand founder of the Veterans Portrait Project (VPP). Pearsall has traveled coast to coast, documented roughly 6,500 veterans in over 100+ engagements in 27 states, hosted numerous community-based exhibitions showcasing veterans from their respective hometowns, and took part in a USAA sponsored YouTube docu-series of her adventures on the road. The South Carolina series of VPP portraits is on permanent exhibition at the Ralph H. Johnson VA Medical Center.
Though disabled from combat injuries, Pearsall is a multi-medaled athlete, including gold, from the US Paralympic sponsored Wounded Warrior Games in 2010, 2011 and 2012. Additionally, she raises public awareness of disabled combat veterans with wounds seen and unseen through America's VetDogs.
Pearsall serves as a member of The Citadel School of Humanities and Social Sciences Advisory Board, has provided classes for cadets, and received an honorary Doctor of Journalism from The Citadel in 2013.
About The Citadel Graduate College
The Citadel Graduate College, celebrating its 50th anniversary in 2018, offers 26 graduate degree programs with 42 concentration options, 25 graduate certificate programs, and 10 evening undergraduate programs. The classes, designed for working professionals with busy lifestyles, are held in the evenings in a civilian atmosphere on The Citadel's iconic Charleston, South Carolina, campus. Many programs offer coursework and requirements 100% online. The Citadel is ranked by U.S. News & World Report (2012-2018) as the #1 Public College in the Southoffering up to a master's degree. Within The Citadel Graduate College, 95 percent of faculty have Ph.D.'s or the highest degree offered in their discipline, assuring that students obtain the knowledge, skills and ideas needed to gain a competitive advantage in their professions.