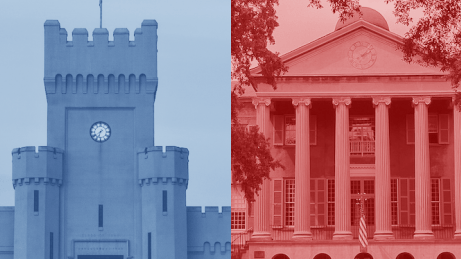 May 8, 2020 Update: Licia Hendriks, Ph.D., has taken over the role of Director of Graduate Studies in English for The Citadel
A competitive new program, hosted by the two institutions, will help ten high school English teachers get a free start on their Master's degrees.
The Master of Arts program in English at The Citadel and the College of Charleston are now accepting applications for the English Education Enrichment award.
Up to ten local teachers will be awarded free tuition to enroll in the introductory course in Graduate English Studies this fall. That course will be offered in a hybrid arrangement, supplementing periodic face-to-face meetings on The Citadel campus with online instruction.
"There are many reasons why high school English teachers would want begin work on their Masters degrees, and with this award we're trying to make it even easier to get started," said Jim Hutchisson, director of graduate studies in English at The Citadel. "Some will want to complete their MA in English, others will want to take the course for professional development. Regardless, all students will benefit from the opportunity to explore exactly what the English program can offer them."
Whether you ultimately want to complete an MA in English, or simply complete advanced coursework for professional development, ENGL 511 will provide an intellectually-stimulating opportunity to explore the experience of graduate study in English in the company of others who share your passion for literature and writing.
In ENGL 511, students will explore literary texts, scholarship and criticism at the graduate level. Taking one classic American novel as an object of study, students will delve into, discuss, and practice dominant critical and theoretical approaches in the field, from psychoanalysis to postcolonial critique to deconstruction, and everything in between. Through readings, discussions, and guest speakers, ENGL 511 will also introduce students to the ways in which graduate study in English can help prepare them for advancement within their teaching careers, as well as introduce them to various other occupations and careers.
In-person class will meet 6 – 8:45 p.m. on the following Thursdays:
Aug. 27
Sept. 10
Sept. 24
Oct. 8
Oct. 22
Nov. 12
Dec. 3.
Applications, which can be found here, are due June 15.