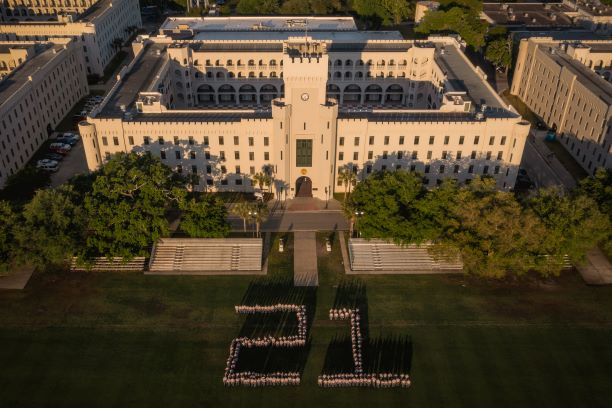 Instructions for accessing all livestreamed commencement-related ceremonies
More than 560 cadets will graduate as members of The Citadel Class of 2021 at McAlister Field House on Saturday, May 8. They will be joined by 25 veteran and active duty student graduates.
Cadets and veteran student graduates will attend either a 9 a.m. or a 2:30 p.m. ceremony, as assigned.
The ceremonies, including commencement and the other graduation week events, will be available to view live on The Citadel Facebook page and The Citadel YouTube channel.
There are numerous ceremonies taking place graduation week, recognizing top achieving cadets and students, and the approximately 165 cadets earning commissions as officers in all branches of the United States Armed Forces.
Awards Convocation
10 a.m., Thursday, May 6. Recipients allowed two guests who will arrive and sit together in a pod of 3 floor seats.
Baccalaureate Service
2 p.m. Thursday, May 6, Summerall Chapel. Limited on-site access due to COVID.
Nurse Pinning Ceremony
3:30 p.m., Thursday, May 6, Summerall Chapel. Graduating nurses and ticketed guests only.
This event will not be live streamed.
Military Joint Commissioning Ceremony
9 a.m., Friday, May 7, McAlister Field House; 8 a.m. arrival suggested.
Long Gray Line Military Dress Parade
3:45 p.m., May 7, Summerall Field.
Viewing of the parade is only open to the immediate family members of graduating cadets, faculty and staff. During the parade, Cadet. Col. Nicholas Piacentini, Regimental Commander, '21, will formally turn command of the South Carolina Corps of Cadets over to the incoming regimental commander, Kathryn Christmas, '22.
Corps of Cadets Commencement Ceremonies
9:00 a.m. and 2:30 p.m., May 8, McAlister Field House.
---
The Citadel Graduate College Commencement Ceremonies
9:00 a.m. and 2:30 p.m., May 9, McAlister Field House.
---
Make-up ring walk-through photos
For cadets and their guests who were not able to get a ring walk-through photo taken in the fall, a make-up session is being held by The Citadel Alumni Association at the Holliday Alumni Center near the stadium from 9:30 a.m. – 5 p.m. on Saturday, May 8. Please email tskardon@citadel.edu to attend.
For more on legacy cadet events, restrictions on photography, accessible seating and other commencement related directives, please click here.
Class of 2021 by the numbers
(Estimated figures could change after final calculations)

Cadets
562
Cadets earning commissions into U.S. Military Service
Army 116
Air Force 28
Marines 12
Navy TBD
Legacy cadets
70

Top 5 states
South Carolina, North Carolina, Georgia, Florida, Texas
Instructions for guests
Tickets
Each graduate has e-tickets for up to three guests for commencement. Those without a ticket will not be permitted into McAlister Field House.
Facemasks
Every person must wear a facemask while indoors anywhere on The Citadel campus. Per the CDC guidelines, facemasks are required outdoors in spaces where sizable groups of people are present, or for people who are not vaccinated.
Parking
Parking on campus is first-come, first-served, and is expected to be more than sufficient with graduates and guests divided between two ceremonies
McAllister Field House opens for guests
Guests will be permitted into the venue one hour before each event, but not before.
Security
Every guest must pass through a security checkpoint.

No bottles or beverages, other than one bottle of water per guest, will be permitted in the building.
Only small, clear bags will be permitted inside McAllister Field House. Click here to learn what is permitted.
Hearing the last words from their Commandant of Cadets
The speaker for both Corps ceremonies will be The Citadel Commandant of Cadets, Captain Eugene "Geno" Paluso, USN (Ret.), '89. Paluso will retire from the position of commandant on June 30, 2021. Paluso held leadership roles commanding special operations forces in the Balkans, Africa, Iraq and Afghanistan. He has led men and women in combat at all levels as a Naval officer.
Paluso has a Master's of Military Science from the U.S. Marine Corps Command and Staff College as well as a Master's of Science in National Security Strategy Resourcing from the Industrial College of the Armed Forces. His service awards include the Defense Superior Service Medal, Legion of Merit, Defense Meritorious Service Medal, Bronze Star, Meritorious Service Medal (2), Joint Commendation Medal (2), Navy Commendation Medal (5), Joint Achievement Medal, Navy Achievement Medal, as well as numerous other service awards and commendations.