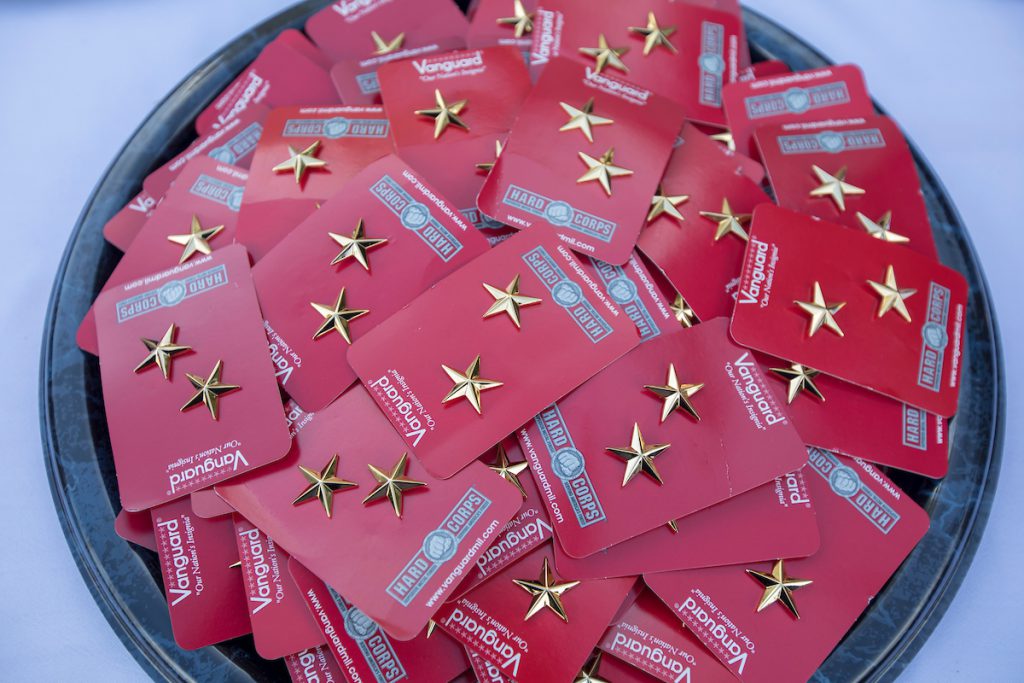 Gold Stars are awarded to cadets who have earned a grade point ratio of 3.7 or higher for the work accomplished in the spring semester of 2016. Members of the South Carolina Corps of Cadets who received the honor are as follows:
Abernathy, Samuel J.
Anderson, Jordan D.
Andrus, James L.
Arroyo Arias, Katherine
Baker, Andrew P.
Baker, John W.
Bakley, Jake P.
Balding, Kenneth C.
Barnes, Cedric T.
Barnes, Virginia G.
Baucom, Taylor K.
Behnke, Timothy J.
Bellanova, Christopher L.
Bennett, Richard J.
Bergert, Jacob M.
Bermudez, Lawrence J.
Black, Daniel J.
Blackburn, Zachary T.
Blanchard, Richard S.
Boeckel, Cameron P.
Bogdan, Andrew T.
Bogertey, Sean P.
Bolus, Dawson G.
Bowman, Joshua C.
Braddock, Charles W.
Brooks, Rowan S.
Bruce, Carla C.
Buda, Jackson W.
Buffington, Steven C.
Burckhalter, Andrew C.
Burgess, Tyler A.
Byrnes, Matthew A.
Carbaugh, George M.
Carr, Josiah M.
Carter, Grayson K.
Caughman, William J.
Chatman, Devon M.
Cheng, Kai Yuan
Chien, Chun-Yu
Ching, Hsin-Yun
Choppa, Jacob A.
Christensen, Andrew P.
Chu, Chun-Jung
Churchill, Stephen J.
Clark, John S.
Cleland, Cole A.
Conroy, John F.
Cook, Joseph K.
Cook, Richard L.
Cordes, John D.
Cornelio-Ruiz, Maria C.
Coste, Charles L.
Craft, Gregory C.
Craft, Justin M.
Crawford, Jacob T.
Crawley, Hunter E.
Cribb, Robin D.
Cucinotta, Nicolas P.
Daniels, DaSean J.
Davidson, Robert G.
Davis, Lee H.
DeLage, Michael P.
DeStefano, John W.
Deveny, Brandon P.
DeVore, Jonathan
Dingle, Ivan Paul M.
Dobin, Mitchell D.
Driggers, Dylan C.
Edwards, Alexis M.
Eich, Ethan V.
Ellmann, Timothy L.
Epps, Blakely T.
Ezell, Christopher S.
Farnham, Michael L.
Felt, Mitchell J.
Fischer, Connor N.
Floyd, Cody M.
Flynn, Kylie J.
Forster, McKinley J.
Fox, Logan M.
Frazee, Philip S.
Fritz, Jacob M.
Fuhrman, Connor M.
Ganezer, Joshua H.
Geis, Conrad L.
Gibbons, Mason B.
Gibson, Cecilia K.
Goethe, Stone Q.
Gonzalez, Rafael G.
Graham, George D.
Green, Jeremy C.
Griffith, Thomas S.
Grizzle, Avery M.
Gudenburr, Douglas H.
Gursky, Stephen T.
Guy, Trace J.
Hamilton, Joseph T.
Hance, Ryan C.
Hanshaw, Thomas P.
Harriman, Christian H.
Hart, Joseph S.
Hatler, Douglas C.
Haynes, Greyson C.
Herbst, Paige L.
Honeycutt, Richard O.
Hooper, Zachary C.
Hudak, Andrew J.
Hughes, Shane J.
James, William D.
Jeffords, Davis M.
Jhang, Rong Rong
Jones, Olivia D.
Jordan, Madison J.
Jordan, Mason B.
Joyner, Cameron G.
Just, Alex J.
Keane, Christopher R.
Kelley, Liam C.
Ketphan, Phromnachanok
King, Jonathan K.
Kinson, John P.
Kordonis, Frank N.
Kulick, Stephan D.
Lanetti, Matthew G.
Larsen, Eric P.
Liang, Chia-Wei
Lipscomb, James E.
Little, Cameron L.
Loggins, Blake A.
Lucas, Brady J.
Ludwigsen, Dillon V.
MacEwen, Nathan P.
Maier, Colin
Major, Evan C.
Malott, Candice L.
Malott, Joshua D.
Marr, Daniel P.
Massey, Gabriel J.
Matthews, Eugene
Matthews, Weston W.
McCann, Dennis P.
McCathern, Jeremy M.
McGee, Jeffrey H.
Melendez, Elijah J.
Miller, Logan R.
Miller, Matthew G.
Milligan, Ronnie R.
Minges, Andrew D.
Moll, David J.
Moon, William C.
Moran, Lucas M.
Morris, Gene E.
Mueller, John A.
Nations, Austin L.
Nawabi, Noah L.
Newton, Andrew Russell L.
Niehoff, Adam J.
Niepsuj, Christopher M.
Olsen, Robert J.
Osborne, Addison L.
Osborne, Tanner W.
Outlaw, Tony M.
Owens, Brian E.
Pappagallo, Joseph R.
Parker, Sebastian N.
Payne, Jacob G.
Philipkosky, Megan M.
Phucharoen, Thitiphop
Pierce, Myles E.
Pippins, John C.
Poole, Colton A.
Price, Colton M.
Price, Tierra N.
Prince, Meryl E.
Qu, Jiaxin
Quimby, James R.
Ranchero, Brandon
Ransom, Matthew J.
Richardson, Alex C.
Richardson, Bailey E.
Riegel, Madyson S.
Rodriguez, Caricia
Ross, Huntor J.
Russell, Christopher G.
Russell, Matthew S.
Ryan, Patrick A.
Sambets, Chandler M.
Sauls, Isaac D.
Savage, Hunter C.
Schindler, Jake A.
Schoonover, Grant J.
Scoggins, Nathaniel T.
Sementilli, Michael A.
Shave, Christian C.
Sheriff, Colton R.
Shugart, William W.
Shugarts, Nicholas W.
Simon, Jeff K.
Sloan, Nicholas T.
Smith, Briggs A.
Smith, Dustin K.
Smith, Moriah F.
Snyder, James B.
Snyder, James W.
Somsri, Thitprapan
Stamler, Ryan A.
Stokes, Christian L.
Taglieri, Zachary M.
Thoma, Charles C.
Trocha, Nicolas C.
Truesdale, David T.
Turnage, Jared W.
Turner, Charles L.
Updyke Mundy, James P.
Valenciano Rojas, Emelie V.
Vlass, Tyler J.
Watson, William B.
Weakland, Mark M.
Webb, Raleigh G.
Weber, Weston L.
Whelan, Edward C.
Wiegand, Robert C.
Wilder, Matthew B.
Wilson, Robert K.
Winch, Nicholas R.
Woods, Christopher J.
Ye, Huazhou
Zimmerman, Patrick J.