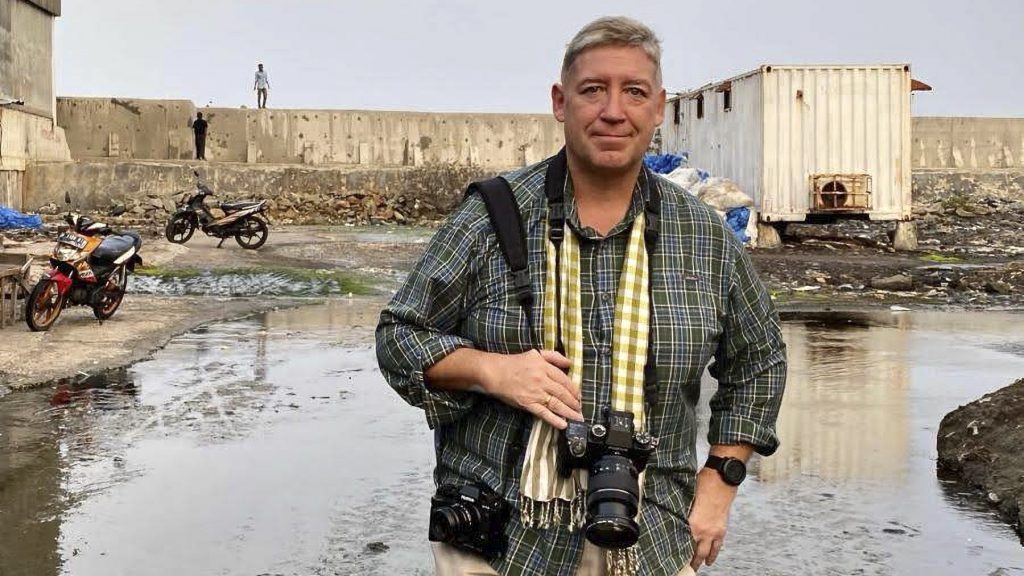 After working in Asia for the last 25 years, Ed Wray, a gifted photojournalist, has returned to the United States. He now lives in Charleston, where he is telling The Citadel story through his powerful imagery. We caught up with Wray recently to learn more about the man behind the lens. Here's his story.
When did you become interested in photography?
As a kid. Actually, I was really interested in the darkroom process, more than the photography itself. I thought it was really fascinating to watch a little piece of paper get developed.
What was your first job?
I studied international relations at Boston University — that's mostly history and a bit of economics and a bit of political science, so I went to work as a ship broker for a few years after college. Being a broker was just not for me. I didn't like having to take clients out to dinner and yuck it up. It just seemed really fake to me.
How did you go from being a ship broker to a photographer?
I had maintained a real interest in international affairs and what was going on — the big issues around the world — and I really wanted to see firsthand how the news of the day becomes history. How does that happen? And that started my pathway into photography.
Did you have formal training?
I went to a little school in Boston called the New England School of Photography. I studied color theory and black and white printing. I studied with a photographer for the Boston Globe for about six months, and that was helpful, so I had about a year's worth of training.
Where did your photography career begin?
I just went to work for local newspapers in Boston as freelancer. The Associated Press started hiring me, and I worked with them quite a bit. I took a money-making job as the photographer to the mayor of Boston, a guy called Tom Menino, for about a year.
Tell us about Asia: how did you end up there and what were you doing?
There was a lot happening in Asia in the late 1990s. The Asian financial crisis had just started, and I had never been to Asia. I had traveled a little bit in Europe, and I liked traveling. Some of my friends had gone to work in Kosovo, which was in conflict at the time. And my older sister was living in Singapore, so I told my editor at AP that I was thinking about going to Asia, and he was very nice. He gave me some really good references, and a well-known Vietnam War correspondent, George Esper, wrote me a nice recommendation.
When I got out there, I went around to different AP bureaus with my portfolio and recommendations in hand, and after about three or four months, AP hired me for a new position they were creating in Singapore. Singapore is a very well-ordered city — it's authoritarian, so not much out of the ordinary really happens there on a daily basis. The job was what they call a fireman position. When the bell rings, you just get out of the house and you go, and that's what I did for about five or six years. I covered anything that was going on in Asia, from Afghanistan to Fiji. All kinds of stuff — boring APEC meetings, coups and civil unrest. There were some wars going on, mostly the beginnings of conflicts — rioting and various armed groups fighting. One of the major events of that era in Asia was when the dictator in Indonesia was deposed. It was a big deal and quite violent.
I traveled about five or six months a year. I loved it, but it burns you out. After about seven years, I started looking around for other places, and it didn't take me too long to settle on Indonesia, where I spent the next six years in charge of the AP bureau, which was kind of different for me, and I was in charge of like three or four photographers. I set up a network of freelancers and oversaw them. I was still shooting a lot too, mostly regional stories that they needed extra help on.
It was super crazy and really interesting — disasters, earthquake aftermaths, plane crashes — but after seven years, I felt like I was kind of doing it by rote, and I didn't like that at all. It takes the fun out of it, and people deserve a little better, so in 2011, I quit AP to freelance full-time. I was mostly in Indonesia. I did do some work up in Thailand, and then I started doing commercial work too, which I liked, and I had an approach to it that was a little different from most commercial photographers — I was more on the documentary end of things. And after about three or four years of that, I kind of missed doing news stuff, so I started working with Getty Images for about 10 years.
What brought you back to the States?
I missed seeing my family, and my wife, who is Indonesian, was very willing to give it a go. So I started looking around to see what kind of work I could do here. I looked at schools because photojournalism, the documentary kind of photography, is a good transition to universities and colleges. I had heard of The Citadel, and I knew it was a military college but not much more, and when it came up, I became intrigued.
I was really intrigued in this day and age that a college was serious about having a moral component — honor, duty, respect. Most colleges don't really pay any attention to that part of a student's development. And it was really interesting to me that there was a college that considered that part of the learning package.
Tell us about famous photographers you know who influenced you.
When I first started out, there was a guy called Alex Webb, whom I just loved. He's a documentary photographer. The colors in his work are dynamic with a lot of heavy blacks. He mostly worked south of the equator, in Haiti and Mexico. And then I was lucky enough to work alongside a guy called James Nachtwey, who's a very well-known photojournalist. He has such a classically trained eye that no matter what his subject is, the photographs are stunning. He is devoted to conflict photography, so all of his photographs are taken in such a beautiful way that you can't look away. And for me, that was kind of an important thing, to see somebody working like that. And there's another photographer who's a contemporary. David Guttenfelder, a National Geographic photographer, is a super person and one of the outstanding photographers of his generation. He also has a very artistic, sort of interesting sensibility.
What has surprised you most about The Citadel?
I know it sounds odd, but what has really amazed me is the extent to which the military-style training is the dominant part of college life. The disciplined approach to everything and the attention to detail are amazing. I was surprised by that.
You and your wife moved here from Jakarta with your five dogs. How did you end up with five dogs?
My wife had never had a dog before. Indonesia is a Muslim country. There's nothing expressly in the Quran that forbids people from having dogs, but most Muslims are hesitant to be touched by dogs for religious reasons.
We bought our first dog, actually. She was a golden retriever, and my wife, who never had a dog before, just really took to her, just really loved having a dog, loved everything about it. We would take our dog to a park to walk her, and there was this poor, skinny dog attached to a tree by a chain. And when we realized he had been abandoned, we took him, and so we had two. And then my wife got to know all the animal shelter people in Jakarta, and whenever she would visit, a dog would catch her eye, and then she'd come back and tell me about the dog. There was a dog whose owners were going to Australia for a month, and then I had a friend who was moving back from Bali into an apartment and couldn't keep his golden retriever. My wife has rescued dogs who were living in terrible conditions with no fur, starving to death. And she is really good at rehabilitating them.
What is it about taking pictures that you find gratifying?
When you decide to take a picture of something you're looking at, you have to decide for yourself what it is that you're interested in. Otherwise, it's just going to be nothing. So you have to kind of continually ask yourself what is it about this thing in front of me that I'm interested in? And why? Then you have to sort of figure out ways to emphasize that aspect. When I can successfully put together an image that tells people what it was about this situation, or this person, or this thing that was going in a way that's visually coherent and interesting to look at and holds your eye, that's really satisfying.
What is it you like about photographing The Citadel?
The Citadel has a lot of interesting traditions. That deafening roar when you walk into the barracks in the morning and the freshmen running around with their elbows up in the air.
The uniforms are a really interesting visual aspect, and I'm always finding out something new about the details of life here. For instance, those little ammunition pouches that the cadets wear on their uniform, someone explained to me that the freshmen keep Gummy Bears in them for senior cadets.
I was photographing some knobs doing PT very early in the morning. The light is very directional at that hour, and I took a picture that I really liked, and there were all these bald heads. It basically looks like 25 crescent moons because of the way the light was striking their heads. The Citadel also has such iconic architecture, and there's really nice light at times that comes into the archways or up the stairs. That's really interesting, something I haven't explored nearly enough but I find beautiful. The parades are also interesting—the repetition, the shapes, the lines.
Below are a few of Wray's favorite photos he's taken at The Citadel.
Photos from The Citadel are available through purchase at the photo store.