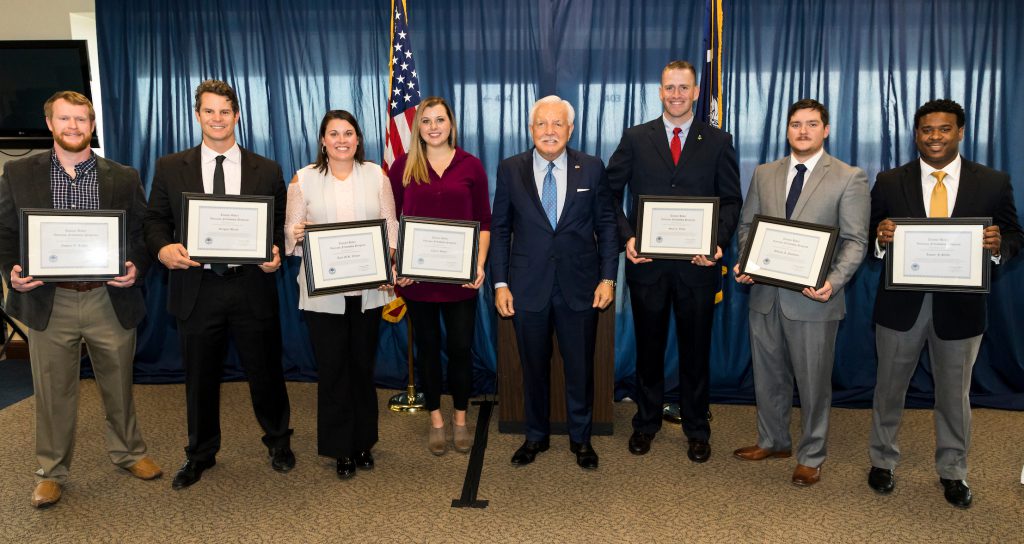 The Tommy Baker Veterans Fellowship recipients for the 2017-18 academic year include seven veteran students studying at The Citadel in a variety of undergraduate and graduate programs. The fellowships are one part of The Citadel's commitment to serving those who served America.
One of the new fellows, Cherié Doney, is an evening undergraduate student in the inaugural class of the college's Bachelor of Science in nursing program.
"Cherié Doney is an excellent student and a leader in classroom activities, arranging study groups for her classmates, and is a natural mentor for cadets and other students," said Amelia Joseph, Ph.D., RN, nurse administrator for the Swain Department of Nursing at The Citadel. "It was an honor to nominate her for the Tommy Baker Veterans Fellowship."
Doney served in the U.S. Navy training as a nuclear-power electrician for two and a half years before receiving a medical discharge. The wife of an active duty military officer and mother of two, was onboard as a student when The Swain Department of Nursing at The Citadel was launched in early 2017.
"It's a big jump from engineering to nursing, but I have never once regretted the switch. The curriculum has been eye opening in that nursing is absolutely, without a doubt, what I want to dedicate my time and energy to in fulfilling my desire to serve others," Doney said.
The full roster of 2017-18 Tommy Baker Veterans Fellows is as follows:
Gregory Dixon
International Politics and Military Affairs
Veteran graduate student; U.S. Marine Corps 2003-2007
As a squad leader and scout sniper with the U.S. Marine Corps, I was fortunate to see the effects of sound leadership, sacrifice and dedication to mission by junior and senior Marines. The skills I've learned from my service in the Marine Corps are not tactical. They are practical and rational toward my current goal of earning my Masters in International Politics and Military Affairs. I have witnessed first-hand the effects of good leaders. Veterans have an obligation to maintain that responsibility on campus and in our communities.
Cherié Doney
Nursing
U.S. Navy 2008-2011
(See quotes above)
Zach Jordan
History
Veteran graduate student; U.S. Marine Corps 2007-2011
During my time as a Marine, I was faced with many hardships from adapting to a new way of life during boot camp to two combat deployments to Iraq and Afghanistan. These hardships helped lay a foundation of character that form the basis of who I am today. Honor, always doing the right thing, integrity, and selflessness are the key characteristics that the Marine Corps instilled in me that I believe strongly in. My short time at the Citadel has been extremely rewarding and I hope to give back to the institution that has already given so much to me. 
William Faulconer
Business Administration veteran day student; U.S. Army 2007 – 2017; current member of the South Carolina Army National Guard
My last assignment was by far my favorite. From 2013 – 2017, I was the battalion mortar platoon sergeant responsible for the welfare of 11 noncommissioned officers and 40 junior enlisted soldiers. My last deployment in this role was in support of Central Accord 2016 to Gabon, Africa. We helped soldiers from Gabon, Democratic Republic of Congo, Chad, and Cameroon learn peacekeeping tactics to aid their efforts to stabilize Central African Republic.
Lamar Stills
Political Science
Veteran evening undergraduate student; U.S. Navy 2009-2015
I hoped to be chosen as a veteran Fellow because of my dedication, accountability, and honesty. I know these things will prove me to be a viable candidate.
Kara Wilson
Leadership Studies
Veteran graduate student; U.S. Air Force 2005 – 2013
I have faced many challenges throughout my officer and civilian careers, but the constant traits of my personality which always push me through are my grit and dedication. I am currently a full-time mom, graduate student carrying a 3.83 GPA, a weekly church volunteer and the president of my children's school Parent Teacher Association. I do these things because I am dedicated to my future and the future of my children.
Sean Yates
Business Administration
Veteran day student; U.S. Marine Corps 2006 – 2014
Sean is a unique leader who proves daily his commitment to raising two children, mentoring cadets, and promoting health and fitness amongst working professionals while maintaining a 4.0 GPA as a full time veteran student. Sean truly exhibits leadership by example by his meritorious service to his community and country. Sean embraced the core values of honor, duty, and respect and it is clearly witnessed by everyone he encounters. – Major H.L. Boyd, USMC, Marine officer instructor for the Naval Reserve Officer Training Corps at The Citadel
The fellows are provided with a $5,000 stipend for tuition and educational expenses and a semester-long internship with a supporting agency or organization, arranged through The Citadel Career Center. They may also participate in a retreat and are required to make a presentation about their experiences to the Baker Fellows Advisory Board upon completion, in addition to keeping a log of work and submitting weekly reflections. The seven recipients were announced at a recent reception on campus attended by the fellowship founder, Tommy Baker.
Ranked as the No. 1 Public College for Veterans in the South by U.S. News & World Report in 2017 and 2018, The Citadel offers veterans the opportunity to complete or advance their educations in an environment that understands and appreciates military service. Approximately 280 veterans currently attend The Citadel as day student undergraduates, evening undergraduates, or graduate students.
Tommy Baker Veterans Fellowship applicants must be full-time students at The Citadel who are career-centered and community-minded and received honorable discharges from U.S. military services. To apply, or to learn more, please click here or visit .http://www.citadel.edu/root/tommy-baker