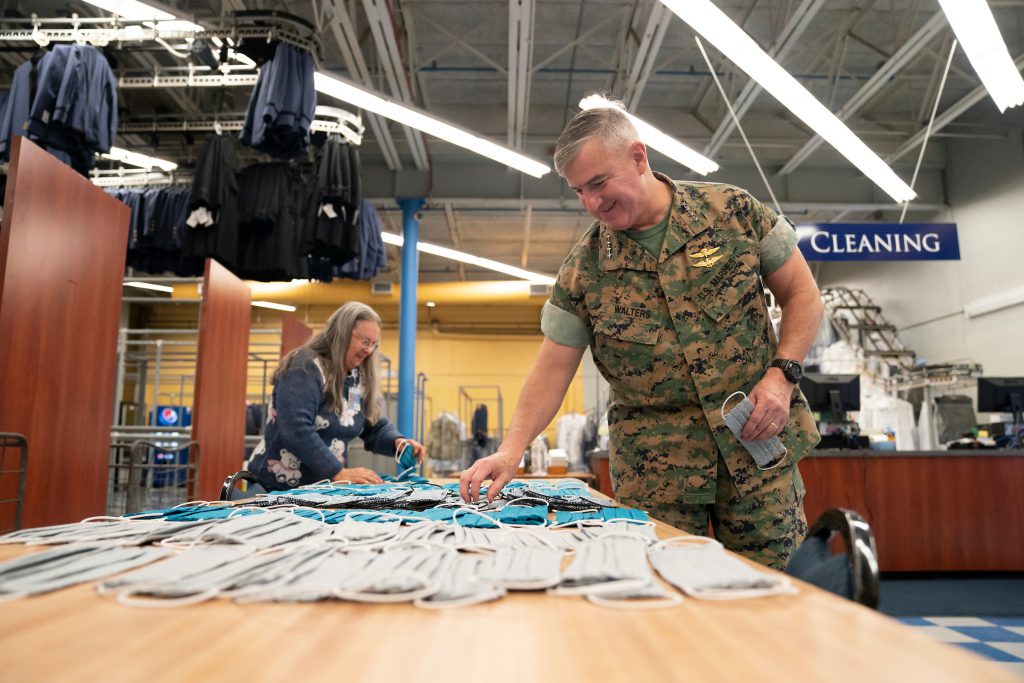 Photo: Citadel President General Glenn M. Walters '79, USMC (Ret.) helps lay out masks for Facilities and Engineering employees at The Tailor Shop in April 2020
Operation Fall Return is underway. This mission sets conditions for cadets and students to return to an adapted face-to-face instruction and training model. The model is designed to protect the health and safety of our community while providing the impactful education and leadership development experience for which The Citadel is renowned.
But it is going to take the commitment of every person on campus to be sustainable.
Our campus community is well-suited to implementing COVID-19 protection and prevention measures. It is in challenging environments like this one that The Citadel's structured, disciplined approach pays off. It is the duty of every member of our campus community to follow these measures to protect the health and safety of our community. Remember that we are protecting each other and our ability to operate the college safely — the personification of our Respect core value.
As the pandemic continues across America, many want to know if returning to campus is safe. The answer is yes, with the participation of every person following the right behaviors. Keeping students, faculty, and staff safe and healthy remains the top priority of the college.
There is risk, but it is a manageable risk when each of us understands it is our duty to protect ourselves and others from COVID-19. How everyone behaves in each stage will impact the reopening, and sustained functioning of our campus.
What is expected on campus
We have used expert medical advice to develop precautions prior to returning to campus and while on campus. We need everyone to follow these measures throughout the semester to protect everyone and our ability to operate in person.
This is what is required of every person entering campus:
Testing. Diagnostic testing is required for all cadets and students prior to returning. Proof of a negative test, taken at least two weeks prior to the return date will be required upon re-entry with detailed instructions to come.
Faculty and staff must sign attestation. This is a document required to be signed by all employees prior to returning to work on campus, attesting that you do not have COVID-19 symptoms and have not been exposed to someone with the virus.
Wearing a face covering. At a minimum, face coverings are required in public areas including classrooms, the library, fitness centers, shared hallways, all dining facilities, the bookstore, the Marketplace, barracks quads, the Veterans Center, office lobbies, etc. The nation's top medical professionals agree that this is the number one measure in reducing the spread of COVID-19. The City of Charleston also requires facemasks be worn in any indoor location.
Stringent personal hygiene. Washing hands with soap for a minimum of 20 seconds, frequently throughout the day, is an essential behavior to fight infectious diseases, whether it is COVID, the flu or the common cold.
Physical distancing. Whenever possible, people should be spaced 6 feet apart. This applies during cadet formations (just has the Marines did over the summer while using our campus), when in meetings or in almost every instance where people are interacting on campus. Roommates in the barracks will be in close quarters but should stay as far apart as the room allows. We must especially adhere to this in areas where we are most vulnerable to the risk of transmitting and contracting the virus such as while eating, when masks cannot be worn.
Contact tracing. When a person on campus tests positive for the virus, contact tracing will be employed to determine who that person was in close contact with, and measures will be taken according to the guidance provided by state health officials.
Self-reporting. Any cadets experiencing COVID-19 symptoms should distance themselves from others and report to the Infirmary. Any CGC students or employees with symptoms should stay home, or go home, call their department head or supervisor, and seek a COVID-19 test from one of the many facilities around the city. Those with positive tests will need to quarantine for a minimum of two weeks and should not integrate back into their campus activities until receiving a negative follow up test. Cadets and students will be able to continue their academic requirements remotely should it be needed.
This fall will be unlike any other and we want it to be as productive as possible. Remembering that it is your duty to protect yourself and others from COVID-19, and following these measures will go a long way toward keeping our campus open.
More detailed instructions will be available on the Operation Fall Return 2020 website, in addition to ongoing communications from the Commandant's Office directly to cadets and parents, and from the CGC to its students.