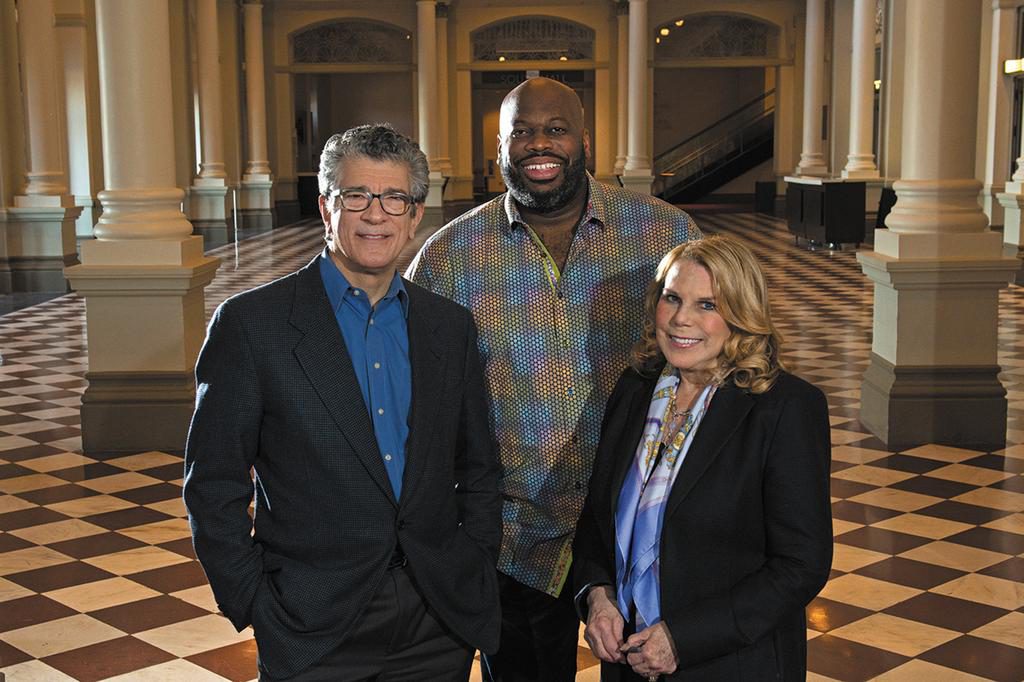 As seen in Cincinnati Business Courier, by Janelle Gelfand
Cincinnati Opera has come a long way since it was a festival that presented four grand operas each summer in Music Hall.
As America's second-oldest opera company opens its 98th season this month, it is in the midst of a new vision that the company hopes will ensure its viability for maybe, well, another century.
"Our priority is to be inclusive," said Patricia Beggs, general director and CEO. "We look at diversity in several ways – in hiring and casting, in staff and board, but also in programming. What we realize is that our opera audience can be many audiences. It doesn't have to be one audience that comes to Music Hall to see the masterworks or the ABCs ('Aida,' 'La Boheme' and 'Carmen') of opera."
So, this season, besides audience favorites, such as Verdi's "La Traviata," which opens the festival on June 14 and Wagner's ghost story, "The Flying Dutchman" in July in Music Hall, opera fans will experience a diverse menu in smaller halls.
A Baroque opera, Monteverdi's "The Coronation of Poppea," will be presented in the School for Creative and Performing Arts. And in Music Hall's new, 200-seat Wilks Studio, there is an opera about a transgender woman, "As One," by Laura Kaminsky.
Already generating national attention is the United States premiere of "Another Brick in the Wall," certain to appeal to the demographic that grooved to Pink Floyd's album "The Wall." Already, people in 30 states as well as France, Canada, Brazil and Denmark have bought tickets for the July production, which features words and music by the band's Roger Waters.
The festival kicks off on June 10 with a free Opera in the Park concert in Washington Park for an estimated crowd of up to 8,000.
It's all part of the strategy to be relevant, accessible and welcoming to all.
"Cincinnati Opera is doing exceptional work in diversifying the season program – to include interesting new works every year," said Marc A. Scorca, president and CEO of the service organization Opera America. "The focus on new work development is unique. The company has a long-standing and exceptional record of working with community organizations – arts and non-arts organizations – to build mutually-beneficial relationships that strengthen the civic fabric."
Cincinnati Opera was one of the first companies in the nation to embrace diversity, from its opera casts and board members, to the co-commissioning of "Margaret Garner" in 2005, a true-story opera about a fugitive Kentucky slave. Annual events include "Opera Goes to Church," in which singers perform opera scenes and arias in local African-American churches.
Now, it is taking more steps. In December, Julie Grady Heard, formerly at Cintas and Huntington Bank, was hired for the newly created role of director of Diversity, Equity and Inclusion.
Joining her as artistic adviser is Metropolitan Opera bass Morris Robinson, who will star as Porgy in Gershwin's "Porgy and Bess" in the 2019 Summer Festival. Besides his community appearances, Robinson will be closely involved in programming and casting.
"I'm used to being out in front of people and preaching the gospel of our art form, because we can't have too many ambassadors," said Robinson from Los Angeles, where he currently is appearing as the villain Sparafucile in Verdi's "Rigoletto."
His marketing and sales background – skills honed when he worked in business after graduating from the Citadel in Charleston, S.C. – will help him to strategize the best way to build more diverse audiences for opera, he said.
"Color-blind casting is very important," he said. "When (audiences) see people that look like them participating in that art form, it makes it more welcoming. The more we can have more diversity onstage and reach out more to various communities – not just African-American, but Asian and Hispanic communities – the more we'll be able to attract those kinds of audiences in."
This is the company's first season back in its home at Music Hall following a 16-month, $143 million renovation, having spent two summers at the Aronoff Center. Five years ago, when it became clear that it would return to a hall with fewer seats, the company launched its "Opera Campus" – presenting a smaller production at SCPA and a free concert in Washington Park.
Audiences flocked to them. Now, a season that spans from Music Hall – seating 2,376 for opera – to smaller venues has become key to managing finances, as well. Fewer seats and smaller venues caused Beggs and the board to look hard at the annual budget, now at $9.3 million. A new business model means they must mount more performances to sell enough tickets to break even.
The bonus, said artistic director Evans Mirageas, is that "the new model of mounting opera both at Music Hall and other venues means that visitors and local opera fans can see two operas during a weekend."
That results in opera tourism and the associated national media exposure, benefiting local restaurants and hotels, too.
As it transitions to its 100th anniversary, Cincinnati Opera knows that collaboration is key. The company has a strong relationship with the University of Cincinnati College-Conservatory of Music, called "Opera Fusion." Initially underwritten by the Corbett Foundation, the arrangement allows CCM students to appear with a top American opera company, and Cincinnati Opera staff regularly works with the rising young stars at CCM.
That has expanded to become an incubator for new operas, "Opera Fusion: New Works," underwritten by the Andrew W. Mellon Foundation. So far, it has fostered nine new American operas. One of the most successful is "Fellow Travelers," about the McCarthy-era lavender scare.
There's more. Last year's "Song from the Uproar" by rising composer Missy Mazzoli was Cincinnati Opera's first opera by a woman. That premiere was the soft launch of a new effort to present diverse new works, including this season's "As One."
Planned for 2019 in what the company calls "CO Next: Diverse Voices" is a new opera still being written, "Blind Injustice," based on UC law professor Mark Godsey's book. The project is in partnership with the Ohio Innocence Project and the Young Professionals Choral Collective.
Not least is its partnership with the Cincinnati Symphony Orchestra, which performs in the opera pit, entirely funded by the Louise Dieterle Nippert Musical Arts Fund.
"We have one of the top 10 orchestras in the world in the pit," Mirageas said. "I am the envy of every single other opera producer in the country."