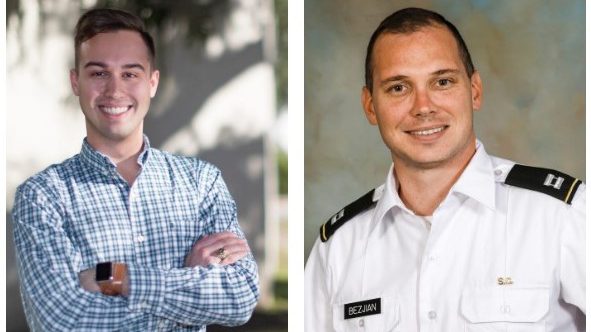 As seen on Soconsports.com
The Southern Conference named its All-Southern Conference Faculty and Staff Team on Friday, with two representatives each from all 10 member schools being recognized by the league.
While the selections were left up to each institution's discretion, the recipients all shared the common characteristics of demonstrated service to the institution and contributions to campus life and the local community. Faculty members selected have demonstrated strong contributions to teaching, research and/or service, while staff members are being recognized for bringing out the best in others and creating conditions for success.
The faculty and staff recipients include: The Citadel's Dr. James Bezjian and Stanton Adams; ETSU's Dr. Joe D. Moore and Jay Seehorn; Furman's Dr. Virginia W. Gerde and Elaine Baker; Mercer's Dr. Sybil Keesbury and Myra Cameron; UNC Greensboro's Dr. Tom Martinek and John Chapman; Samford's Dr. Emily Hynds and Theresa Kanute; Chattanooga's Dr. Debbie Ingram and Terry Denniston; VMI's Col. Jack B. "Jay" Johnson Jr. and Col. Sarah L. Jones; Western Carolina's Dr. Channa De Silva and Dr. Lowell K. Davis; and Wofford's Dr. Dan Mathewson and Curt McPhail.
Each member of the All-SoCon Faculty and Staff Team will be presented a plaque and honored at a home basketball game at his or her institution.
Dr. James Bezjian, The Citadel
The Citadel's Dr. James Bezjian is an Assistant Professor of Entrepreneurship and Director of the Innovation Lab in the Baker School of Business. At the Innovation Lab, Bezjian and his students use technology to solve complex problems for companies, governments and nonprofit organizations. Recently this work was featured on the Scottish television news when the 3D scanning technologies from the lab were used to document art and historical artifacts from war-torn regions of the world. Bezjian's passion for student learning is also evident through his service as a faculty representative for the Network Globally, Act Locally program that exchanges entrepreneurship teams from universities in the U.S. and Estonia each summer to learn the fundamentals of entrepreneurship and develop business plans. In addition, Bezjian serves his country as a Captain in the South Carolina State Guard. In his role as an Army officer, he is attached to the Special Operations Command-Provost Marshall Division, where his unit focuses on critical infrastructure protection and anti-terrorism operations.
Stanton Adams, The Citadel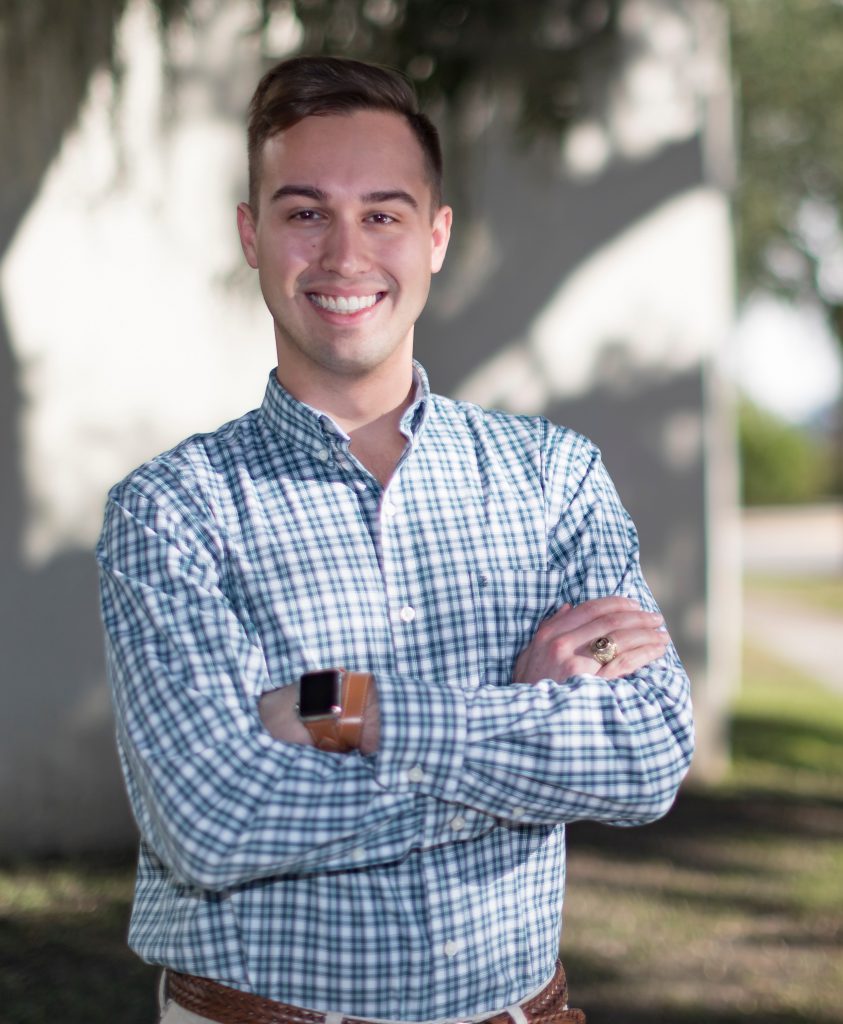 Stanton Adams is a marketing specialist who supports nearly every department on campus to advance The Citadel's brand, reaching all college stakeholders from prospective cadets and students, to parents and presidential communications. Adams took initiative to lead and design a new brand identity and logo system for the college, a huge undertaking that benefited the college in many ways. The system makes it easier for the college as a whole to adapt the logo for different placements, enables all departments and groups on campus to have a unique identity while still adhering to a consistent brand presence, and is easier and more cost effective to reproduce. The system features a new, user-friendly website which enables all campus partners to quickly obtain custom files and send them directly to print. Adams also dedicates time to other campus initiatives and currently serves on the Diversity, Equity and Inclusion Council and Employee Enrichment Committee.
Dr. Joe D. Moore, ETSU
Dr. Joe D. Moore is the Director of Athletic Bands and Associate Professor of Music at ETSU. Moore re-established the ETSU Marching Bucs in 2015 and for the last three years the band has been the largest in school history with almost 250 members. Additionally, Moore oversees the Men's and Women's Basketball Pep Bands, directs the University Concert Band, and teaches several courses within the Department of Music. He is a published arranger and composer and is involved throughout the United States presenting workshops and serving as an adjudicator for high school band competitions.
Jay Seehorn, ETSU
Jay Seehorn has served the ETSU community for over 25 years. As supervisor of Central Receiving, he looks for ways to be more efficient and proficient in the receiving and distributing of the thousands of packages and cartons delivered to the campus. His willingness to be innovative and helpful benefits faculty, staff and students alike and his enthusiasm inspires his coworkers to strive to provide the best service possible on a daily basis. Countless public school teachers have benefited through the Providing Area Schools with Surplus (PASS) program, which Seehorn oversees. He also serves the community as a coach for middle school and Little League baseball teams.
Dr. Virginia W. Gerde, Furman
Chair of and a professor in Furman's Business and Accounting Department, Dr. Virginia W. Gerde teaches strategic management and business ethics. Holding degrees from Virginia Tech, Virginia and Princeton, Gerde is also a graduate of the U.S. Army Command and Staff College, and her military work includes a tour in Iraq, over eight years with the National Disaster Medical System, command of a hospital, and serving as a researcher at the Strategic Studies Institute at the U.S. Army War College in Carlisle, Pa. Gerde's research articles have been published in the Journal of Business Ethics, Business & Society, Journal of Management History, Journal of High Technology Management Research, Business Strategy and Environment, and Journal of Entrepreneurship Education. She is currently the Production Editor for the journal Business & Society. She served in various leadership positions for the International Association of Business and Society and as Division Chair for the Social Issues in Management Division of the Academy of Management.
Elaine Baker, Furman
Over the last three decades, Elaine Baker has served Furman student-athletes in a variety of roles, including assistant athletic trainer, associate director of sports medicine and, since 1994, as director of Furman's sports medicine and rehabilitation operation. She has also served in the role as the Athletic Department's senior woman administrator from 1997 until the spring of 2019. In 2002, she was promoted to the title of associate athletics director. She most recently was instrumental in facilitating the partnership between Furman University's Sportsmedicine Center and the St. Francis Health system, which formed the St. Francis Therapy Center @ Furman Sportsmedicine. Baker received the National Athletic Trainer Association Service Award in 2000 and in 2007-08, she was recognized by the SoCon in its 25th anniversary celebration of conducting women's championships as one of the 25 most influential individuals in the conference for women's athletics. In 2010, she received the "Fred Hoover Award for Excellence," which is the highest honor given by the South Carolina Athletic Trainers' Association, and was inducted into the association's Hall of Fame.
Dr. Sybil Keesbury, Mercer
Dr. Sybil Keesbury is an associate professor in Mercer's Tift College of Education. Her area of specialty is special education, with a focus on Autism Spectrum Disorders and Behavioral Disorders. She is the director of the Holistic Child Program and is the university liaison for the Professional Development School partnerships. Through these partnerships, she conducts research regarding public school and university partnerships and mentors undergraduate and graduate students who present her research at national and international conferences. In addition to her teaching and scholarship at the university, Keesbury gives back to her community through her service work with the Go Baby Go project, a collaborative effort with the School of Engineering, Department of Physical Therapy, and Technical Communications that provides modified ride-on vehicles for children with disabilities. She participates with Mercer on Mission, which provides field experiences to education students in places such as Nepal, Peru and Slovakia. Keesbury is the recipient of the 2015 Tift College of Education Cathryn Futral Excellence in Teaching award and the 2017 Excellence in First Year Advising Award.
Myra Cameron, Mercer
Myra Cameron came to Mercer in September 1997 as Athletics Staff Assistant. She was promoted to Administrative/Eligibility Coordinator in July 2000. In her current role, Cameron oversees day-to-day operations of the athletics office, work-study students and the eligibility for all student-athletes. Her contributions to the Mercer community go beyond her job description, something seen clearly when she is interacting with the students and staff or cheering on Bears at events home and away. Her efforts have earned her one of the highest awards conferred on University employees – the Mercer Spirit Award. Cameron is married to Rick Cameron, also a Mercer employee who is probably best known as the "Voice of the Bears" on radio broadcasts.
Dr. Tom Martinek, UNCG
Dr. Tom Martinek is a professor in the UNCG Department of Kinesiology. During his 43-year tenure, Martinek's research has focused on the social and psychological dynamics of teaching and youth development programming. For the past 26 years, he has directed and taught in Project Effort and Youth Leader Corps programs, which consist of values-based after-school sport and leadership experiences for underserved children and youth. Most recently, he has established an alternative high school (called a middle college) for at-risk students on UNCG's campus. The school is integral part of his "wrap around" approach to develop the assets of each individual youth. He has published four books and over 115 articles. Recognition for his work with youth has been acknowledged by receiving the Salvation Army Boys and Girls Club Youth Development Award, the University Bullard Award for Service, North Carolina Alliance for Heath, Physical Education, and Recreation Presidential Citation Award, and the Community-Engaged Scholar Award given by the School of Health and Human Science. His most recent recognition was being nominated for the prestigious Max Gardner Award—the highest award given in the UNC system.
John Chapman, UNCG
John Chapman is the co-founder of the North Carolina Sales Institute at the Bryan School of Business and Economics at UNCG. Created in 2015, the North Carolina Sales Institute is recognized as a Top University Center for Professional Sales Education by the Sales Education Foundation. Chapman, an Adjunct Marketing Professor, is a business consultant working with global organizations in the development of successful sales strategy. Chapman has more than 30 years of experience leading high-level sales in start-ups and established international companies such as Kennametal Inc., Stanley Works and Coca-Cola. He was awarded the prestigious Sales Excellence Award during his time at Stanley. He has served on the board of directors for multiple start-up and local community organizations.
Dr. Emily Hynds, Samford
Dr. Emily Hynds began teaching mathematics at Samford University in August 2000. Her areas of interest lie in Combinatorics and specifically Graph Theory. Hynds is enthusiastic about the growing interest in undergraduate research and has worked on several projects with students over the years. She is currently serving as associate dean of the Howard College of Arts and Sciences following her service as chair of the department of mathematics and computer science. Before assuming her current role, Hynds also served as the Faculty Athletics Representative for Samford University. She is an avid college sports fan and can often be found at Samford Bulldog sporting events.
Theresa Kanute, Samford
Theresa Kanute is the One Stop Advisor for Samford University Athletes. Kanute started at Samford in 2000 in the Bursar's Office and transferred to the Office of Financial Aid in 2002. She attended Samford's Evening College and graduated in 2014. She and her husband of 42 years, Steve, have four children and five grandchildren, and one of the couple's favorite pastimes is watching them play sports. Kanute says the most enjoyable part of her job is working with Samford students and their families.
Dr. Debbie Ingram, Chattanooga
Dr. Debbie Ingram is a founding physical therapy faculty member with a 30-year history at Chattanooga. She has held many leadership roles including President of the University of Tennessee National Alumni Association, representing the 335,000 alumni of all campuses within the system, vice president of the Federation of State Boards of Physical Therapy, Chairman of the Tennessee Board of Occupational and Physical Therapy Examiners, and Chairman of the American Physical Therapy Association Clinical Education. She is currently serving on the Alliance of Women Philanthropists Board of Directors for the UT System. In 2013, Ingram was named a Catherine Worthingham Fellow of the American Physical Therapy Association, the highest honor given by the professional association. She also received the Horizon Award for the Tennessee Physical Therapy Association and was inducted into the Hall of Fame and is a member of the Cleveland High School Hall of Fame. Ingram has served as the Mocs' Faculty Athletics Representative since 2012 and was appointed to serve on the NCAA Sportsmanship and Ethical Conduct Committee from 2015-17.
Terry Denniston, Chattanooga
Terry Denniston has 33 years with the University of Tennessee at Chattanooga serving as the chief of staff for the chancellor and the former director of alumni affairs. A member of the Council for Advancement and Support of Education, Denniston has served on the CASE faculty, chaired a District III CASE conference, presented numerous conference sessions on student alumni associations, and authored a chapter in CASE's book, Student Advancement Programs: Shaping Tomorrow's Alumni Leaders Today. Denniston is a member of the International Protocol Officers Association, Alpha Delta Pi Sorority, Alpha Society, Order of Omega, Golden Key Honor Society, the UTC Mocs Club and the Chattanooga Quarterback Club.
Col. Jack B. "Jay" Johnson Jr., VMI
Colonel Jack B. "Jay" Johnson Jr. is a Professor in the VMI Department of Physical Education. His teaching interests are in the areas of human performance and strength and conditioning. He is also the Director of the VMI Summer Session, which oversees multiple programs and courses designed to facilitate cadet progression toward degree completion and provides opportunities for cadets to enrich their education consistent with the Academic Program Mission. Johnson holds certifications from the National Strength and Conditioning Association as a Certified Strength and Conditioning Specialist (CSCS). He also holds his Level I Track and Field Certification from the USA Track and Field Association. Johnson was an Assistant Strength and Conditioning Coach at Virginia Tech, where he earned his doctoral degree, from 1998-2006. Prior to his stint at Virginia Tech, he was the Head Strength and Conditioning Coach at Radford University (1996-98).
Col. Sarah L. Jones, VMI
Colonel Sarah Jones has been the Institute's Director of the Center for Cadet Counseling since 2010 and the Director for the Office of Disabilities Services since 2012. She has been an adjunct professor in the Psychology department at VMI since 2011. Jones works with the Athletic Department assisting the Sports Medicine office with compliance documentation reviews for athletes, serving as a member on the NCAA Oversight Committee, and by encouraging her staff to work closely with athletic advising, coaches and athletes providing programs on performance enhancement, nutrition and resiliency skills. Before coming to VMI, Jones worked in the Counseling and Student Development Center at James Madison, where she earned her undergraduate and doctoral degrees, from 1999-10. She was an adjunct professor in the Master's in Counseling and Clinical Psychology doctoral programs.
Dr. Channa De Silva, Western Carolina
Dr. Channa De Silva is an associate professor of chemistry at Western Carolina. After earning an undergraduate degree in chemistry in Sri Lanka, De Silva came to America to complete his doctoral studies, doing so in chemistry at the University of Arizona before working at the Pacific Northwest National Laboratory in Washington as a post-doctoral research associate. De Silva, who started at WCU in August 2010, teaches chemistry and carries out research in the areas of nanotechnology, nanobiotechnology, and computational chemistry. His passion is to support the academic success of the students by carrying out discovery-based research projects with WCU students and engaging K-12 students with science activities in the region.
Dr. Lowell K. Davis, Western Carolina
Dr. Lowell K. Davis serves as Associate Vice Chancellor for Student Success at Western Carolina and heads the logistical planning of important university events including Spring and Fall Commencement and New Student Convocation. He came to WCU from the University of Alabama, where he founded Alabama Reach, an office serving the needs of students coming to the institution from the foster care system, homelessness, or parental emancipation. Davis has continued to focus on supporting these populations and has established partnerships at WCU to provide emergency housing, domestic services and other resources through its on-campus center, Home Base. Davis serves as the Polemarch/President of the Asheville Alumni chapter of Kappa Alpha Psi Fraternity, Incorporated, and recently completed an American Council on Education (ACE) Fellowship for 2018-19 academic year at University of California Davis. Additionally, he is a Paul Harris Fellow for Rotary International, serves as a member on the Board of Visitors for the Baptist Children's Home of North Carolina, is President-Elect for the North American Association of Summer Sessions and is involved in several other social and civic organizations.
Dr. Dan Mathewson, Wofford
Dr. Dan Mathewson is an Associate Professor of Religion and the Director of New Faculty Teaching Initiatives in Wofford's Center for Innovation and Learning. Mathewson, who has been teaching full-time at Wofford since 2005, has served as Cohort Leader for the First-Year Seminar; Lead Facilitator of the General Education Reform Steering Committee; and Co-Coordinator of "Re:Thinking Education," a yearlong campus-wide conversation about the liberal arts. Mathewson's teaching generally centers on contemporary expressions of religion and spirituality. His primary research area over the last decade has been an exploration of the intersection of religion, professional wrestling and Southern culture. With a group of international scholars, Mathewson recently co-founded the Professional Wrestling Studies Association and was elected to the Executive Board as PWSA Website Editor and Managing Editor of the public scholarship e-magazine, PWSA Ringside. He also helped launch the Professional Wrestling Studies Journal, the first peer-reviewed academic journal devoted exclusively to this topic. Mathewson's other research interests center on the scholarship of teaching and learning with a particular focus on student increases in intercultural competence in non-study away contexts.
Curt McPhail, Wofford
Curt McPhail is a 1996 graduate of Wofford College with a Bachelor of Arts in business economics and sociology. Wofford's 2012 Young Alumni of the Year and a two-time winner of the Algernon Sydney Sullivan Award, McPhail serves as the Executive Director of The Space, Wofford's career development and entrepreneurship center, since 2016. At the Space, McPhail leads a team focused on preparing and launching students into jobs, grad school, or into businesses and nonprofits started while at Wofford. Prior to working at Wofford, McPhail worked for the Northside Development Corporation working on the "most ambitious redevelopment opportunity in Spartanburg's history – Spartanburg's Northside." McPhail is the founder of globalbike, an international nonprofit using the transforming power of bicycles to connect women and resources.