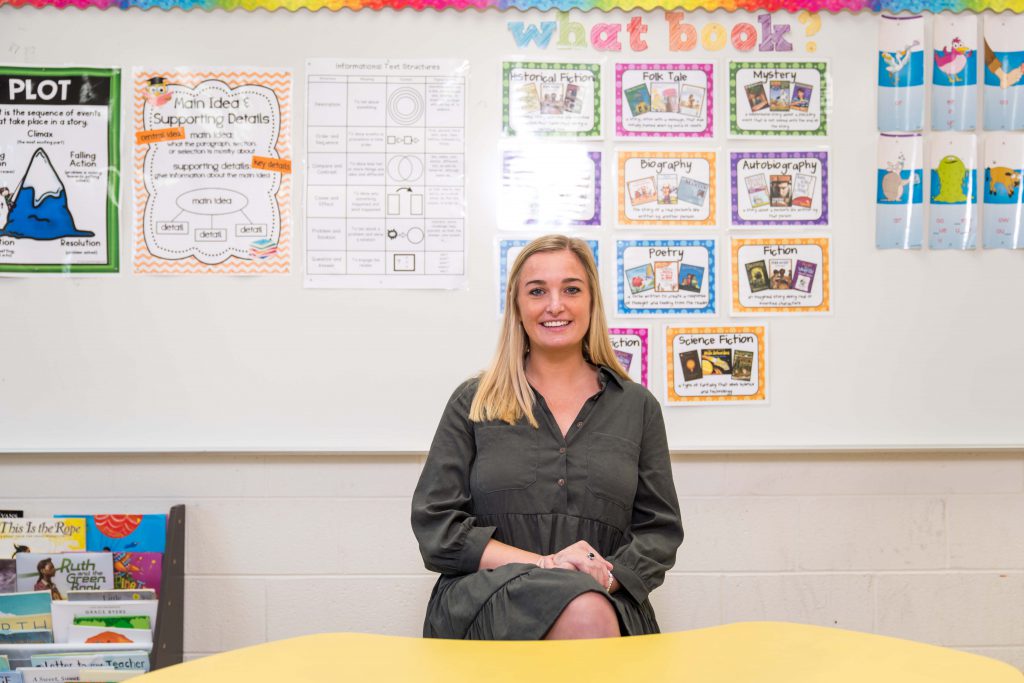 For Lauren Roche, who earned her master's degree in literacy education from The Citadel Graduate College, teaching is about more than covering standards. Her fourth grade classroom is a haven for English language learners at Pinehurst Elementary, a Title I school where many students are learning grade-level lessons as they learn a new language. Sometimes this means that students become translators for their peers.
As Roche's students grapple with a new language, she continues to pick up more and more Spanish.
Roche had positive connections with all her teachers growing up in New Jersey in the early 2000s, and she wants her students to have the same opportunities. "I had such a good educational experience," she said, "that I wanted to give that back in a way that I could."
Roche's desire to help students led her to The Citadel. "The program at The Citadel provided me the foundations for literacy and phonics skills and reading skills that I was unable to receive in my undergraduate courses."
Because The Citadel's program is research-based, Roche chose to use data from her own classroom and real-world experiences. "Then I was able to use those findings and what I found throughout the research process to directly implement it back into my teaching. So it was not only for the class, but it was also bettering me as a teacher," she said.
Roche found that English language learner curriculum often assumes the students have experience learning in a traditional school. This isn't always the case.
During her first year at Pinehurst Elementary School, Roche taught an ELL who had not previously held a pencil.
"By the end of the year, he was speaking basic English," she said. "He was able to read and write on a kindergarten level. And even though it was in a third grade class, watching the progression of that student made me realize after my first year of teaching that I was in the right school and the right profession."
Others realized it too. In 2016, Roche was named the Charleston County School District Elementary Rookie Teacher of the Year, and today, she continues to be a paragon educator. In May, Roche earned a master's degree in literacy education and a graduate certificate in literacy education. "This program just provided me the opportunity to collaborate with other teachers and meet with these professors and just expose myself to so much more than I could ever imagine. And I'm so grateful that I had that experience because now I have a new job in literacy intervention, and I was able to bring so much of what I learned back into the classroom." The data analysis skills Roche learned help her monitor and adjust her lesson plans to where she can now measure her students' growth Monday through Friday.
"Everyone dreams about waking up and loving their job every single day. And I'm so fortunate that when I wake up, I enjoy going to work every day. I enjoy the community that I work with… The students are the center of my job. And I'm so fortunate that I get to work with them."
Roche's decision to keep pursuing her passion for teaching is timely. As the pandemic further complicates her career field, Roche is thankful for the hands-on, interactive lessons she learned at The Citadel that enable her to meet challenges with renewed persistence and skill.