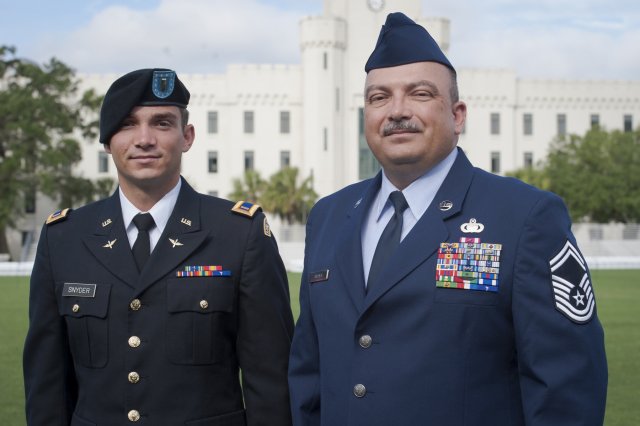 As seen on Army.mil, by Spc. Chelsea Baker
"Service to others is what makes this country great," said U.S. Air Force Senior Master Sgt. Edward Snyder, 169th Fighter Wing public affairs superintendent. His 31 years of service is a testament to his commitment to serve his country.
Snyder enlisted in 1985 and spent four years active duty. He then served six years with the Air Force Reserve, which led him to deploy several times including in support of Operation Just Cause, Desert Shield, and Desert Storm. In 1994, Snyder joined the South Carolina Air National Guard, where he still serves today.
"I always wanted to join the military, I just did not know why. I wanted to do something different and I wanted to serve," said Snyder.
A commitment to serve is a trend in his family. His wife, Michelle, serves as an elementary school teacher and supports a number of projects as a church volunteer. His daughter, Ashley, is currently a surgical technician. She has been a patient care provider since graduating high school in 2008 and feels privileged to take care of people who have medical needs. His son, Michael, joined the Army National Guard upon graduating from high school in 2010 and completed the UH-60 Black Hawk pilot training program in August 2016.
"I think it's important for every American to serve in one capacity or another, whether as a public servant, first responder, medical professional, or serving your community through church and volunteer programs," Snyder stated.
Serving the community is more than just an act of kindness in the Snyder family. Service is their way of life and a responsibility they continue to accomplish each and every day, not just as one individual but combined as a family.
"I am so very proud of my family and the sacrifices they make to support me during my years of military service," said Snyder. "It's even more humbling to me to see them recognize their individual callings to serve and to watch them do so unselfishly."
In 1991, three months into a deployment, Snyder got the call that he was going to be a father again.
"Michael was a surprise baby," he added.
Little did he know that his son would grow up to follow in his footsteps. As a father, Snyder would tell his children that they still had an obligation to serve, whether they joined the military or not.
"I always wanted to serve, which came from my father. Dad's tough love molded me for the military and made the transition easier," said Michael Snyder, who is now a U.S Army 2nd Lieutenant, A Company, 1-111th General Support Aviation Battalion Black Hawk pilot.
Snyder would take his son on trips to McEntire Joint National Guard Base in Eastover, South Carolina, where Michael would learn about the fighter jets. Snyder didn't push the Air Force on Michael, but he knew his son wanted to be a pilot. That led Michael to pursue becoming a UH-60 Black Hawk pilot.
"I knew that I wanted to be a pilot and my father encouraged me to join the National Guard. They helped me pay for some of my college at The Citadel and led me to become a pilot," said Michael.
Now that Michael has completed his goal and is a pilot, he has a deeper understanding of the work his father has done over the years.
"Serving made my little boy into a man and do something I could never do myself, learning how to fly helicopters," said Snyder.
They may not be in the same branch or career field, but both father and son understand the work and dedication that goes into their jobs and occasionally grab lunch together at McEntire.
"We now bond on another level because of the work we do in the National Guard," said Michael.