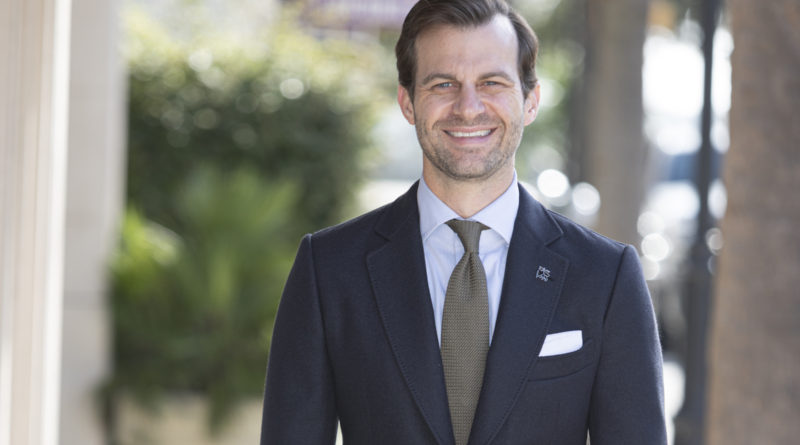 In September, Forbes Magazine named Citadel Alumnus, Patrick Cunningham, as one of the top "Best-in-State Next-Generation Wealth Advisors." "It's a family legacy," said Cunningham, explaining that earlier this year, his father was also named by Forbes as one of the "Best-in-State Wealth Advisors. "We are both humbled to be ranked in each of our respective peer groups," said Cunningham.
"As the son of a Citadel alumnus, there was little question as to where I wanted to attend college," explained Cunningham. "The Citadel just felt like a natural choice." Reminiscing his time at The Citadel, smiling, Cunningham said, "the memories I have are like a hurricane evacuation."
He explained, "Imagine if Beaufort was given a hurricane evacuation, and you decide to ride it out with your friends. The power gets knocked out, you have no TV, no phone and you sit and worry if the hurricane will make landfall or pass off the coast. Only in hindsight, after the storm has passed, you find a way to appreciate the time you spent with those friends. The equivalent to that scenario is a typical afternoon as a knob, a first-year Citadel cadet. No TV or cell phone and the "hurricane" that may or may not come are the upperclassmen. As a knob, I lived in a constant metaphorical hurricane evacuation. But, now as my time there has passed, strangely, those are the moments that I miss the most."
It wasn't until Cunningham graduated and became the President of the Beaufort Citadel Club that a speaker from the Krause Center for Leadership and Ethics at The Citadel brought his appreciation for his education and training into focus. The speaker said, "The Citadel is a leadership school, based on military principals."
"I'm honored to be a part of The Citadel legacy," said Cunningham. For the past six years, Cunningham was the President of The Citadel Club of Beaufort, ending in January 2019. The club boasts 350 alumni. As president, Cunningham was responsible to three major events each year: (1) The Muster, designated to recognize those alumni that have passed over the last twelve months, (2) Coaches' Night, some of the football coaching staff comes by for a "sneak peek" of the upcoming season and introduction to the new team, and (3) Knob Night during the summer to officially welcome incoming students and their families to the "Long Gray Line" a phrase commonly used referring to alumni. "I'm proud to say that our events are very well attended and provide tremendous support and encouragement to new students and their families," explained Cunningham.

In addition to coordinating the events, The Citadel Club of Beaufort serves as the liaison between the school and the community. "We assist in meeting with high school students who have an interest in attending The Citadel," said Cunningham, "so we help them gain a greater understanding of the benefits of a cadet education and freshman expectations."
In 1995 Patrick's father, Jack Cunningham, was one of the Merrill Lynch Beaufort Offices' founding advisors. Cunningham explained that he grew up watching his father in the office. It was only natural that Patrick follow his father's footsteps. "I knew I was interested in the financial industry. So, while I was in college, I spent time considering whether I wanted to be on the client-side as an advisor or pursue a career in the corporate side of the business." A fellow Citadel alumnus and Merrill Lynch managing director helped Cunningham set up a few interviews. "He was instrumental in helping me understand the difference between the corporate side and the advisory role of professionals like my father," said Cunningham.
In August 2007, the Citadel graduate was offered an analytical position in Merrill's Jacksonville corporate office. Over the next few years, he was fortunate to have opportunities to progress through multiple roles within the company. In 2010, Cunningham made the shift to an advisory role within the Merrill Edge Advisory Center where he spent the next two years experiencing the Wealth Management side.
In 2012, Cunningham and his wife made the move from Jacksonville back to his hometown of Beaufort for the next stage of his career as a Financial Advisor. "At this point, my dad, and now business partner, formed The Cunningham Team," explained Patrick. "The experience, background, and training that I received in the Jacksonville Corporate office gave me a different perspective, background, and approach to the 17-year advisory business that my dad had built. We made a great team."

"Beaufort was the next logical step in my career," said Cunningham, "and the prospect of starting a family business with my father was too great of an opportunity to pass up." Although, he admitted that moving home took some adjustment after life in Jacksonville. The Merrill "campus" Cunningham worked at in Jacksonville had 3,000 employees. "Being a parent here and watching my four-year-old twins sons grow up in the same loving environment as I did has been such a rewarding experience," smiled Cunningham. "And, if we want to "get away" or need a big city "fix", Savannah and Charleston airports are close by.
Much like The Citadel, Beaufort is a small enough community to have your voice heard and make a difference. As I continue through my career, I constantly remind myself of the old Merrill principle of "bringing Wall Street to Main Street", and in our case Bay Street."
Cunningham continued, "I started to build relationships throughout the country with some of the top advisors and industry experts to assist in our team's reconfiguration and business plan. We picked up on a motto of doing everything we can to provide the ultimate client experience. That motto has become the focus of our team."
Now with the support of Bank of America along with the existing Merrill platform, The Cunningham Team can provide clients with a wide range of services, including investment management, and family financial planning, and now we also offer private banking and lending. "We have a five-person team, two of which have come on over the past few months (one an alumnus) in order provide knowledgeable insight and counsel to our clients growing needs," explained Cunningham.

Cunningham is a member of Merrill's NextGen Leadership Council. "We have 22 people across the country that represent a diverse range of investment professionals under the age of 40." The objective is to include the perspective of the millennial generation, which is soon to be the world's largest and most influential demographic, into the firm's strategic conversation. "I'm thankful that Merrill Leadership felt it was important to formally incorporate the generation's voice into our client and business development strategy as its economic and cultural impact grows," explained Cunningham. "It's truly a rewarding career. I'm thankful I followed my father into wealth management."
Patrick Cunningham said he owes his wife, Becky, who works for the Beaufort Memorial Hospital Foundation, for all his support. "I met my wife the first weekend of my senior year at The Citadel while she was living in Charleston. I still owe her a huge debt for all of the encouragement (and meals) she snuck through the gates for me!" Cunningham laughed.
The entire Cunningham family has invested their lives in this community. Not only are Patrick and his father helping families make wise investments for the future, Patrick's mom spent her years before retirement as a Beaufort High School teacher. His sister and brother-in-law are back and forth between New York and the historic home they are restoring in Beaufort.
Patrick Cunningham's recognitions and community involvement are many.
Beaufort County Chamber Civitas – 2019 Outstanding Lowcountry Young Professional
– St. Peter's Catholic Church and School Finance Council (ended in 2019) – overseeing the financials of the church and the private school. In general, meeting once a month plus subcommittee work that varies in time significantly year to year. Approximately 1500 families in the parish.
– Leadership Beaufort (through the Chamber of Commerce) – 2017 graduate
– Habitat for Humanity –volunteer
– Beaufort High and Battery Creek – volunteer as a speaker to classes regarding general money management.
– Mentoring – high school and college students interested in our industry. With having a diverse background within the industry, friends, colleagues, fellow alumni throughout the region refer students to call/meet with me to provide career advice. The initial learning curve is understanding what positions/titles actually do on a day to day basis, if they are interested in it, and if so, what would be the best route to take to pursue it.
– Beaufort Vision 2030
– Historic Beaufort Foundation – 2019 Soiree Chair