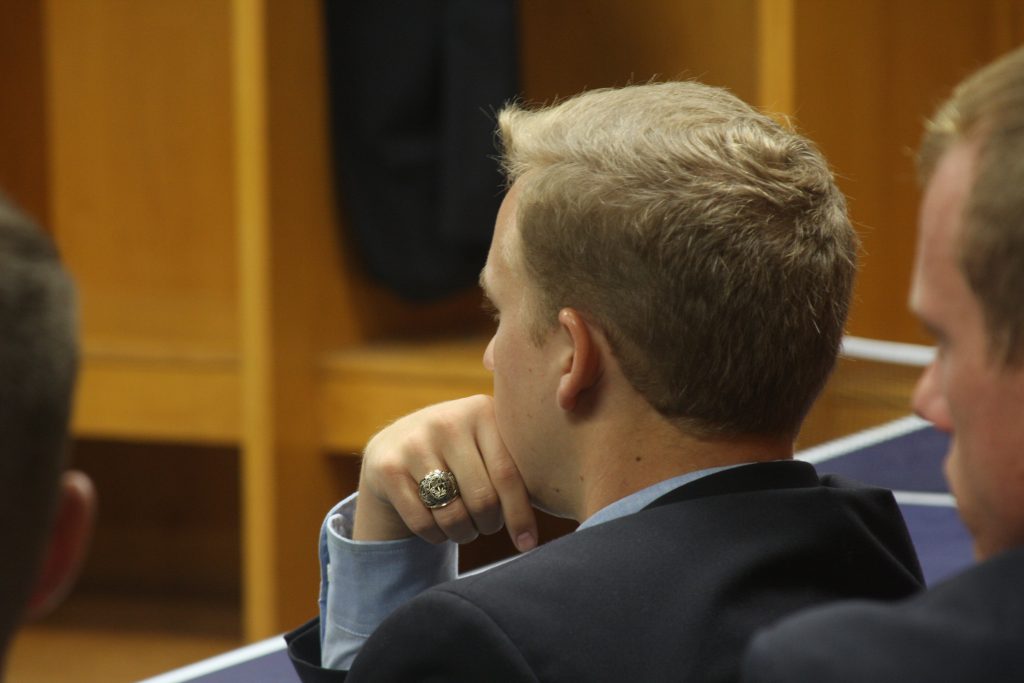 Each year on Leadership Day, senior Citadel cadets fan out across the Lowcountry with a unique directive—explore corporate leadership and ethical behavior with some of the most prominent business and community leaders in the area.
Known as LDRS 411, the Senior Leadership Integration Seminar serves as the capstone in each cadet's leadership education at The Citadel. "The Senior Leadership Integration Seminar provides an opportunity for cadets to link their classroom experiences to the professional world," said Lt. Col. Stephen M. Grenier, USA (Ret.), associate director for honor and leadership programs at the Krause Center for Leadership and Ethics. "Our students appreciate that the exchange of ideas they have been participating in does not stop when they graduate; their soon-to-be alma mater and its vast network of friends, supporters and fellow alumni are committed to helping them achieve their lifelong intellectual goals."
Each seminar is linked to a particular academic discipline and incorporates business and community partners to share lessons in leadership ethics and guide cadets in an ethical dilemma case study. In addition to learning from guest speakers, cadets participate in breakout sessions with professionals who offer their insight into their careers and the central role of principled leadership. Afterward, cadets are tasked with writing an ethical reasoning capstone essay as the final academic requirement of the four-year Leader Development Program.
The immersion experience of the senior seminars would not be possible without the financial support of The Citadel Class of 1963. "The Class of 1963 proudly sponsors the Senior Leadership Integration Seminar as it provides a unique professional experience," said Eli Wishart, '63. "My classmates often reflect on the ethical and moral challenges we faced after leaving The Citadel."
Below, Citadel facilitators and cadet participants offer their thoughts about several Senior Leadership Integration Seminars.
Criminal Justice Seminar
Holliday Alumni Center
Students can expect something not found at most, if any, institutions. They get to spend a day in an intimate setting with influential leaders of agencies and organizations in their field. The one-on-one conversations and small group discussions are invaluable when it comes to developing ethical leaders and greatly assist students as they consider their next steps. Ideally, as they engage the day's activities and later reflect, cadets discover how their training at The Citadel has prepared for ethical leadership.
Sean P. Griffin, Ph.D.
Professor and Department Head, Department of Criminal Justice
Today offered us an insight into the lives and occupations of some very influential and successful people. I saw that regardless of how far you've come in your life, you'll always face some sort of ethical dilemma. What we are taught and lectured on at The Citadel, in regard to making the hard choice, is and still will be very much present in our lives going forward.
Cadet Aleksandr W. Rogers
Business Administration major
Education Seminar
Charleston County School District Main Office
The theme of the day is "Why Leadership Matters." The goals are to expose cadets to leadership opportunities in the field of education and prepare them for the life changing decisions that educators have to make. Cadets hear first-hand what it is like to lead a school with a diverse population and leadership expectations for those that lead a very large school district. Additionally, cadets are equipped with tools and knowledge for a pathway for leadership development in the field of education.
Rodney Thompson, Ph.D.
Visiting Professor, Zucker Family School of Education
Health, Exercise, and Sport Science Seminar
Joe Riley Park
The theme of this seminar is leadership in fitness and health for athletes and soldier athletes. The goals of the seminar are for our senior cadets to reflect upon their four years as students of exercise science and health, and as cadets, in order to identify ways in which they can become champions of health and fitness within their families, communities and places of employment. What I hope cadets will gain from this senior seminar is an appreciation for the importance of their character during their time at The Citadel and long after they leave, in creating personal and professional lives of purpose and service.
Daniel B. Bornstein, Ph.D.
Assistant Professor, Department of Health, Exercise, and Sport Science
I gained a lot of insight from today's speakers. They both have a lot of experience under their belts and know a great deal about their field of study. One of the main points I took away from today was from Coach Donnell Boucher when he said, "The smallest deed is better than the greatest intention," meaning that even just looking someone in the eye and saying thank you can change someone's perspective on the day. Experiencing this seminar allowed me to think about how I will use The Citadel leadership that I have gained over the past four years and carry that with me and apply it to my life and situations I am faced with. I am thankful to be able to go to school and have the faculty and staff around me who want to do nothing but help students grow with knowledge and experience to become better leaders and people after their four years at The Citadel.
Cadet Weston Weber
Exercise Science major
Electrical Engineering Seminar
South Carolina Electric and Gas (SCE&G), North Charleston location
Engineering students considered the importance of personal and corporate values, character, leadership and networking and mentoring on their transition from student to engineer. Participants gained firsthand understanding of the importance of values, character and leadership in the professional engineering environment. The agenda allotted time to reflect on this important upcoming transition to professional service. Participating in this seminar at a professional workplace with engineering professionals ensured an extremely valuable and memorable experience for these students.
John Peeples, Ph.D.
Professor, Department of Electrical and Computer Engineering