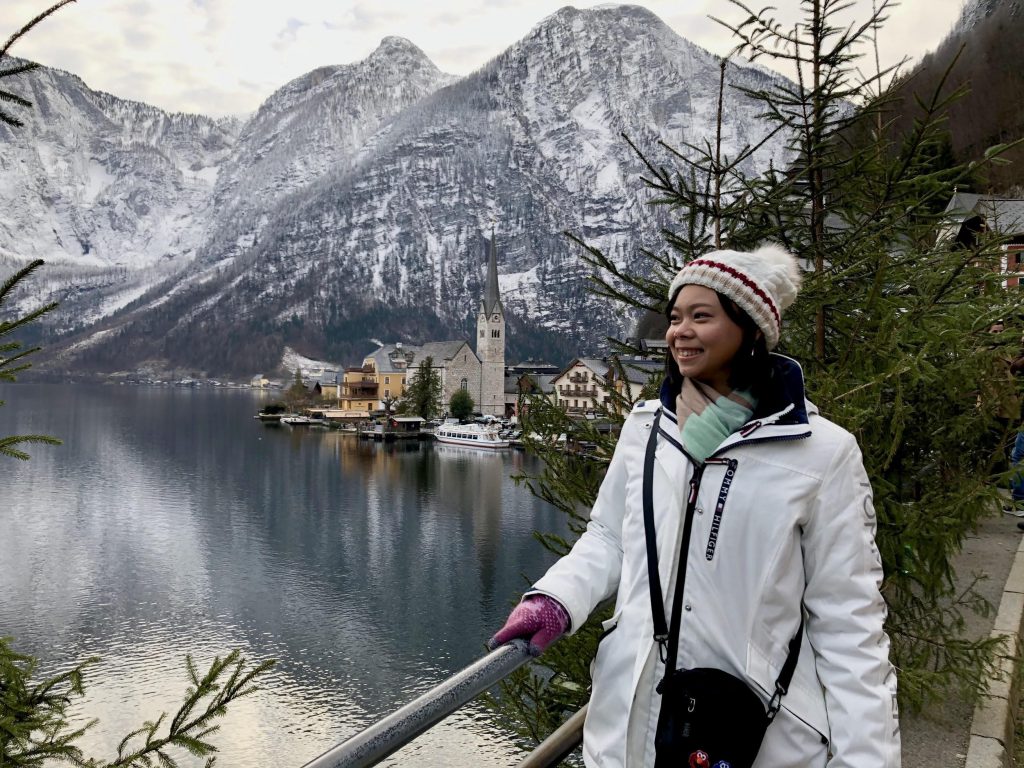 Photo above: Citadel Cadet Pei Hsuan Lu, on winter furlough in Austria in 2019
By Cadet Samantha Walton, Regimental Public Affairs NCO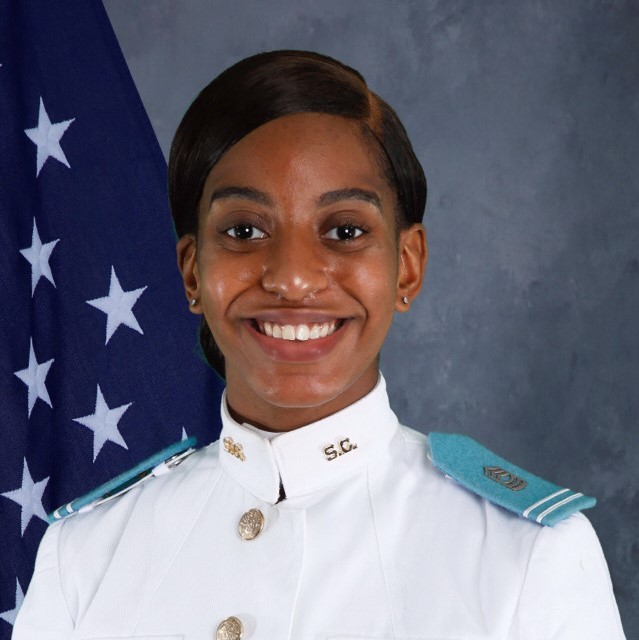 I'm Samantha Walton. I am a junior, the Regimental Public Affairs NCO for the 2020-21 academic year, and am majoring in Political Science.
I am home in Macon, Georgia with my family for the our Winter Furlough from campus.
Christmas is a very important time for me as a Christian, as an individual, and as a member of The Citadel Gospel Choir.
I also appreciate the differences of my fellow students in the South Carolina Corps of Cadets. We don't all see this season in the same way.
As part of my role as Regimental Public Affairs NCO I work to keep cadets connected through communications and stories. This time, I asked a few cadets to share their thoughts about the holiday season after we all left campus for the break. This is what they emailed back to me.
Cadet Pei Hsuan Lu
Junior, Construction Engineering Major
Taiwan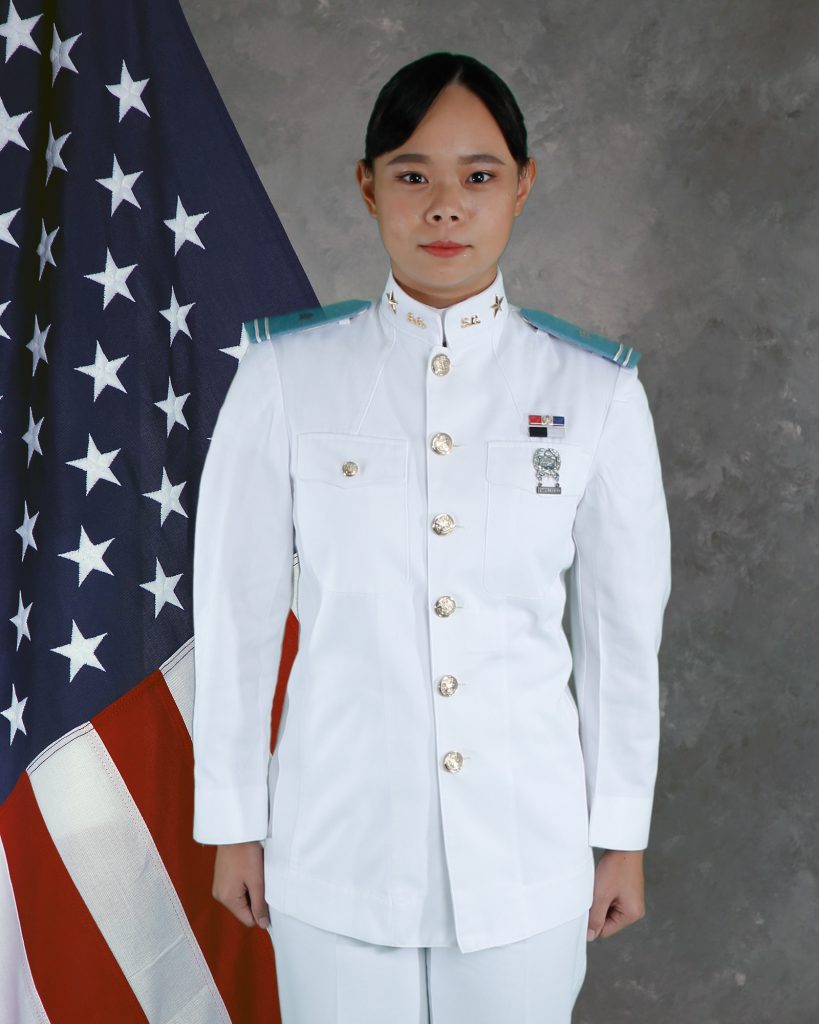 Favorite holiday song?
My favorite holiday song is "Santa Claus is Coming to Town" because it is very jolly.
A tradition you cherish?
In Taiwan, most people don't really celebrate Christmas as our holiday, but we do occasionally exchange gifts for fun and sharing joy.
Fondest holiday memory?
I remember when I was little, my dad came home very late once on Christmas eve, dressed up as Santa Claus, and gave me and my brothers presents. This was a special memory because we really didn't normally celebrate Christmas. And last year I took an amazing trip to Austria.
Looking forward to?
I look forward to the decorations everywhere when in America with my host family. It is so magical to see all the lights, Christmas trees, and decorations everywhere you go. Additionally, I was looking forward to going home to Taiwan, but due to COVID-19 I am staying with my host family.
Caring for others in this challenging time?
I am helping my host family move to a new home, gathering things and delivering them for donations, and packing up.
Religious traditions?
I am not religious.
On your wish list?
A Netflix marathon!

Cadet Natalie Stewart, USMC contract
Sophomore, Psychology Major
Las Vegas, Nevada
Favorite holiday song?
Happy Christmas by John Lennon
A tradition you cherish?
On Christmas my mom, sister and I sit in the living room together and share lots of love. We eat cookies, wear fuzzy pajamas, and spend time together.
Fondest holiday memory?
My fondest holiday memory is when I came home for Winter Furlough from my knob year. I hadn't seen my family since I left for matriculation, since they live so far away. I remember coming home to my mom and sister, and I felt an immense rush of joy when they hugged me.
This year we are taking extra precautions to keep my grandparents safe and ordering our gifts all online.
Looking forward to?
I am looking forward to relaxing and spending lots of time with my family and dogs. Since there isn't much to do with COVID-19 regulations, we will all be home together this Christmas. I hope to make some cookies with my sister!
Religious traditions?
My family isn't a specific religion, but we always express the importance of spreading kindness and acceptance in the world.
On your wish list?
I asked for a new pair of glasses and a watch. I'll be going into 2021 with 20/20 vision – ha!
Caring for others in this challenging time?
I think the first thing we can do as individuals is spread kindness and love (especially in times like these). For those who are able, there are programs you can reach out to, where you can help others in need. Having open arms (6ft away of course) and recognizing each other's individual needs can go a long way.

I went through my closet the other day, and I posted what I gathered on my neighborhood page. I was glad I found some people my age who were in need of some clothes. We also got in touch with a local church, where you can "adopt a family" and it allows you to help out a family in need.
"Use your voice for kindness, your ears for compassion, your hands for charity, your mind for truth, and your heart for love" – Anonymous (Buddhist quote)

Jaret Sean Price
Junior, Exercise Science Major
Aiken, South Carolina
Favorite holiday song?
Little Saint Nick by the Beach Boys
A tradition you cherish?
A tradition that I cherish is that every Christmas Eve after dinner my brother, sister, and I each open an ornament given to us by my Mom and Dad to hang on the family Christmas tree. This was something my Mom did as a little girl with her parents and carried it over when I was born. I hope one day I can continue this family tradition when I have children of my own.
Fondest holiday memory?
I don't really have a fondest holiday memory. I just enjoy being home with my family and living in the "now." Every Christmas leaves me with a new memory, and if I were asked what I remember from a certain Christmas then I'd be able to answer with a smile.
Looking forward to?
Each year I look forward to coming home from The Citadel for Winter Furlough and walking into the house to see that my parents have put up all 25 Christmas trees. Each Christmas tree, of course, has its own theme.
The COVID-19 pandemic really isn't changing how we celebrate the holidays. We're wearing masks, but still celebrating.
Religious traditions?
We put up my great-grandfathers manger and Nativity Scene that he built and the figurines my great-grandmother painted.
On your wish list?
Not much, just some clothes and little things.
Caring for others in this challenging time?
Every Christmas season we do a sweep of clothes that we don't wear anymore or that are too small on my younger siblings. Those clothes are collected and are taken to the local Goodwill for people who will need them.
When you are kind, when you treat people with respect and show that you care about them, it goes a very long way. As a member of the South Carolina Corps of Cadets I remember people who were kind and caring towards me, who took the time out of their day to check on me. That is someone I want to be, something that I don't ever want to steer away from; and I truly believe that all Cadets are capable to doing this.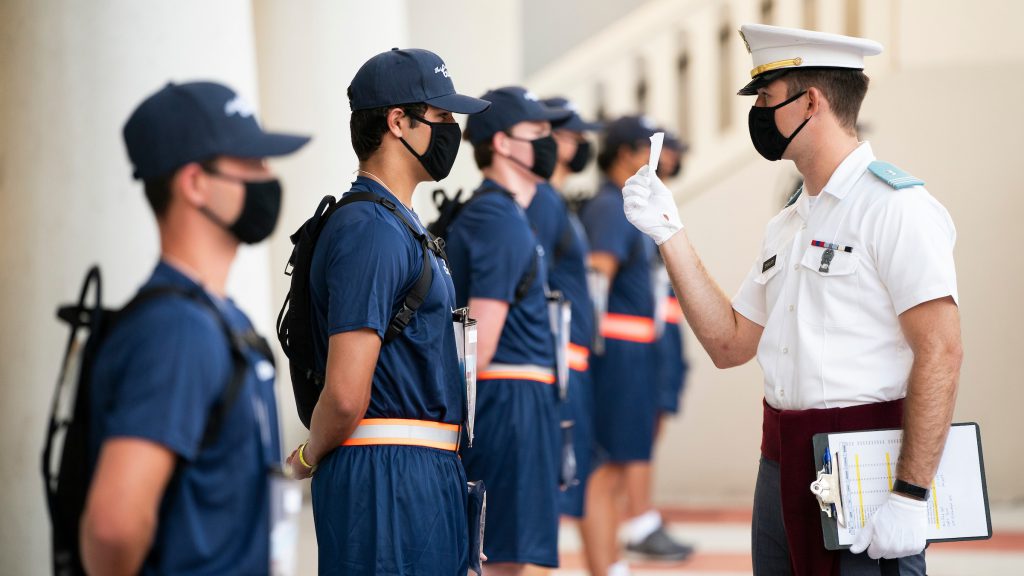 James Hayes III
Freshman, Civil Engineering Major
Ridgeland, South Carolina
Favorite holiday song?
"This Christmas" by Donny Hathaway. We always play this song during the Christmas season.
A tradition you cherish?
A tradition I cherish is when my family goes to my grandparents' house. We all go there and eat good food, open gifts, and have great fellowship. It's something I look forward to every year. Unfortunately with the pandemic I don't think we can all go be with my grandparents.
Fondest holiday memory?
My grandma's sweet potato pie. It's a staple during the holiday season
Looking forward to?
I'm looking forward to spending time with my family and friends. I also like to fish so I'm looking forward to that as well.

I am also looking forward to going back to campus in January, but I hope we can have more interaction with our peers, though I know the restrictions were meant to keep us from getting COVID-19. I really enjoyed the battalion cookout we had before we left for furlough. I think doing more of those throughout the year would help a lot.
On your wish list?
I would like to get a guitar and keyboard piano because I started practicing on those instruments this past semester at The Citadel.
Caring for others in this challenging time?
We are getting gifts for people at the homeless shelters. We are also taking some of our extra clothes and jackets there for people to use this winter.